Polk State urges people to be prepared as Hurricane Dorian approaches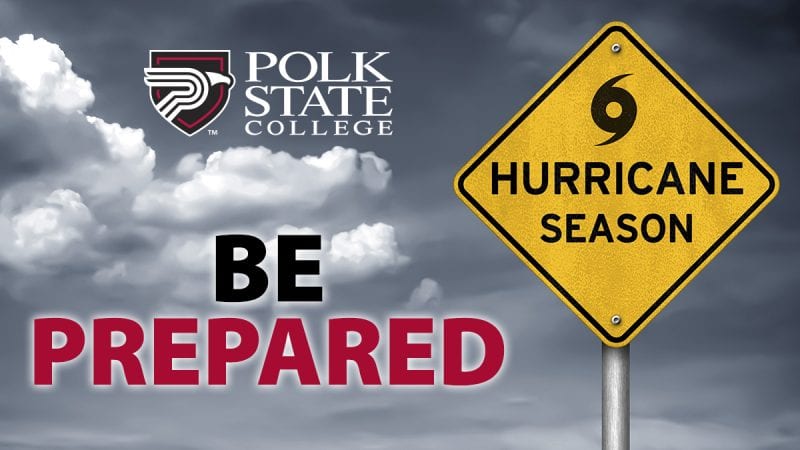 Polk State College continues to track Hurricane Dorian and will keep students, faculty, staff, and the community informed of possible closures and updates through the emergency alert system, email, polk.edu, social media, and local media. There are no changes to College operations at this time.
As of 5 a.m. Friday, Hurricane Dorian is a Category 2 storm about 600 miles away from Florida's coast, according to the National Oceanic and Atmospheric Administration (NOAA).
Hurricane-force winds could reach Florida's east coast and peninsula early next week, although it is too soon to determine where the strongest winds will occur. Regardless of the exact track of Dorian, heavy rains are expected to occur over portions of Florida and the southeastern U.S. this weekend through the middle of next week.
Polk State urges students, faculty, and families to be prepared for the storm, which could reach Central Florida by early Tuesday morning.
The National Hurricane Center recommends:
Water: At least 1 gallon of water per person and animal per day for at least three days
Food: At least a three-day supply of nonperishable food with a manual can opener to open canned foods
Radio: A battery-powered radio and extra batteries
Flashlight: With extra batteries
Cell phone: Make sure to have extra battery packs or a solar charger
Important documents: IDs and insurance policies should be protected
Prescription medications
First-aid kit
Cash
Gas in vehicle
Polk State also encourages everyone to utilize  Polk County Emergency Management and Florida Division of Emergency Management's emergency plans, contacts, evacuation routes, supply-kit checklists, and other resources to assist with preparations.
It is also important to monitor the news, sign up for alerts, and stay connected to updates from weather and emergency management agencies including:
Students, faculty, and staff should ensure their contact information in PASSPORT is up to date to receive emergency alerts from Polk State. Students should check under "My Details" and employees should check under "Personal" and "Change Contact Info." Numbers entered in the "Cellular Number" field in the "Personal Information" section will be used for emergency voice and text messages.
They should also monitor polk.edu, where the College will post updates before and after the hurricane regarding possible closures and reopening, as well as resources for those impacted by the storm.