Polk State to kick off Hispanic Heritage Month with U.S. Congressman Soto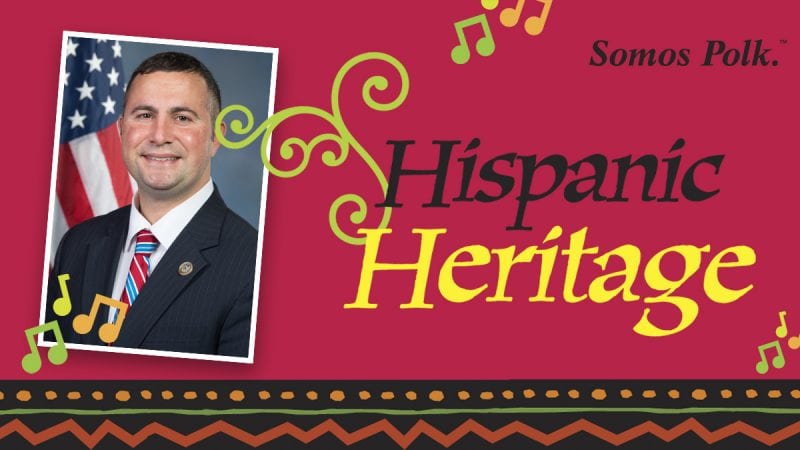 Polk State College is kicking off its annual celebration of Hispanic Heritage Month in September with U.S. Congressman Darren Soto.
The Hispanic Heritage Kick-off event will take place noon Monday, September 16, in the Polk State Winter Haven Campus Student Center, where students, faculty, staff, and members of the community will become immersed in Hispanic culture, cuisine, history, music, and dance with this year's theme, La Cultura.
The public is invited and asked to RSVP to HHM@polk.edu by September 10.
Congressman Soto will provide inspiring remarks about his journey and guests will enjoy a presentation by the Polk State International Circle organization and Spanish students. Lunch is also provided.
"We are honored to kick off Polk State's celebration of Hispanic Heritage Month with Congressman Soto, who continues to influence positive change in the Hispanic community and for all constituents of Polk County," Polk State President Angela Garcia Falconetti said.
The College's Office of Equity, Diversity, and Inclusion partners with the Polk State College Foundation, Student Activities and Leadership Office (SALO), The Arts, the Creative Writing Club, Educational Talent Search, the Honors Program, International Circle, the Únete Club, Club Hispano de Lakeland, and Events by Violet to bring cultural events to Polk State's campuses for Hispanic Heritage Month.
The celebration culminates with the Hispanic Heritage Scholarship Fiesta held October 16 in the Polk State Lakeland Campus Student Center, where students are awarded for their academic achievements and service to the community. Students may apply for the Hispanic Heritage Scholarship by 11:59 p.m. September 10. The application is available online at foundation.polk.edu/hhm.
The College is also an active participant in the Annual Hispanic Festival hosted by Club Hispano de Lakeland. This year's festival is October 26.
Events are free unless otherwise noted. This year's events are as follows.
Hispanic Heritage Month Gallery Exhibit: Juan Miranda
September 9 – October 10 | Monday – Thursday | 10 a.m. – 2 p.m.
Polk State Winter Haven Campus Fine Arts Gallery
Hispanic Heritage Month Kick-off
Monday, September 16 | Noon
Polk State Winter Haven Campus Student Center
Creative Writing Club Visiting Writers Program:
Polk State District Board of Trustees Chair Teresa V. Martinez
Thursday, September 26 | Noon
Polk State Lakeland Campus Student Center Dining Hall
Artist Reception featuring Juan Miranda
Tuesday, October 1 | 5 p.m. – 7 p.m.
Polk State Winter Haven Campus Fine Arts Gallery
Hispanic Heritage Celebration: La Cultura
Wednesday, October 2 | Noon
Polk State JD Alexander Center Lobby
Café con Leche: The Importance of Education and Getting Involved
Thursday, October 10 | 9 a.m.
Polk State Lakeland Campus Student Center Lobby
Hispanic Heritage Scholarship Fiesta
Wednesday, October 16 | Noon
Polk State Lakeland Campus Student Center Dining Hall
Annual Hispanic Festival
Presented by Club Hispano de Lakeland
Saturday, October 26 | 12 p.m. – 6 p.m.
Lake Mirror Promenade/Barnett Park
$5 for adults | Free for children younger than 12