Polk State to host FIRST LEGO League Championship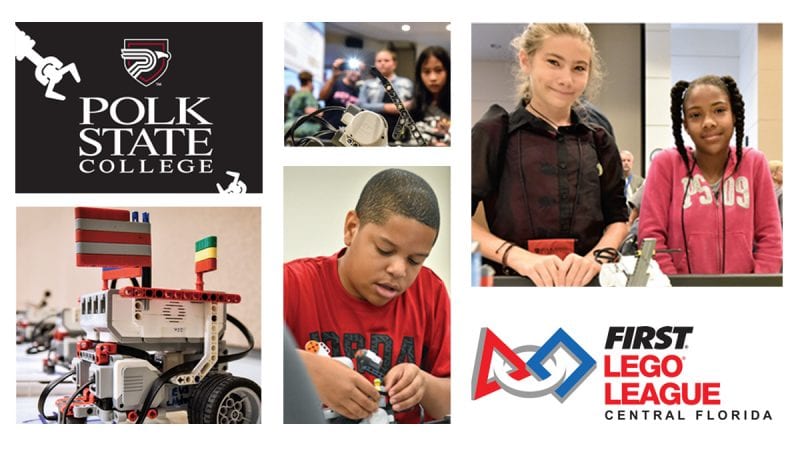 Polk State College will host the FIRST LEGO League Central Florida Regional Championship on Sunday, Feb. 17, bringing together nearly 1,000 elementary and middle school students as well as LEGO enthusiasts for a day focused on teamwork and innovation.
Nearly 50 teams comprised of students from the fourth through eighth grades will compete in the championship from 9 a.m. to 5 p.m. in the Polk State Winter Haven Health Center/Gym (WHC) at 999 Ave. H N.E., where they will compete in the INTO ORBIT Challenges by programming LEGO MINDSTORMS robots they have built.
"This year's theme will engage students in solving issues space explorers may experience, such as the need for air, water, food, or exercise, or social problems such as isolation or boredom," said Naomi Boyer, Polk State's Vice President of Special Projects, Strategic Priorities, and Growth. "By solving problems through the FIRST core values of discovery, innovation, impact, inclusion, teamwork, and fun using LEGO tools, students will develop critical thinking skills that will assist them in school and in their future careers."
Students will participate in challenges that simulate crater crossing, extraction, and meteoroid deflection, among other space-related activities.
Volunteer judges from various fields, including engineering, construction, information technology, education, and business, will evaluate the teams in three areas: their projects, their core values, and their robot design.
A dozen teams will move on to a state-level tournament, and three of those teams will be selected to participate in international invitational events.
The Feb. 17 event will be a great spectating opportunity for anyone interested in LEGO construction and STEM education. VIP tours will also be available at 10:30 a.m. and 2 p.m. Those interested in attending the FIRST LEGO League Central Florida Regional Championship should contact Boyer at nboyer@polk.edu or 863.298.6854.
In addition to the championship, younger children will have the opportunity to participate in the FIRST LEGO League Jr. Expo on Feb. 16 at LEGOLAND Florida Resort, which will also celebrate Robot Day on Feb. 18. LEGOLAND Florida Resort is offering substantially discounted tickets February 17, 18, and 19 for all participating teams, their families, and friends. Part of the proceeds will support robotics education activities.
FIRST (For Inspiration and Recognition of Science and Technology) is an all-inclusive, character-drive, K-12 education program that uses robot challenges to build science and technology skills and interests. More than 10,000 students participate in FIRST statewide.
FIRST LEGO League is an alliance between FIRST and LEGO to engage children in playful and meaningful learning while helping them discover the fun in science and technology through the FIRST LEGO League experience.
Polk State's involvement with First LEGO League is just one of many robotics education initiatives at the College, including its STEM-based Enrichment Academy; summer programs Kids at College and TALON Robotics; partnership with Technobotics Academy at Winter Haven High School; Associate in Science in Engineering Technology Program; and a variety of other certificate programs related to manufacturing robotics.
"I encourage individuals to attend this phenomenal event to witness an inspiring learning experience that is critical for our community's youth, the economic growth of our region, and our future talent pipeline," Boyer said. "Robotics education lights a spark that can stimulate greater interest and engagement in science, technology, engineering, and mathematics as students advance through school, creating future leaders in STEM and our community."