Polk State to Host Exhibit of Lake Wales-Based Artists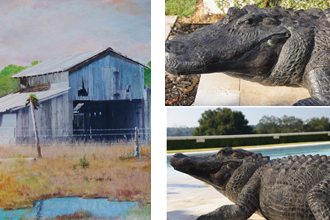 Polk State College will host Price and Freeman, a free exhibit featuring the work of two Lake Wales-based artists beginning Jan. 2 at the Winter Haven Fine Arts Gallery.
David Price has been sculpting for 17 years, finding his inspiration in human and animal forms. When he began as an artist, he created works of stone, but he has since moved on to bronze.
"My work is allegorical in nature, using the animal form to represent a thought or idea. The study of the subject is as enjoyable to me as the sculpting process. Through my art, I seek to represent the highest human qualities and characteristics, to portray the vitality and dignity of the subject but also evoke a feeling or an emotion from the viewer," he said.
Price's artwork has won awards in group and featured exhibits. He has received commissions for public and private work and is also represented in more than 25 private and public collections.
In addition to his work as an artist, Price is president of the Bok Tower Gardens Foundation and president of the Green Horizon Land Trust, which has preserved more than 5,300 acres of environmental lands in Central Florida.
"My interest in conservation, plants, animals and art is expressed through my sculpture as well as my work in the public garden field," he said.
Thomas Freeman is an acrylic, oil and watercolor painter who finds his inspiration in Florida's landscapes, seascapes and wildlife.
"I paint all representational and realistic works," he said, adding that most of his subjects are found in Polk County, including at his home on Lake Kissimmee.
He worked as an art teacher at Lake Wales High School, later becoming the dean of students and assistant principal. He retired in 1987.
Freeman has won numerous awards throughout the state and has displayed his work at every Lake Wales Art Show, an annual event that began more than 40 years ago.
The Winter Haven Fine Arts Gallery is located on Polk State's Winter Haven campus, 999 Ave. H N.E. It is open 10 a.m. to 2 p.m. Monday-Thursday, and is free to the public. The Price and Freeman exhibit will be on display through Jan. 27.
An artists' reception will take place on Jan.10 from 5:30 to 7 p.m. at the Winter Haven Gallery. It is also free and open to the public.