Polk State to Exhibit Paintings, Pottery of Local Artists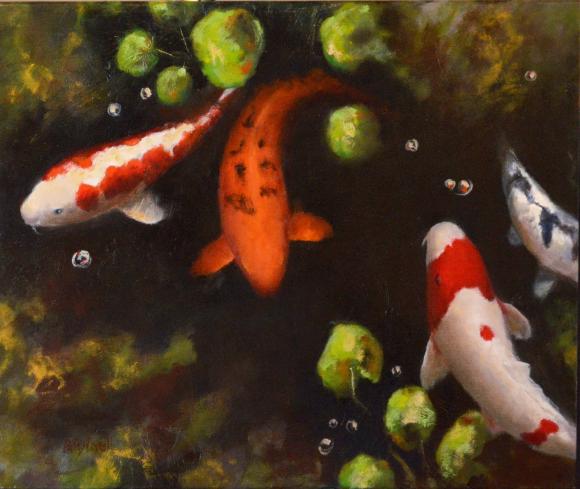 Polk State College will host Lovell, Phelan and Ross, a free exhibit featuring the work of three local artists beginning Nov. 5 at the Winter Haven Fine Arts Gallery.
Patty Lovell is a Lakeland-based acrylic and oil painter, who takes her inspiration from koi, an ornamental form of the common carp fish. Her work has been exhibited throughout the state and has won numerous awards, including this year's second place at the Ridge Art Association's 62nd Anniversary Fine Arts Exhibition. The year prior, she won an Award of Merit at Polk County's 105th Anniversary Show at Arts on the Park in Lakeland.
Lovell, a 2004 graduate of Polk State, raises koi at her studio in Lakeland, and considers them a reminder of the responsibility humans have to nature.
Patrons to the Polk State exhibit should expect to be excited and personally affected when they view her work, she said.
"My aspirations are to create paintings which capture the viewer's attention, as it has captured mine, stopping them in their tracks and allowing them to enter into themselves, remembering a time, a feeling or an experience," she said.
Ilene Phelan is a ceramics artist, who describes her work as "non-functional sculptural pottery decorated with horsehair and alternative glazes."
She has been applying her craft for the past 10 years, and has shown it in events including the Disney's Festival of the Masters and Lakeland's MIDFLORIDA Mayfaire-by-the-Lake. In 2011, she won second place in a photography, jewelry and pottery show at Lakeland's Arts on the Park and an Award of Excellence at the Central Park Fine Art Show.
"Over the last 10 years or so, my pottery has evolved into a balance between the organic presence of the piece and the limitations I place upon it. Because pottery teaches me patience, I have been challenged to explore with my hands what is in my heart. I have had to learn to accept not only the clay's limitations, but my own as well, which has helped me to develop pieces that express my love of mud," she said.
Kim Ross is a Winter Haven-based acrylic, watercolor and pastel painter who also draws her inspiration from nature.
"My intent is to convey the joy and beauty that is found in nature. My work ranges from representational still-life works to serene landscapes from the inner mind," she said.
Ross discovered her interest in painting years ago as an undergraduate nursing student at the University of Florida, though she never pursued it. Her passion was rekindled in 2008, when she took a painting class at Polk State College. Her work has been shown at events throughout Polk County.
Recent awards include a 2010 Honor Award from Arts on the Park, and an Award of Merit from the Polk State College Student Fine Arts Competition in 2009.
The Winter Haven Fine Arts Gallery is located on Polk State's Winter Haven campus, 999 Ave. H N.E. It is open 10 a.m. to 2 p.m. Monday-Thursday, and is free to the public. The Lovell, Phelan and Ross exhibit will be on display through Dec. 6.
An artists' reception will take place on Nov. 6 from 5:30 to 7 p.m. at the Winter Haven Gallery. It is also free and open to the public.