Polk State Theatre to Perform "Richard III" Beginning Nov. 7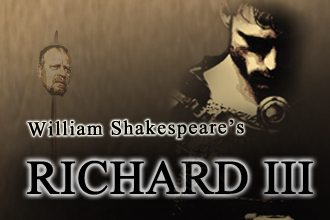 Polk State Theatre will perform William Shakespeare's "Richard III," during a nine-day run that begins with a free preview on Nov. 7.
"Richard III" is Polk State Theatre's second Shakespeare performance, following last spring's "The Taming of the Shrew."
The play follows Richard's pursuit of England's throne, a prize he's determined to win no matter how many lies he must tell or people he must kill along the way. Richard's cutthroat ways catch up with him in the end, however, when he faces a new challenger for the crown.
"Richard III" is a demanding performance that poses new challenges for Polk State Theatre, said Professor of Speech and Theatre Paul Carbonell.
"Our first Shakespeare, 'The Taming of the Shrew,' was a comedy. Some of Shakespeare's comedies are easier for the audience to digest and track. But the histories are incredibly difficult. The challenge is to take a tragic history play and get it across in a way that engages the audience," Carbonell said.
"This is really difficult material for student actors and for audiences new to Shakespeare. The trick to tragedy is to make it even more entertaining than a comedy. The secret is to play up the humor…yes, the humor. We can create this 'entertaining tragedy' by playing up the fun factor of watching Richard enjoying his evil rollercoaster ride. It's like we love to hate him as he rides the swells to murderous heights while attaining the crown, and then quicklycrashes down to a bloody pulp alone on the battlefield, sword-less, horse-less and crown-less. Now that's entertainment."
"Richard III" has had numerous revivals on Broadway. The most recent version, in 1979, starred Al Pacino in the title role.
Starring in Polk State Theatre's performance:
Charlie Sigler of Winter Haven — Duke of Gloucester, King Richard III
Rico Borrero of Haines City — Duke of Buckingham
Austin Thomas of Auburndale — King Edward IV
Yusak Comas of Haines City — Earl of Richmond
JacobThomas of Auburndale — Duke of Clarence, George
BrittMathis of Auburndale — William Hastings, Lord Chamberlain
Greg Yang of Winter Haven — Lord Stanley, Earl of Oxford
JamesEckman of Lakeland — Ratcliffe, First Murderer, Guard
Alec Gomez of Davenport — Second Murderer, Ghost of Prince Edward III, Ned Plantagenet, Guard
Michael King of Winter Haven — Catesby
ErickRamirez of Lakeland — Lt. Brakenbury, Archbishop of York, Earl of Surrey, Guard
Ashley Kochenburger of Lakeland — Queen Elizabeth
Sydney Reynolds of Lake Alfred — Queen Margaret
LeisaEnglert of Winter Haven — Lady Anne
Lizett Echevarria of Auburndale — Duchess of York
CindySigler of Winter Haven — Edward V, Prince of Wales, Brandon, Archer
Mikayla Duncan of Lakeland — Richard the Duke of (Young) York, Fourth Messenger, First Lord to Richmond
Devon Maver of Winter Haven — Norfolk, First Citizen, First Messenger, Bishop of Ely, Sheriff of Wiltshire
Briana Martin of Auburndale — Marquess of Dorset, Second Citizen, Second Messenger, Sir Walter Herbert
Chris Ninan of Lakeland — Edward Plantagenet, Third Citizen, Messenger, Bishop, Lord Grey
CR Junkins of Winter Haven — Lord Mayor of London
Lurline King of Winter Haven — Lord Mayor's Wife
Michael Defelice of Winter Haven — Ghost of King Henry VI, Cardinal Bourchier, Archbishop of Canterbury, Christopher, Guard
Tiffany Nystrom of Davenport — Pursuivant, Scrivener, Young Elizabeth, Berkeley
Gisella Hernandez of Auburndale — Margaret Plantagenet, Messenger to the Queen, Vaughan
SladeFernandes of Davenport — Blunt, Second Lord to Richmond, Stanley's Messenger, Priest, Hasting's Guard
Chris Rigby of Winter Haven — Sir James Tyrrel and Earl Rivers
Paul Carbonell of Winter Haven — executioner
"Richard III" will be performed from Nov. 7-11 and 15-18 at the Fine Arts Theatre on the Winter Haven campus, 999 Ave. H N.E. All shows are at 7:30 p.m. except for Sunday matinees, which are at 2:30 p.m. The Nov. 7 show is a free preview. All shows are free for Polk State students and employees, as well as high school students with school IDs. Tickets for the general public are $5. The box office opens 30 minutes prior to each show. There are no advance ticket sales.
A free shuttle service will be available on Nov. 8 for College students and employees at Polk State Lakeland. The bus will pick riders up at 6 p.m., and return them to the campus after the show. Riders need their College-issued ID.
In addition to Polk State Theatre, Polk State Fine Arts includes the College's Music and Visual Arts departments, all of which enjoy outstanding statewide reputations.