Polk State Theatre Receives Superior Adjudication, Risk Award for "Moonchildren"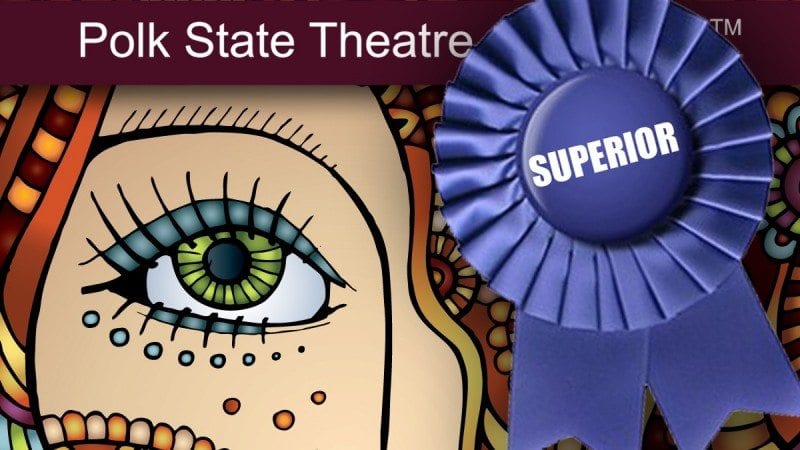 Polk State Theatre has received more honors from the Florida College System Activities Association.
The department received a superior adjudication for its February production of "Moonchildren," a 1972 Broadway hit about eight college students living together during the sixties.
In addition, the show earned the FCSAA's Risk Award, which recognizes productions that take on themes or subjects that challenge audience members and student-performers to consider perspectives different from their own.
"We're very proud of this acknowledgement," said Polk State Speech and Theatre Professor Paul Carbonell. "We're being recognized by other state college theatre departments for doing really great stuff on stage."
The adjudication for "Moonchildren," conducted by St. Petersburg College Theatre Professor Scott Cooper, included high marks for virtually every aspect of the production.
Of the set design, Cooper wrote:
"The painting of the set was outstanding … not only was it painted very realistically, but there were many 'hippy' images and colors that impressed upon me the attention to detail in the set."
Of the acting, he added:
"I immediately appreciated the ensemble feeling of this production. The three actors who played Mike, Ruth and Cootie set the tone for this. Their timing and very natural interactions with each other immediately made me understand the relationship of these characters."
Charlie Sigler (Winter Haven) played Mike, while Brittany Davis (Lakeland) played Ruth and Jared Roys (Auburndale) played Cootie.
Cooper also recognized Ana Kargakos (Winter Haven), Tyrone Jackson (Davenport), Matthew Pile (Lakeland) and Alainna Whatley (Auburndale) for their performances.
Cooper also applauded Carbonell for his direction of the play.
"I thought this was a well-polished and great production. I enjoyed my time in the theatre with these characters and talking with the actors after the performance. I think this is a strong and growing theatre program, and I am very thankful that I was able to attend the performance," Cooper wrote.
This is the second superior adjudication for Polk State Theatre in the past year. The department also received the superior rating for its January 2014 production of "Brighton Beach Memoirs."
Polk State Theatre will conclude its 2014-15 season in April with "Footloose: The Musical."
In addition to Polk State Theatre, Polk State Fine Arts includes Music and Visual Arts, all of which enjoy outstanding statewide reputations.