Polk State Theatre Presents "Twelfth Night" April 7-10, 14-17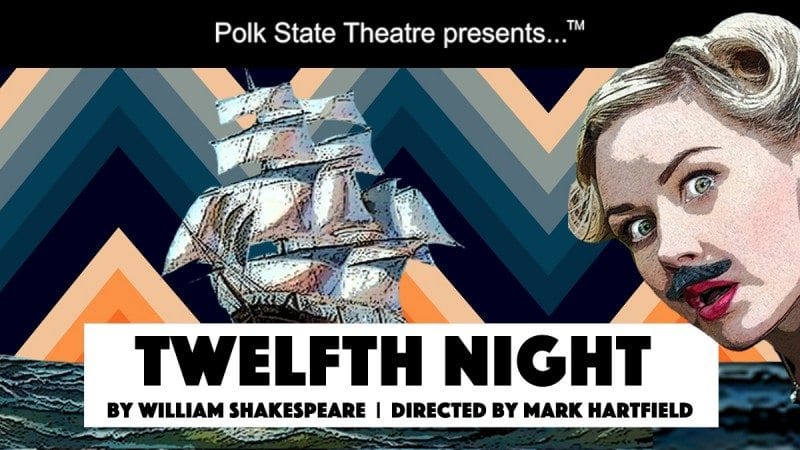 For its final production of the 2015-16 season, Polk State Theatre will present the famous Shakespearean comedy, "Twelfth Night."
"This is a very approachable comedy, and it's a romance, too. The audiences are going to enjoy it," said Director Mark Hartfield.
At the center of "Twelfth Night" are the characters Orsino, a nobleman in love with Lady Olivia, and Viola, an aristocrat and shipwreck survivor. Cast ashore in the foreign land of Illyria, Viola assumes a male identity and becomes Orsino's page. Orsino continues to pursue Olivia, even as the disguised Viola is falling in love with him. Many hilarious misunderstandings ensue, including one involving yellow stockings and garter belts, until the truth is revealed and love prevails.
"This is a classic example of a Shakespearean comedy. In several of his plays, Shakespeare uses this cross-dressing plot device — and this is one of those plays," Hartfield said. "But it's also a really sweet story, and audiences will find that the characters and situation are pretty easy to understand and follow."
Polk State Theatre is putting its own twist on the play, Hartfield added.
"Almost every production of 'Twelfth Night' finds a world to live in; it's rarely done in Elizabethan times," Hartfield said. "This play doesn't require a specific year in order for the show to be recognizable. We've chosen the 1700s in the Caribbean, which allows us to do fun things with the set and the sword fights that are in the play."
"Twelfth Night" is a challenging work, but Hartfield said audiences will be impressed by the College's rendition.
"Comedies are harder, period," Hartfield said. "You have to get the timing just right to capture the moment of funny. But in this one, you're also using the Elizabethan language and trying to make it completely understandable for the audiences. The students are doing a great job and it's going to turn out very beautiful."
Hartfield added that audiences shouldn't be put off by the language of "Twelfth Night." It'll take them only a few minutes to adjust to lines like those Orsino utters at the beginning of the play: "If music be the food of love, play on; Give me excess of it, that, surfeiting, the appetite may sicken, and so die."
"I think a lot of people get frightened about whether they're going to like Shakespeare or understand it. It's still the English language. Most audiences, after the first couple of minutes, start to understand it and can understand the story, which is funny and not that different from modern shows and movies. It's just an earlier form of our language set in a different time," he said.
Polk State Theatre will present "Twelfth Night" April 7-10 and 14-17. Shows are at 7:30 p.m., except for Sunday matinees at 2:30 p.m. All shows take place at the Polk State Winter Haven Fine Arts Theatre, 999 Ave. H N.E. Tickets are free for Polk State employees and students, and all high school students, with ID. Tickets may be purchased at the box office or at polk.edu/box-office.
The cast of "Twelfth Night" includes:
Matthew Benton, Winter Haven, Curio
Michael Burke, Lakeland, Fabian
Yusak Comas, Kissimmee, Orsino
Michael Defelice, Winter Haven, Priest
Liz Echevarria, Auburndale, Mariah
Lori Engler, Kissimmee, Antonia
Lilia Gutierrez, Winter Haven, Olivia
Alexandra Horton, Lakeland, Viola/Caesario
Kimberly James, Davenport, Sea Captain
Jonathan Janack, Winter Garden, Malvolio
Heather Jones, Davenport, ensemble
Ana Kargakos, Winter Haven, ensemble
Drew Koon, Lakeland, Sebastian
Tasha Lamkin, Lakeland, ensemble
Ronnie Metcalf, Lakeland, Valentine
Christopher Rigby, Winter Haven, Feste
Jared Roys, Auburndale, Sir Andrew
Alejandro Valdez, Winter Haven, Sir Toby
In addition to Hartfield, the crew includes:
Michael Burke, set design and lighting
Javier Calderon, electrician
Paul Carbonell, producer
Vicky Hallam, stage manager
Cristina Hartfield, costume designer
Kimberly James, set design
Michael Marks, sound operator
Ronnie Metcalf, lighting
Orlando Mora, lighting designer
Stephen Packard, set designer
Samantha Ryan, assistant stage manager
James Sharp, technical director
Alex Taylor, carpenter and scenic artist
In addition to Theatre, Polk State's arts programs include Music and Visual Arts, all of which enjoy outstanding statewide reputations.