Polk State Theatre presents interactive "Our Town"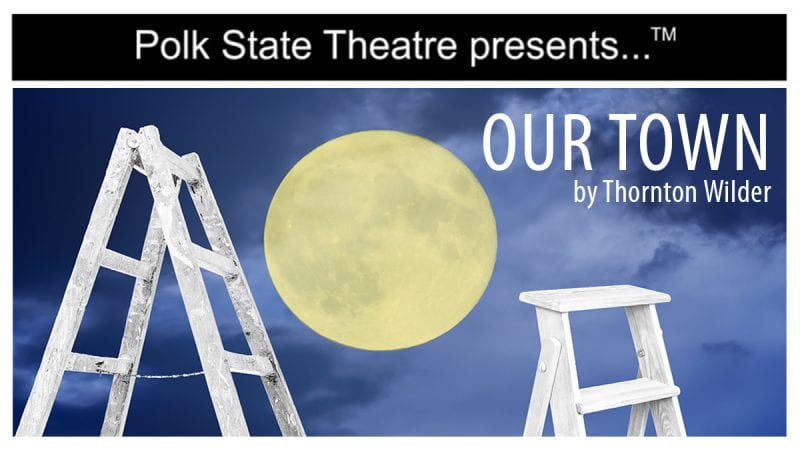 Polk State Theatre will continue the 2018-2019 season with the interactive play "Our Town" – a metadrama by Thornton Wilder often referred to as a "play within a play."
Polk State Theatre's production, directed by Mark Graham, will open Thursday, Nov. 8, with performances through Sunday Nov. 11, and Nov. 15 through Nov. 18 at the Winter Haven Campus Fine Arts Theatre, 999 Ave. H N.E. Curtain time is 7:30 p.m. except for Sunday matinees, which begin at 2:30 p.m.
Tickets are $5 for the public on opening night and $10 for all other performances. Shows are free for students, faculty, and staff with their Polk State IDs as well as for Polk County high school students. The box office opens one hour before curtain time, but it is recommended that reservations be made in advance online at polk.edu/boxoffice or by calling 863.297.1050.
"Our Town" follows the fictional town of Grover's Corner, setting the play in the theatre where it is being performed with the stage manager – or main character – directly addressing and interacting with the audience. With a mostly bare stage and minimal props, the actors bring the story to life through a variety of performance techniques.
"In 'Our Town,' Wilder, the playwright, knew he couldn't physically recreate the 1901 town of Grover's Corners, so he let the audience use their imaginations and the actors create the sense of reality," said Theatre Program Coordinator Mark Hartfield. "This is a unique opportunity for the actors to practice creating real characters in a minimal setting.  The effect is nostalgic and entertaining for the audience."
For more information about this season's Theatre performances and The Arts at Polk State College, visit polk.edu/arts.