Polk State Theatre Presents "Anna in the Tropics" Beginning Feb. 6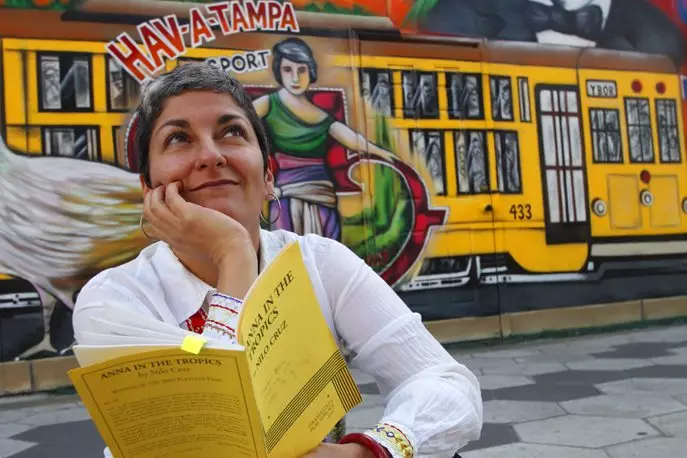 Polk State Theater delves into Central Florida's rich Cuban culture for its spring performance, staging the Pulitzer prize-winning, "Anna in the Tropics," a selection that will offer actors and audiences alike a unique theatrical experience.
"This is a very intimate performance, the subject matter has moments of intensity and the language is poetic. The audience and actors will be in close proximity to one another. Depending on what your theatre-going experience has been, it may be unlike anything else you've ever seen," said Director Ilene Fins.
The play, written by Nilo Cruz and winner of the 2003 Pulitzer for drama, is set in 1929, in an Ybor City cigar factory — a fictional version of the many cigar factories that once lined the community's streets. Its cast of characters includes Conchita, an unhappy wife married to the adulterous Palomo; Santiago and Ofelia, the factory owners; and Cheche, a worker whose share of the factory grows with each gambling debt he covers for Santiago.
It is against this backdrop that the play's lector, Juan Julian, is introduced. Lectors were often brought into cigar factories — and paid from workers' wages — to read, breaking up the monotony of the hand-rolling process.
Juan chooses for his reading material Leo Tolstoy's adultery-ridden "Anna Karenina." The novel provides perfect juxtaposition for the struggles the workers face throughout the play — from assimilating to American culture, to the move toward mechanizing cigar-making and the rise of the cigarette, to their own relationship problems.
The cast and crew of the upcoming performance includes:
Rico Borrero of Poinciana — Santiago
Michael DeFelice of Winter Haven — Ensemble
Elise Engle of Lakeland — sound design
Gisella Hernandez of Auburndale — Marela
Viktoria Hicks of Eagle Lake — Ofelia
Nick Judy of Auburndale  — light design
Ashley Kochenburger of Lakeland — Conchita
Devon Mavor of Auburndale — Ensemble and choreography
Charlie Sigler of Winter Haven — Eliades and Ensemble
Austin Thomas of Auburndale — Juan Julian
Jake Thomas of Auburndale  — Cheche
Rajia Williams of Haines City — Ensemble
Greg Yang of Winter Haven — Palomo
Polk State Theatre will perform "Anna in the Tropics" on Feb. 6-9 and 12-15. All shows will be at 7:30 p.m. at Polk State Winter Haven's Fine Arts Theatre, 999 Ave. H N.E.
The Feb. 6 show is a free preview. All shows are free to Polk State students, faculty and staff, and high school students with ID. Tickets for the general public are $5. The box office opens 30 minutes prior to each show.
Polk State Lakeland's Student Activities and Leadership Office (SALO) will sponsor a free shuttle service to the Feb. 12 performance. College students and employees can ride a bus to the show for free with their College-issued ID, and they will be returned to the campus afterward. The bus will pick up riders at 6 p.m. at the bus loop outside the LTB building.
In addition to Polk State Theatre, Polk State Fine Arts includes the College's Music and Visual Arts departments, all of which enjoy outstanding statewide reputations.