Polk State Theatre Gives Special Performance of "The Fantasticks" for 400 Area Students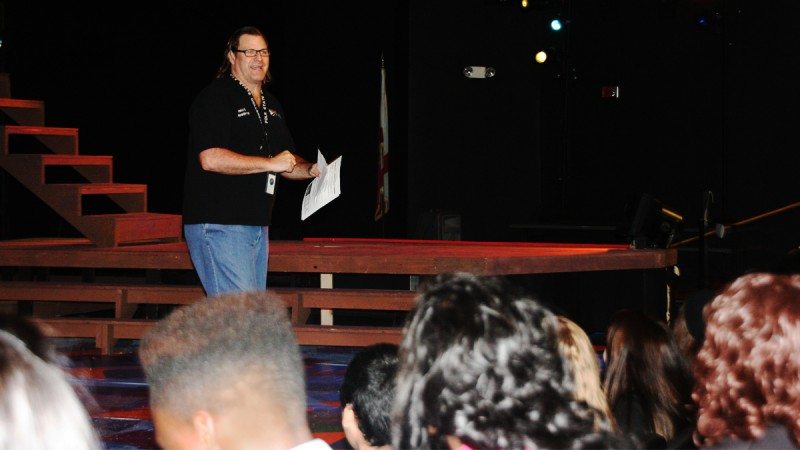 Polk State Theatre performed its current production, The Fantasticks, for nearly 400 area public-school students on Wednesday, giving many their first experience with a professionally staged play, and inspiring others to pursue careers in the arts.
"We want to make sure that our middle- and high-school students are exposed to the theatre, and that they see they have the theatre right here in Polk County," said Polk State Professor of Speech and Theatre Paul Carbonell.
"We're bringing the theatre to young people and creating theatre-goers," he added, crediting student Tina Mitchell, who assists in the theatre department, with organizing Wednesday's event.
Attending the matinee performance were students from Davenport's Ridge Community High School, Haines City High School, Lakeland's Kathleen High School and Rochelle School of the Arts, and Winter Haven's Jewett School of the Arts.
Combined, approximately 375 students attended the performance, just shy of the Polk State Winter Haven Fine Arts Theatre's 390-seat capacity for The Fantasticks.
Students attended Wednesday's show for free; all Polk State Theatre performances are free to all students with ID.
Wednesday's matinee was only the second such performance for Polk State Theatre; last year, it staged William Shakespeare's Richard III for area middle- and high-school students.
Students and teachers alike said having Polk State Theatre open its doors leaves an impression that won't soon — if ever — be forgotten.
"It changes your world view on the theatre," said Nadine Love, theatre director at Haines City High.
"Our students come away with a new goal, and motivation to really work on their own craft."
Love added that even for students who don't plan a future in the theatre, coming to a college campus is hugely beneficial.
"When you're in high school, college is this big thing that doesn't always seem attainable. Coming here, they can see it and feel it, and they understand better where they can get if they're willing to work for it."
Added Jeremy Henry, theatre teacher at Jewett:
"Coming here, it's inspiring for the students who really want to do this one day," he said. "For others, it makes them appreciate the work we're doing in class so much more."
Haines City High senior Dominique Davis wants to be an actor one day, and is planning on entering the Air Force after graduating. Seeing a production like The Fantasticks at Polk, she said, makes her question her plans.
"It makes me want to come here and work with this cast. They're awesome," she said.
Wednesday's performance for the students is just one of several efforts Polk State Theatre has made to build stronger partnerships with area schools. For two years in a row now, it has hosted the All County Theatre Festival, where students compete for scholarships.
Carbonell also regularly visits schools to view their productions and offer expertise and advice. Davis, for example, said getting to know Carbonell has made her less nervous about auditioning.
"It's all about sharing the joy of the theatre," Carbonell said. "We want to create theatre-goers, who go see live theatre instead of watching movies and playing video games. With the theatre, they get an organic, live, in-the-moment experience with real human beings."
The Fantasticks continues its run at the Polk State Winter Haven Fine Arts Theatre Nov. 21-23 and 24. Shows are at 7:30 p.m.; Sunday matinees are at 2:30 p.m. Polk State students and employees, and all other students, are free with ID. Tickets for the general public are $8. Box office opens an hour before each performance. The Polk State Winter Haven Fine Arts Theatre is located at 999 Ave. H N.E.
In addition to Polk State Theatre, Polk State Fine Arts includes the College's Music and Visual Arts departments, all of which enjoy outstanding statewide reputations.