Polk State Success Coaches provide freshmen with support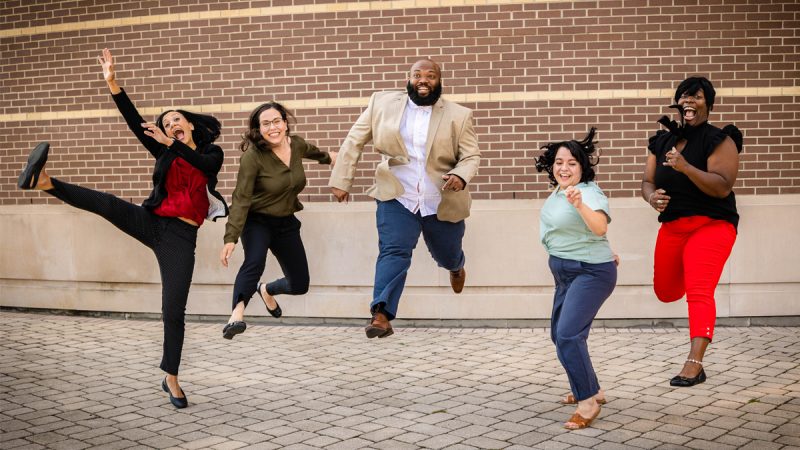 Polk State has incorporated success coaching into its freshmen advising. This enhanced student-support initiative includes the addition of six Success Coaches to specifically assist with onboarding all first-time-in-college students as they navigate their first semesters.
This initiative builds on the College's highly successful First-Year Experience (FYE) Program, which launched in the fall of 2015 with the goal of improving retention and completion rates for first-time-in-college (FTIC) students. In 2019, the FYE Program received the Chancellor's Best Practice Award for its innovative approach to bolstering student success. The College has continued to invest in the program, providing students with critical support, resources, and connections early in the college journey to encourage persistence toward graduation and achievement of academic goals in a timely manner. Success coaching was launched in the Summer 2022 Semester for approximately 850 freshmen who have enrolled for the Fall 2022 Term.
"Coaches ensure that our freshmen are receiving the help and resources they need," FYE Director Cate Igo said. "They celebrate with our students and provide them with the motivation and encouragement to keep reaching for success."
All Polk State freshmen participate in the FYE Program, and those seeking the Associate in Arts degree are also required to take the First-Year Seminar course that focuses specifically on college success and career exploration. Success Coaches add an additional layer of support for FTIC students.
"We are a team that will chase down the dreams students have, help them get on the path to achieving them, and provide them with tools and resources so that they can be successful throughout their college journeys," Success Coach Ericka Barry said.
Within 72 hours of being admitted to Polk State, each student receives communication from his or her designated Success Coach, who provides information about the College's learning management system, proof-of-residency requirements, the financial aid processes, and registration for classes. Each Success Coach maintains an open-door policy and is available by phone, text, email, and video conference. Coaches also hold one-to-one coaching sessions, conduct student check-ins, and assist with self-reflection activities throughout the semester. Scheduled group meetings also allow students to access help and meet with peers.
Melissa Shapiro and Rashod Webb, Polk State alumni who are serving the College as Success Coaches, understand firsthand the complexities of enrolling and persisting in college.
"They can think of us as the 'Freshmen Concierge Service,'" Shapiro added. "Our help doesn't stop at the onboarding process, or when they go to their first class."
"As a former student myself, this role is so impactful—like the faculty and staff members who once guided me," Webb reflected.
The College also established an early-alert system to identify struggling FTIC students, enabling Success Coaches to use faculty referrals to identify freshmen who need help.
Beyond onboarding and registering for classes, the Success Coaches guide students through exercises that allow them to identify their strengths and weaknesses and develop educational plans and career goals. They also aim to shape students into self-advocates who seek out help and resources when needed.
"Coaches show students how to take care of business so that when they do hit roadblocks, they know how to overcome them and persist toward their goals," Webb explained.
"We are setting them up, not only for success in college but also for success in life," Success Coach Gabriela Coleman said.