Polk State Students Featured at Outer Space Art Gallery and Studio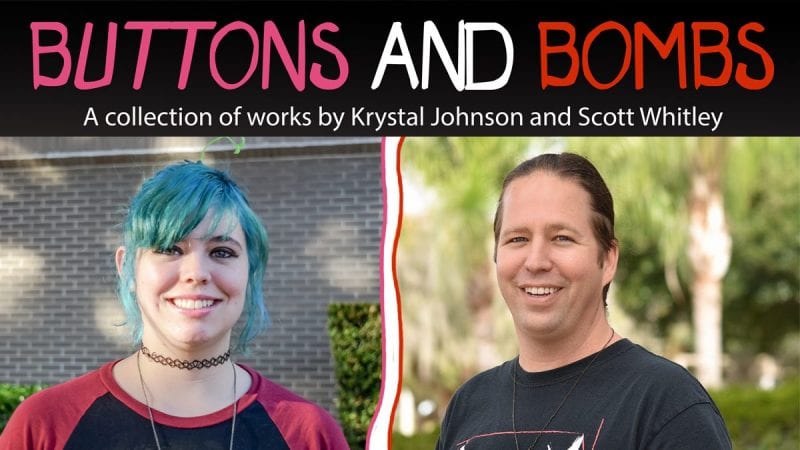 Polk State students will present their final capstone work in "Buttons and Bombs- A Collection of Works by Krystal Johnson and Scot Whitley" at the Outer Space Art Gallery and Studio. The student-named exhibition will feature one-of-a-kind monotype prints by Whitley and oil paintings by Johnson.
The exhibition is the final piece of a 6-month internship coordinated through the Arts Ensemble Education Foundation and the Polk Museum of Art. This is the first program of its kind at Polk State College. Students were awarded their own dedicated studio space and art supplies to create a body of artwork. The internship included artist mentors, gallery space, and sales opportunities. Professionally, the students now have a full portfolio of work that they can use for exhibitions, employment, or other uses in their artistic careers.
"The internship gave me an opportunity to get a taste of what an artistic career is really like. I have made contacts in the art community and participated in all the shows and hangings. I am grateful for this experience," Whitley said.
Johnson noted, "I am excited for what the future holds after completing this program. It was impactful for me and my career."
The exhibition opens with a gallery reception, Friday, Dec. 16, from 6 p.m. to 10 p.m. at 302 Ave C SE, Winter Haven 33880. The exhibition will be on view Dec. 14-Jan. 22, Tuesday-Friday from 10 a.m. to 4 p.m. and Saturday from 10 a.m.to 2 p.m. Admission is free and open to the public.