Polk State Student Gonzalo Gutierrez Named Newman Civic Fellow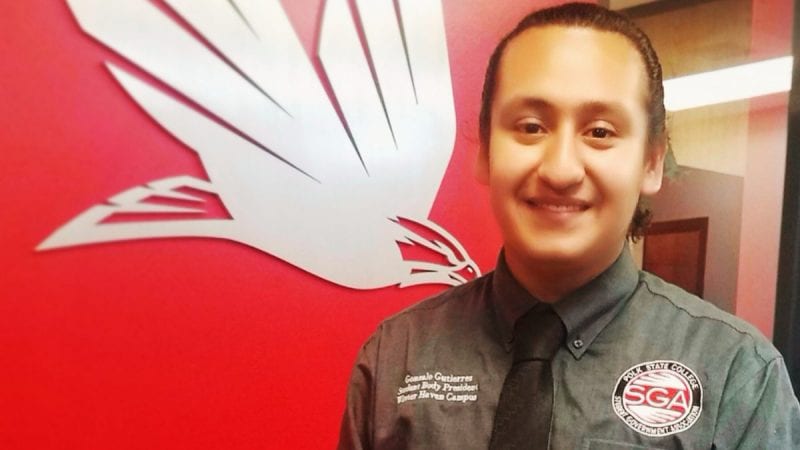 Polk State College is proud to announce that baccalaureate student, Gonzalo Gutierrez, has been named a 2017 Newman Civic Fellow. Campus Compact, a Boston-based non-profit organization working to advance the public purposes of higher education, has announced the 273 students who will make up the organization's 2017 cohort of Fellows.
Gutierrez is a first-generation Mexican-American student with big dreams. Gutierrez began at Polk State in 2013, as a student at Polk State Chain of Lakes Collegiate High School. Two years later, he graduated with both his high school diploma and Associate in Arts degree. Now, he is studying toward his Bachelor of Applied Science in Supervision and Management degree, with a concentration in Business Administration. After graduating from Polk State, he plans to pursue a master's degree and ultimately open his own business selling nutritional supplements. Currently, he serves as the President of the Winter Haven Student Government Association where he is a tireless advocate for Polk State students and the greater Polk County community.
"We are so proud of Gonzalo and all that he has accomplished," said Polk State President, Dr. Eileen Holden. "Gonzalo has represented the College during trips to the State Capitol, and has impressed me with his ability to present the students' position on legislative issues to state legislators. His enthusiasm and passion for the College is infectious, and he has been an exemplary representative for Polk State College. Gonzalo consistently exceeds expectations and has the drive to achieve his goals through education and service to his community."
As a 2017 Newman Civic Fellow, Gutierrez will be part of the first cohort to benefit from a completely re-designed fellowship. The Newman Civic Fellowship, named for Campus Compact co-founder Frank Newman, is a one-year experience emphasizing personal, professional, and civic growth. Through the fellowship, Campus Compact provides a variety of learning and networking opportunities, including a national conference of Newman Civic Fellows in partnership with the Edward M. Kennedy Institute for the United States Senate. The fellowship also provides fellows with access to exclusive scholarship and post-graduate opportunities.
"The cultivation of community-committed leaders has never been more crucial," said Campus Compact president Andrew Seligsohn. "We rebuilt the Newman Civic Fellowship experience because our country needs more people who know how to bring communities together for positive change. We are thrilled to welcome this group of 273 exemplary students as the first cohort to participate in this new model."
This is the third Newman fellow from Polk State College. Andrea Reeves was announced in 2012, and Ryan Darley in 2013. The Newman Civic Fellowship is supported by the KPMG Foundation and Newman's Own Foundation.
Located in Winter Haven, FL and established in 1964, Polk State College is a multi-campus institution serving over 20,000 students with Bachelor of Applied Science, Bachelor of Science, Associate in Arts and Associate in Science degrees, as well as a wide range of certificate and workforce training options. The College also operates three charter high schools. Polk State's advantages include small class sizes; hands-on learning; dedicated faculty; day and night classes; online options; affordable tuition; excellent financial aid; and a diverse community and vibrant student life, including fine arts opportunities, clubs, and intercollegiate athletics.