Polk State Start Right Campaign returns with free school supplies, food pantry & more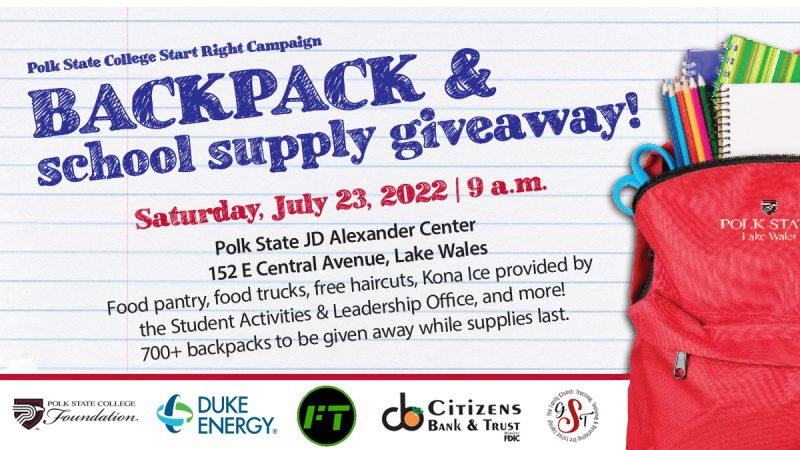 The Polk State College Start Right Campaign is returning this July to the Polk State JD Alexander Center in Lake Wales to provide free school supplies, haircuts, food, and more to students and their families ahead of the 2022-2023 Academic Year.
The event is open to the public at 152 E. Central Ave. on Saturday, July 23, and will start at 9 a.m. with approximately 700 backpacks full of school supplies to be given away to students from kindergarten through college. One backpack will be provided per student while supplies last.
The Start Right Campaign launched in 2017 as a partnership between the Polk State JD Alexander Center and the Polk State Foundation to help meet the needs of students and families in the Lake Wales community and thank them for their support of Polk State. The event was not held during the peak of the COVID-19 pandemic and is returning this year with more backpacks and giveaways than ever due to both increased demand and support.
Duke Energy and The Freedom Tour are this year's premier sponsors. Sponsorships also include Citizens Bank & Trust and GST: The Family Church. Faded Fresh and Gifted Cutz Barbershop will provide students with free haircuts, and the Start Right Campaign will be giving away a grill and patio set donated by The Freedom Tour.
Individuals interested in supporting the Polk State Start Right Campaign can donate online here or contact District Dean of Workforce Education & Economic Development and Director of the JD Alexander Center Andy Oguntola at aoguntola@polk.edu or 863.298.6831.