Polk State Speech and Debate Team places second at State Championships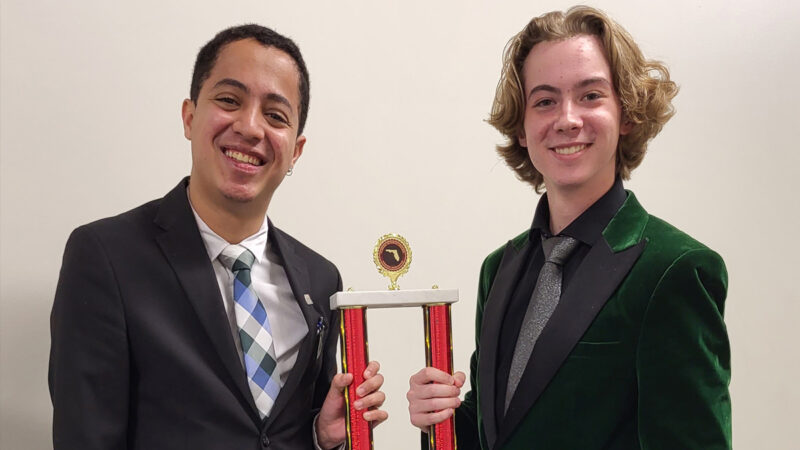 The Polk State Speech and Debate Team may be small, but last month in Pensacola, it proved it could do big things.
The team took home second place in the Limited Entry Division at the Florida Intercollegiate Forensics Association State Championships at the University of West Florida from Feb. 24-26. The Limited Entry Division is for teams with less than nine people.
"It was really fun," said Jayden Smith. "I didn't expect to have that good of a time. There were a lot of friendly people and the competition was really well put together."
Smith, 18, and Edgard Neto, 23, represented Polk State. For Smith, it was his first competition as a member of the team. Neto previously participated in competitions online, but this was his first competition in person.
"To do this in person was amazing," Neto said. "We got to meet a lot of different people. Some of them I'm going to stay in contact with. I think I enjoyed networking most of all."
Throughout the competition, Smith and Neto gave impromptu and persuasive speeches. One of Neto's persuasive topics regarded providing contraceptives to high school students. For Smith, one of his impromptu speeches was based on a provided quote about business from Thomas Edison.
"Now that I've been to the competition, I think I know what to expect for next time," Smith said. "I've always been a big fan of improv comedy. I think that's ultimately what made me think on my feet. Getting to know Edgard has been great as well. I was glad he was there with me."
Professor Christina Gesmundo, Coach of the Polk State Speech and Debate Team, was proud of their performances in Pensacola and how the two have come together as a team.
"Speaking in front of anyone can be a real challenge, and for Jayden especially, this was a new event," she said. "It was his first tournament with the team. Edgard has made himself available to practice and assist Jayden, and that is a hallmark of being a supportive member of a team. I'm proud of both of them for their efforts and achievements, and for bringing animation and energy to a very long weekend."
With ambitions of majoring in performing arts and working as an actor, Smith plans on having plenty of eyes on him moving forward. In addition to his teammate, Smith also credited his coach for helping with his performance at the competition.
"Professor Gesmundo was able to give me a lot of pointers," he explained. "She helped me form an outline of what I wanted to say and did a great job preparing me."
Neto is set to graduate in May with his Associate in Arts. He hopes to one day go to law school and practice international law. Neto believes that some of the skills he's acquired as a member of the Speech and Debate Team will carry over.
"I thought about being a lawyer and I think this will help me in that area," Neto contended. "Professor Gesmundo really cares that we have fun and take in a great experience. I've definitely gotten better when it comes to wording things for impromptu speeches. I would recommend joining (the Speech and Debate Team). I think everyone can benefit."
The Speech and Debate Team is open to all students. No experience is necessary and full scholarships are available for qualified team members.
"I want students on the team to have fun, participate in the collegiate experience, and learn all they can from each and every situation," Gesmundo added. "Success is more than winning or placing in finals. Team success to me means doing the best you can do to represent the values of Polk State College."
The final team meeting of the spring semester takes place on April 5 from 1:30 p.m. to 2:30 p.m. in room LAC 1243 on the Lakeland Campus. All students can attend. Those interested in joining the team can email Gesmundo at cgesmundo@polk.edu.