Polk State Softball Alumna Receives World Series Ring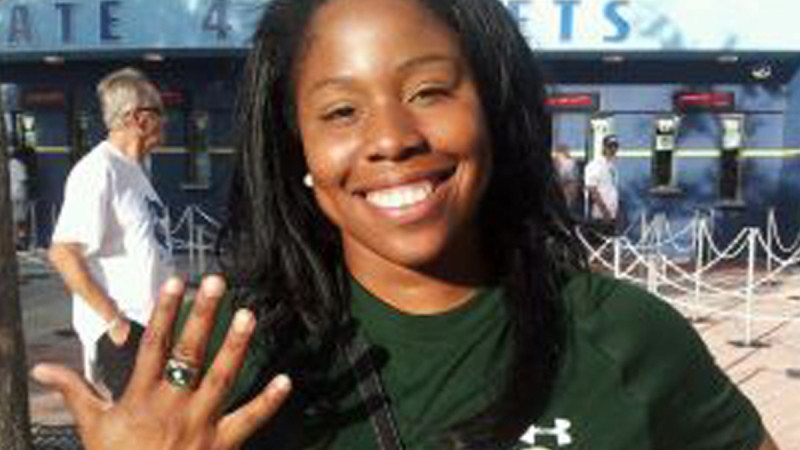 Polk State Softball alumna Kenshyra Jackson can't stop beaming these days – in fact the only thing brighter than her smile may be the bauble on her right hand.
Jackson, holder of numerous titles and College records earned during her two years with the Eagles, now plays infield for the University of South Florida, which this summer made its first appearance in the NCAA Division 1 World Series.
On Saturday, Jackson and her fellow Bulls were honored for their historic run during a ring presentation at halftime of USF football's game against Florida State University.  They were again honored during Monday's Tampa Bay Rays game.
"It's surreal. Every softball player wants to get to that level," Jackson said.
In her junior season with the Bulls, Jackson started in 62 games, earning the role of designated player and posting a .288 batting average. She led the team with 17 extra-base hits and 37 RBI. She slugged .460 and maintained a .402 on-base percentage, according to USF.
The Bulls were eliminated from the World Series after falling to Oklahoma and Louisiana State.
During the 2011 season with Polk State College, Jackson earned First-Team All-Suncoast Conference, First-Team All-FCSAA, and First-Team NJCAA All-American honors, contributing to the program's second consecutive Suncoast Conference championship and leading her team to the finals of the state tournament. She posted team-best totals in batting average (.454), on-base percentage (.534), home runs (12), RBI (56), runs scored (46), and games played (60).
"She's the best player Polk State Softball has had before I took over or since," said Head Coach Jeff Ellis. "She's the best player I've ever coached at the college level. To see her continue her success makes me very proud. I couldn't be happier and this couldn't have happened to a better kid."
Jackson, 21, caught by phone on her way to the Tampa Bay Rays game on Monday evening, said she grew as a player under Ellis' watch and carries with her lessons she learned at Polk State.
"At Polk State, I learned to love the game more and the importance of good team chemistry," she said.
The ring on her finger will be a constant reminder of what teamwork, hard work and positivity can achieve, she said – constant because she doesn't plan on ever taking her ring off.
"Maybe in the shower," she said with a giggle.