Polk State Robotic Surgery Credential Program Starts Strong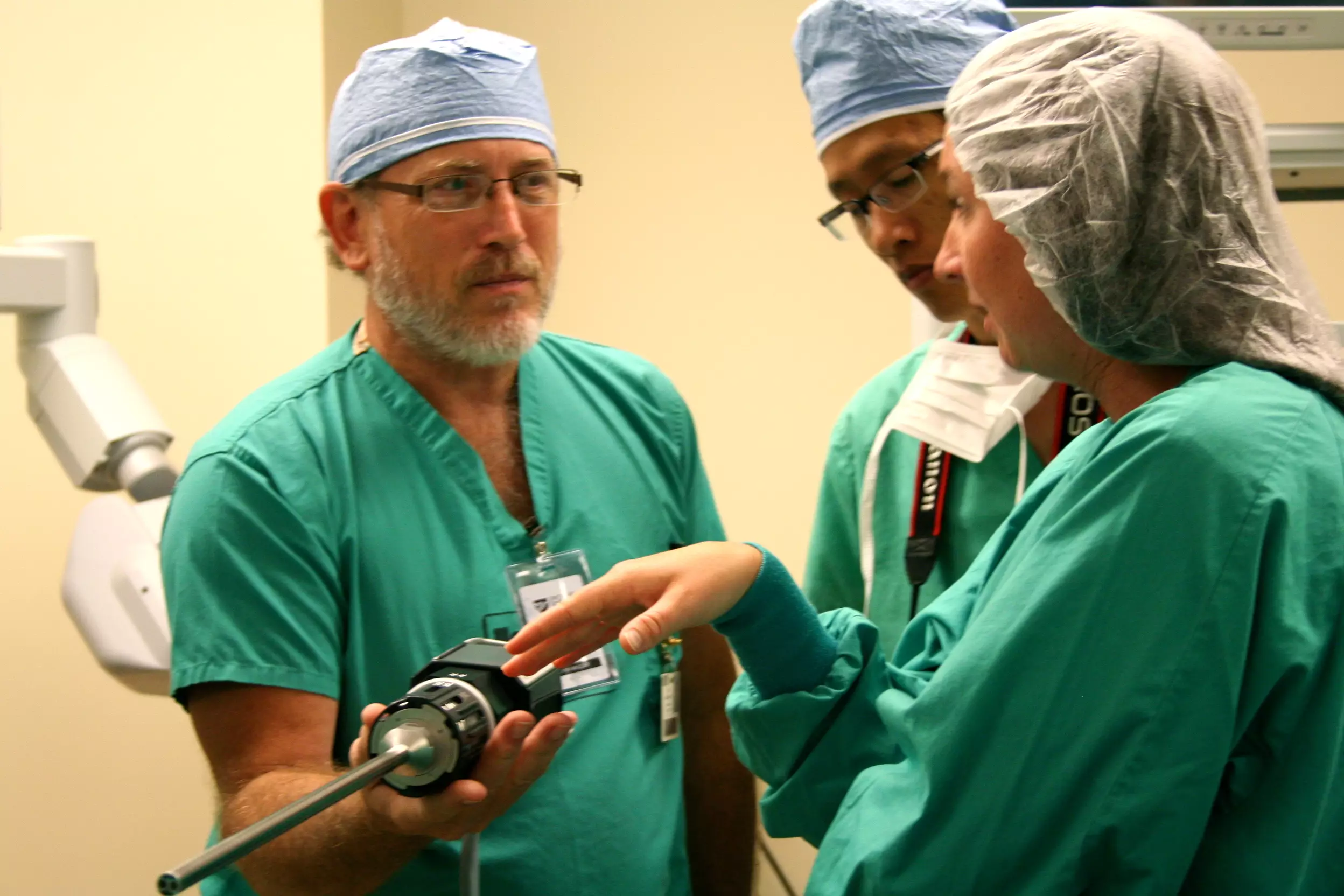 The first session of Polk State College's Robotic Surgery Credential Program is now under way, and it has attracted participation from far beyond Polk County.
The Robotic Surgery Credential Program, developed through a partnership between the College and Winter Haven Hospital, establishes formalized training for licensed registered nurses and technicians who participate in robot-assisted surgeries.
"Nothing else like this exists in the world," said Dr. Sijo Parekattil, director of urology and robotic surgery at Winter Haven Hospital, who is also serving as director of the Polk State Robotic Surgery Credential Program.
"There is a lot of emphasis on training the surgeons who do robotic procedures, but not for nurses and technicians. There is a real need for something like this."
The program combines online studies and hands-on training, covering topics such as sterilizing the robotic surgery equipment and properly positioning patients for procedures. After their training, participants will complete competency-based assessments to earn the credential.
Six participants gathered Friday at Winter Haven Hospital to begin the three-day training schedule. After reviewing their online work, the participants spent nearly two hours completing hands-on training on Winter Haven Hospital's da Vinci Surgical System. Later in the day, they observed a robot-assisted surgery.
The remainder of the program will include practicing procedures using a biosynthetic cadaver and more hands-on training setting up and sterilizing robotic surgery equipment.
Four of the six participants are from Polk County, and two are from Martin County. Chinese physician Dr. Zhongyi Sun, who is in town to learn about Parekattil's work, is also taking part in the training, gathering valuable information he will use in building a robotic surgery program in Chongqing, China.
"This robot is new to me," said Shannon Davidson, a surgical technician for Martin Memorial Health Systems in South Florida who aspires to participate in robotic procedures. "I wanted to take part in this training to broaden my horizons. It's really impressive to learn about all that this robot can do."
Heidi Saxon is a Registered Nurse who has several years of experience in robot-assisted surgery. Still, learning from Registered Nurse Lynn Mulder, a member of Parekattil's surgical team, is beneficial.
"He is very systematic in how he prepares the operating room and the equipment," she said.
Also, Winter Haven Hospital's equipment is more advanced than what she's used previously, Saxon said, so the training is like getting a glimpse into the future of robotic surgery.
Lakeland resident Kacie Mears recently graduated from Travis Career Center and just took a job several weeks ago as a surgical technician at Winter Haven Hospital. She received a scholarship from Polk State to participate in the credential.
"I've always been interested in robotic surgery, and this has been a really enlightening experience so far," Mears said. "This is experience that a lot of other people won't have on their resumes, but I'll always have it under my name."
Watching Mulder guide participants in attaching instruments to the robotic arms, Parekattil said he is pleased by the first session of the program.
"There's a lot of one-on-one interaction and back and forth, and that's what we're trying to achieve," he said.
A second session of the Robotic Surgery Credential Program is planned for Nov. 7-9 to coincide with the Robotic Assisted Microsurgical & Endoscopic Society's (RAMSES) second annual Multispecialty Robotic Microsurgery Symposium, which will take place Nov. 9-11 in Tampa.
To register for the program, go to roboticnursing.org, or contact Polk State Nursing Director Annette Hutcherson at ahutcherson@polk.edu or 863.292.3769.
Polk State Health Sciences includes programs in Cardiovascular Technology, Diagnostic Medical Sonography, Emergency Medical Services, Nursing, Occupational Therapy Assistant, Physical Therapist Assistant, Radiography and Respiratory Care. Polk State's Health Sciences students regularly outperform their peers in the state and nation on required licensing exams.