Polk State remembers UJ Johnson as dedicated educator and guidance counselor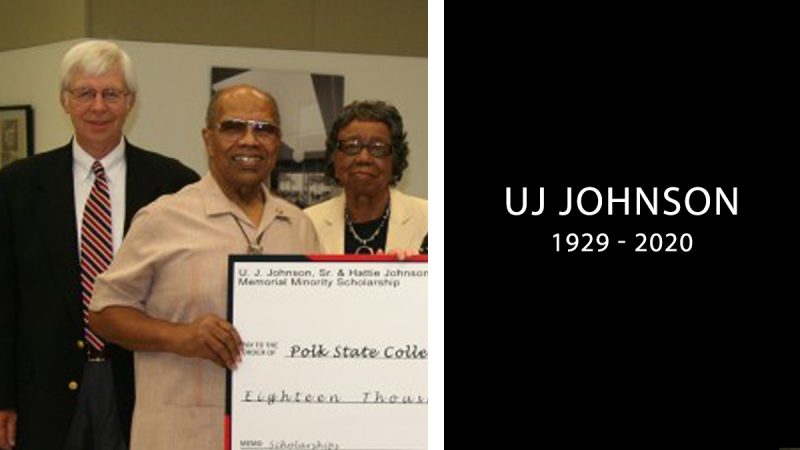 Polk State College mourns the loss of Ulysses J. "UJ" Johnson III who is remembered as a dedicated educator, guidance counselor, and director of counseling services.
Johnson passed away at his home in Winter Haven on November 6, 2020. He was 91.
He joined Polk Junior College in 1969 as a guidance counselor and served the College for nearly 23 years, ultimately as Director of Counseling. He was also a full-time instructor from 1972 to 1975 and taught as an adjunct throughout his career. He retired from the College in 1992.
Johnson continued to support Polk State's students well after retirement, however. In May 2012, Johnson and his wife, Thelma, were recognized by the Polk State District Board of Trustees for their "overflowing enthusiasm for helping Polk State College students."
In 1989, they had created the endowed U.J. Johnson, Sr. and Hattie Johnson Memorial Minority Scholarship through the Polk State College Foundation in memory of Johnson's parents. When recognized in 2012, the fund had raised more than $18,000 benefitting students.
Johnson proudly carried on his family's tradition of passion for education. That included publishing his book, "History of Florence Villa." A native of Winter Haven's Florence Villa community, Johnson told The Ledger in 2010 that one of his motivations for writing the book was to educate the younger generation about their ancestors.
Johnson graduated from Jewett Junior-Senior High School in 1947 and was named Florence Villa's historian by the Jewett Alumni Association.
He began his teaching career at Rochelle Junior-Senior High before being drafted into the U.S. Army. After serving in the Korean War, he returned to Rochelle before joining the College.
A funeral service is scheduled for 11 a.m. Friday, November 13, at Rolling Hills Cemetery, 4810 Tilden Road in Winter Haven. Rev. Derrick Woodard, Sr., former Polk State colleague of Johnson's, will oversee the service, which is available for viewing via Zoom at  https://us02web.zoom.us/j/83006594537 or by using the meeting ID 830 0659 4537.