Polk State remembers first faculty member Bob Henne's dedication to College and students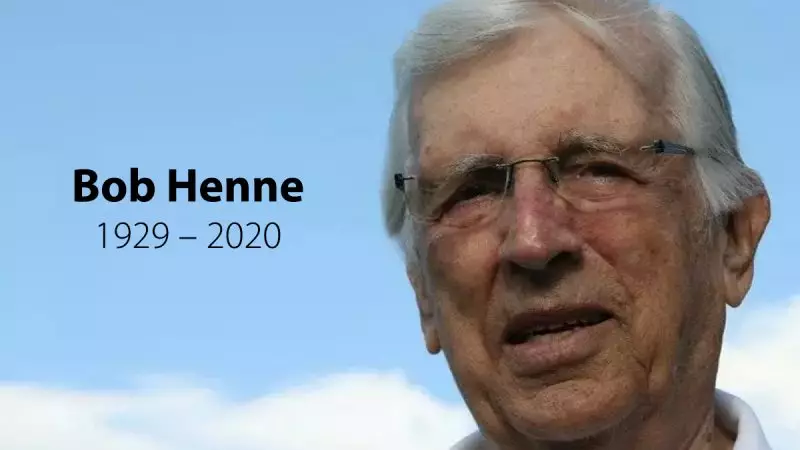 Bob Henne may have been hired as Polk Junior College's first faculty member "by chance" but it was no coincidence that he helped to lay a strong foundation that makes Polk State as great as it is today.
The College reflects on Henne's 22 years of service and is saddened by his passing on October 7, 2020. He was 91.
Henne was hired by founding President Fred Lenfestey in the summer of 1964 to serve as a physical education instructor. He had never heard of Polk County and was simply tagging along for the drive with a friend who was applying for a faculty position at the new college. Little did he know that he would become part of Polk State College history.
"This friend of mine heard about Polk and came over for a job interview. I was just along for the ride," Henne shared in a 2014 interview. "President Lenfestey showed us around the Air Base, and it seemed like a fabulous place to start a school. There were classrooms where the Army used to train pilots, and there were the barracks, which were going to be the faculty offices."
He held a Master of Education from Ball State University and started his teaching career in Indiana in 1951. He moved to Florida and taught at Bradenton Southeast High School before joining the College.
"I saw the potential of moving into higher education," he added. "It was an opportunity to advance."
In addition to serving as a physical education instructor, Henne would go on to coach baseball, basketball, golf, and tennis, with the inception of the College's Athletics Program.
He also watched firsthand as Polk State's Winter Haven Campus took shape in the mid-1970s to include a permanent home for Athletics in the Health Center.
When asked what it meant to him to be part of Polk from the very first day, Henne replied that it was all about the students.
"It was great being with them, and I wanted to give them everything I could," he said.
His son, Kevin Henne, was one of those students and went on to become a Polk State Distinguished Alumnus. He was recognized in 1995 for his accomplishments as an optometrist and service to the community.
A service is scheduled for October 10 for family.