Polk State Professor Teaches, Inspires Girls During STEM Workshop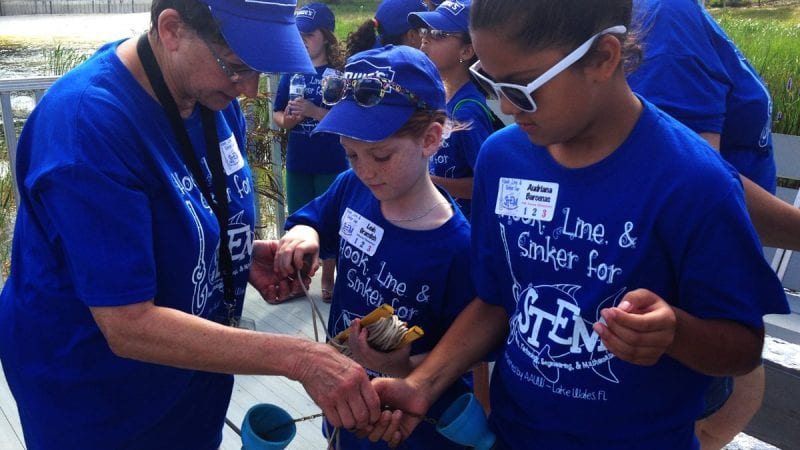 She was there to teach fourth- and fifth-grade girls about water quality, but Polk State Earth Science Professor Natalie Whitcomb aimed to impart a bigger lesson during a Saturday morning workshop on the shores of Crooked Lake.
"A lot of girls don't naturally gravitate to math and science," Whitcomb said. "I'm here to show them that it's possible for them to grow up and be working scientists."
Whitcomb was a guest instructor for Hook, Line & Sinker for STEM, an American Association of University Women-sponsored event begun six years ago to teach young girls about their local ecosystem, give them hands-on experience in STEM subjects (science, technology, engineering and math), and get them thinking about future careers in those fields.
Sixty girls, representing Babson Park, Hillcrest, Janie Howard Wilson, Polk Avenue and Spook Hill elementary schools, and Candlelight Christian Academy, attended this year's workshop at Babson Park Elementary.
"The point is to get these girls excited about STEM and to get them looking at what they can do in the STEM fields in the future," said Kristy May, a fifth-grade teacher at Babson Park and one of the lead organizers of the event.
And what better way to inspire young girls to study STEM subjects and pursue STEM careers than providing them with role models such as Whitcomb, May said.
During their morning, girls participating in Hook, Line & Sinker for STEM moved from station to station, taking part in various experiments and projects. They used recycled materials to build fishing poles and tested how much weight the poles could hold. They made skimming nets and examined what they pulled from Crooked Lake under microscopes.
With Whitcomb's instruction, they also took water samples from the lake and tested for pH, nitrogen and phosphorous, elements that signal fertilizer runoff, dissolved oxygen, an indicator of the overall health of the lake, and water clarity.
When the Hook, Line & Sinker organizers contacted her, Whitcomb eagerly agreed to share her expertise. Growing up near the Chesapeake Bay, Whitcomb spent her childhood days fishing, swimming and sailing. One summer, when she was in the fourth or fifth grade, her parents bought her a mask and snorkel, and she spent her summer exploring beneath the water's surface. Her curiosity in science and the environment began to crystallize into a career path in the eighth grade, when she had a female graduate student as her earth science teacher.
Whitcomb saw Hook, Line & Sinker as a way to provide similar experiences to and have a similar influence on a new generation.
Among the members of that new generation: Emma Powell, a fourth-grader at Spook Hill, whose dad, Zack, dropped her off for the day.
"Emma wants to be a lot of things: a fashion designer, a veterinarian, and many other things," Zack Powell said. "She's big into science. She's always doing little experiments at home. I want her to know she can do science and math too."
At Polk State, students study a broad range of natural and physical sciences, either as requirements for their Associate in Arts degrees prior to transferring to four-year institutions, or entering one of the College's bachelor's or Health Sciences programs.