Polk State Professor Publishes Collection of Short Stories, Poems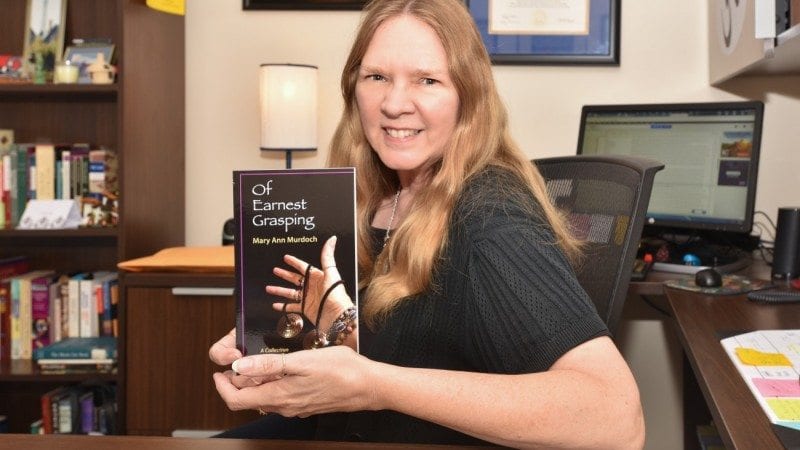 Polk State Humanities and Film Professor Mary Ann Murdoch has published her first book.
"Of Earnest Grasping," published earlier this year by Prana Press, is an 86-page collection of Murdoch's short stories and poems. The title comes from one of Murdoch's favorite poems, "This Living Hand" by John Keats.
Murdoch wrote most of the works in the book in the last 10 years. Her short stories, which she described as "contemporary fiction," explore interpersonal relationships — particularly the unforeseen directions they often take.
"The short stories are about the different twists and turns in love and relationships and the people who are navigating these difficult situations," Murdoch said.
"Some of them are based on people I've known or little snippets of conversation I've heard from other people. Some of the characters are drawn on people I've known and their quirks and idiosyncrasies," she said.
As for her poems, Murdoch prefers a classical approach. While earning her master's degree in humanities from Rollins College, Murdoch wrote her thesis on structured forms of poetry, such as sonnets and sestinas.
"I like the challenge of writing within these very structured frameworks," Murdoch said.
Murdoch's favorite piece in her book is titled "A Few Words," which in 2009 won third place in Carpe Articulum Literary Review's International Short Fiction Award Series.
"It's the longest piece I've ever written, almost a novella. It's also a good piece of character development, and it has a plot that is sustained, which is very hard for me," she said.
"It's about a relationship that doesn't go the way the parties intended, the expectations of what love should be, the path that you would typically think a relationship would take, and all the weird twists and turns it takes as it turns into a different type of love."
In her short stories, Murdoch delves into the various feelings her characters experience in their relationships. As a published author, however, she's experienced a new range of emotions firsthand.
"It's kind of weird in a way to put my stuff out there in the world. I can't be with each person to interpret and explain. I know there are going to be people reading my stories and poems, but I don't have the benefit of being there to say, 'This is what I mean,'" she said.
"I guess that's the beauty of art. It will be read, interpreted, and assessed by the readers, and they will bring their own lives to it. They will see things I would have never seen. They will interpret it in ways I wouldn't have ever thought to interpret it. Each reader brings new life to the book."
"Of Earnest Grasping" is available for purchase for $14.