Polk State Professor Anna Butler remembered for kindness, strength & permanent smile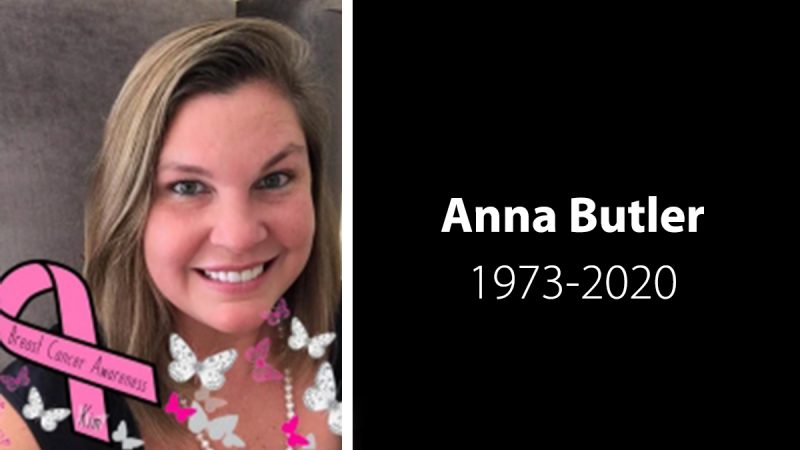 Anna Butler battled cancer on and off for nearly 10 years with a steadfast smile and consistent kindness for others. These trademarks form her legacy at Polk State College, where colleagues, former students, and friends remember Butler for her "genuine heartfelt humanity" and "aura that radiated strength."
Butler, who served Polk State for 15 years as a Professor of Mathematics, Department Chair, and Interim Associate Dean of Academic Affairs, passed away on October 6, 2020. She was 46.
"I keep thinking about her happiness, even up until the very end, and I keep thinking that she continues to smile," said Professor of Preparatory Reading and Writing Carol Martinson. "She had the ability, despite being sick, to project that she wasn't. She was just one of us – a professor, a mother, a wife. She was caring, positive, strong, intelligent–and she was incredibly brave."
Butler was born on November 6, 1973, in North Carolina. Her mother was an educator, and her father was an electrician. Inspired by her mother's work in the community college setting, Butler always loved being in school and this helped her choose a career in higher education. She was teaching in North Carolina as a university lecturer when a Google search revealed that Polk State was hiring a math instructor for its Lakeland Campus.
"Lucky me!" she delighted, while recalling the moment during an interview with the College's Digital Media Technology Program, in which she shared some of her favorite moments as a Polk State instructor and Interim Associate Dean of Academic Affairs.
"My fondest memories are always seeing people who graduate or have success, and you know that you had a hand in it," she expressed. "Not necessarily that it was all because of you, but that you helped inspire that person. When the person graduates and wants a picture with you–it would make me cry. I'd say, 'A picture with me? You did this!' It's just the thought that we are all in this together."
Butler's January 2020 interview with Digital Media Technology Program Director Gregory Johnson encapsulates her genuine passion for students and the success of others. Johnson explained that while everyone was trying to uplift her spirits during her battle with cancer, it was actually Butler who generated a positive effect on all those around her.
"I was the one who was supposed to be putting some light and joy in her day, and instead, she was the one who brightened my day," Johnson said. "When I was sad, she was joyful. When I saw pain, she saw purpose. When I questioned the injustice of it all, she was grateful for her amazing life, her family, and the support and love she received in her darkest hours. I wish that if I am ever faced with those kinds of odds, that I will exude even half the radiance that Anna did."
"She had a kindness to her that spoke to me. It wasn't a façade," he added. "It was a genuine heartfelt humanity."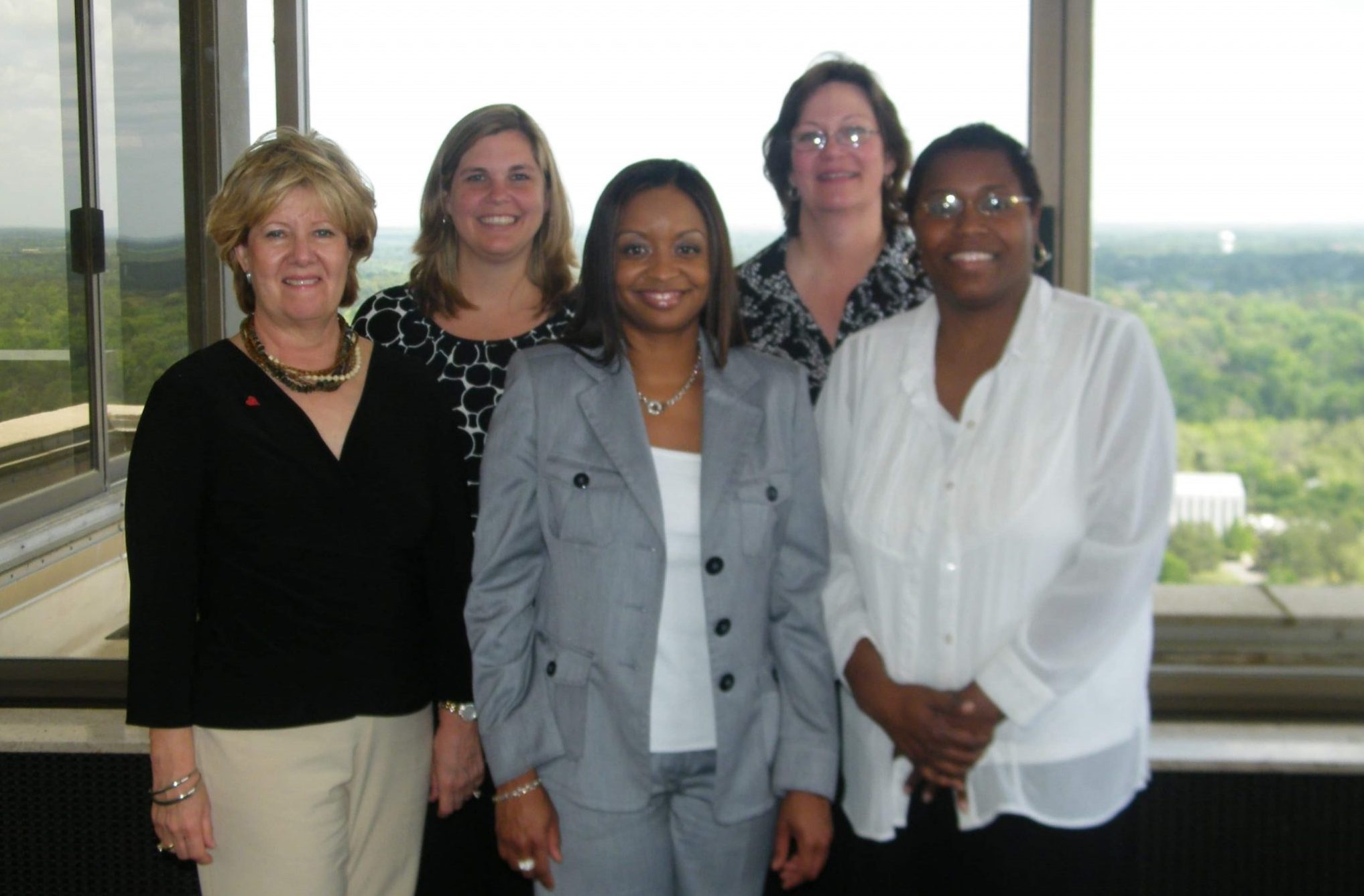 Anna was Anna
LaTrice Moore, Professor of Business Administration, explained how Butler's kindness marked all areas of her life.
"She was who she was at work, outside of work, with her family and friends," she said. "Anna was Anna. She was smart, socially conscious, and funny."
Moore met Butler in 2009 when they participated in the College's Exceptional Leaders with Innovative Talents and Excellence (ELITE) Program. They would always try to "out-southern" each other, Moore joked, but she quickly learned that Butler's joyful sense of humor came with a serious side dedicated to social causes. Moore recalled Butler advocating for better job conditions and higher wages for migrant workers.
"She cared for all people," Moore said. "She always asked about my grandmother and how my family was doing – that's just the kind of person Anna was. A good person."
Known for her "southern salad" of broccoli and bacon, and for drinking Pepsi in honor of her North Carolina hometown where the soda was made, Butler referred to the elephant as her spirit animal. The perfect avatar, these gentle giants are gifted with intuition and a tremendous capacity for remembering others and sensing their needs.
Even with cancer, the wellbeing of others remained at the forefront for Butler. Moore had a family emergency shortly after Butler's cancer had returned in March 2019. She hesitated to share the issue, "because I knew she would focus on that. Even up until the final days, she was more concerned for others."
She always wanted to help people solve their problems.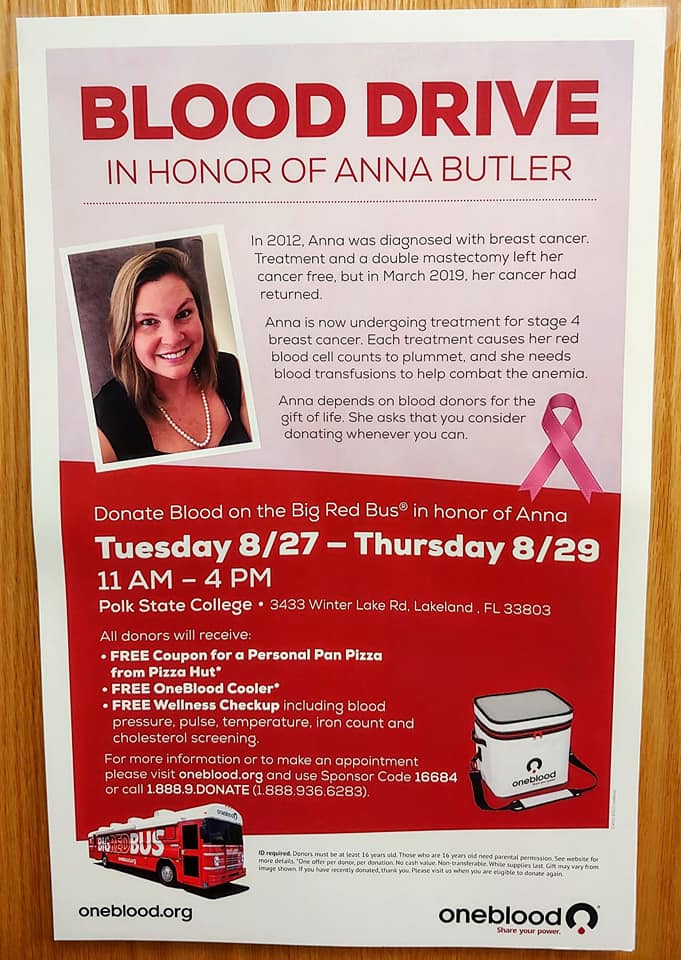 "Anna was one of those people who could come to a conclusion that benefits everyone," Moore said. "She was very knowledgeable about a lot of things, and she had this gift for bringing people together – people who may have never worked together or known each other. Even through her sickness, everyone was working together."
Several colleagues participated in a meal train, bringing Butler and her family food multiple times a week. Star Anderson, Administrative Assistant for Academics, was also instrumental in coordinating a blood drive at the College in August 2019 in honor of Butler.
Her colleagues wanted to give back to their partner– their friend – who was always a helping hand. Butler provided a listening ear and valuable mentorship to her colleagues, and she always jumped at the opportunity to help anyone with math.
"My son was struggling with math in high school and she offered to tutor him. He got in that one hour what he couldn't get in eight hours," Anderson said. "I really appreciated her taking the time to take care of my son, who wasn't even her student."
Butler shared that her own rough spell in school had inspired her to help others. "She wanted to make things easier for everyone else so that they didn't have to struggle like she did," Anderson explained.
Everyone's a math person
Despite challenges, Butler loved school. She achieved her bachelor's degree from Appalachian State University, a master's in Mathematics from East Carolina University, and her doctorate in Leadership from Capella University.
Courtlann Thomas, Director of the Lakeland Campus Library and Teaching Learning Computing Center (TLCC), called Butler a huge advocate for math.
"She didn't like when people said, 'I'm not a math person.' Instead, she said, 'Everyone's a math person, it just takes some people a little longer to learn some of the concepts,'" Thomas said.
Kimberly Hess, Professor of Mathematics, was a student working as a tutor when she met Butler.
"What struck me about her was that she was a normal, regular person who talked to her students using everyday words and was able to explain math concepts very clearly," Hess explained. "Anna said, 'You become a math person by doing math and being a person.'"
"She made me believe that I could do this," she added. "If she was a normal, regular person like me, then I could do it too – I didn't need to be some kind of math genius to be a good math teacher."
Butler also inspired Hess to work for the College.
"She loved teaching at Polk State," she explained. "The demographic of our students really spoke to her, and the College was a place where she could make a difference. She really did make a difference."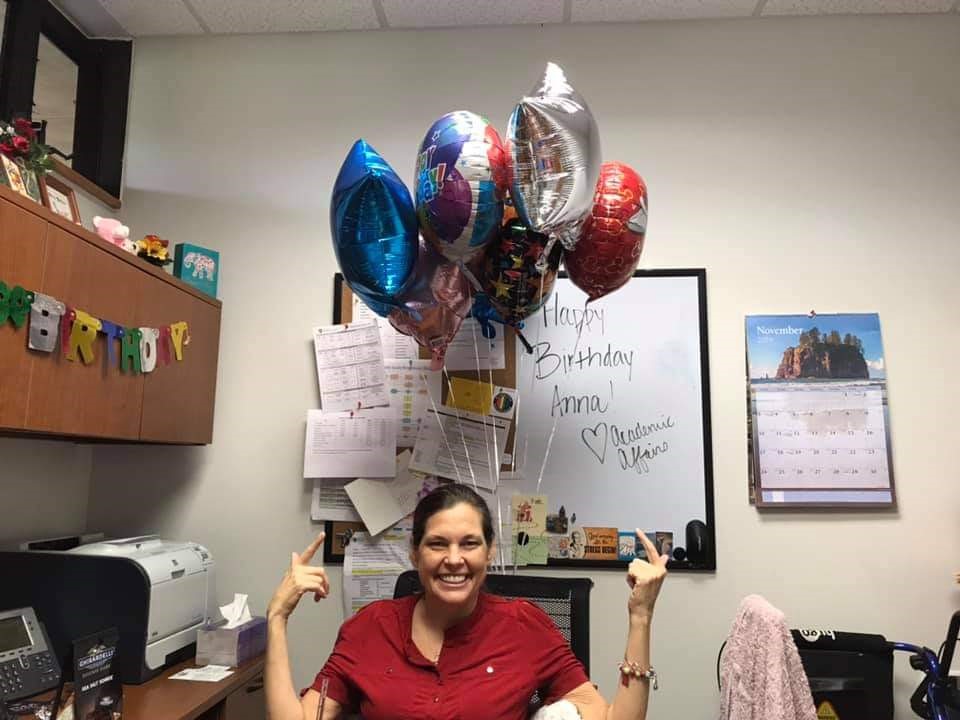 That smile
Butler was dedicated to her life-transforming work and continued to come to campus on some of her most difficult days.
"We kept saying to her, 'Why are you continuing to come to campus? Why don't you rest?'" Martinson said. "But she truly loved Polk State and felt such a strong responsibility for the College and its students."
"Anna worked up until she couldn't anymore because her job was not some career; it was something she loved doing. She loved the people," Johnson added.
Katie Ragsdale, Administrative Assistant I, worked closely with Butler when Ragsdale started serving the Academic Affairs Office full time in April 2019 – around the time Butler had received the news of her re-diagnosis of breast cancer.
"She was still so excited to come to work, even on days she didn't feel well," Ragsdale said. "She didn't have bad days – she didn't let it show. The College was a source of positivity for her – being around the students and her colleagues would brighten her days."
Ragsdale and Butler shared a birthday week and in November 2019 Ragsdale and colleagues were busy planning a birthday celebration for Butler. When Butler caught on, she "was kind of upset that we weren't planning anything for me too. So, she brought me a card and a little cake, just for me," she said. "She was so thankful and excited that we both celebrated our birthdays."
These moments embody the kindness and strength Butler's colleagues remember her by.
Lisa Rosa, Associate Dean of Academic Affairs, recalled seeing Butler recently on Zoom meetings.
"She still had that huge smile, and you could tell it wasn't something she was trying to plaster on her face. It was as if she couldn't remove it from her face," Rosa said. "She may have been weak on the outside, but she remained as vibrant as ever on the inside."
Rosa has assumed the interim role that Butler held from August 2018 to August 2020. She met Butler about eight years ago when starting as a faculty member at the College, when Butler served alongside several veteran professors welcoming new faculty.
"Her aura radiated strength," Rosa said. "She was so powerful and shared her wisdom with us on how to be a wonderful professor."
She was also a wonderful administrator.
"Anna explained that we're constantly putting out fires in our office in Academic Affairs," Rosa said. "She said, 'None of the problems or complaints are unreasonable – they are real problems and we want to be there to help solve them.' That was Anna – she wanted to make things right, and she wanted to make things peaceful. She was the perfect person to do it because she always had that smile."
A peacemaker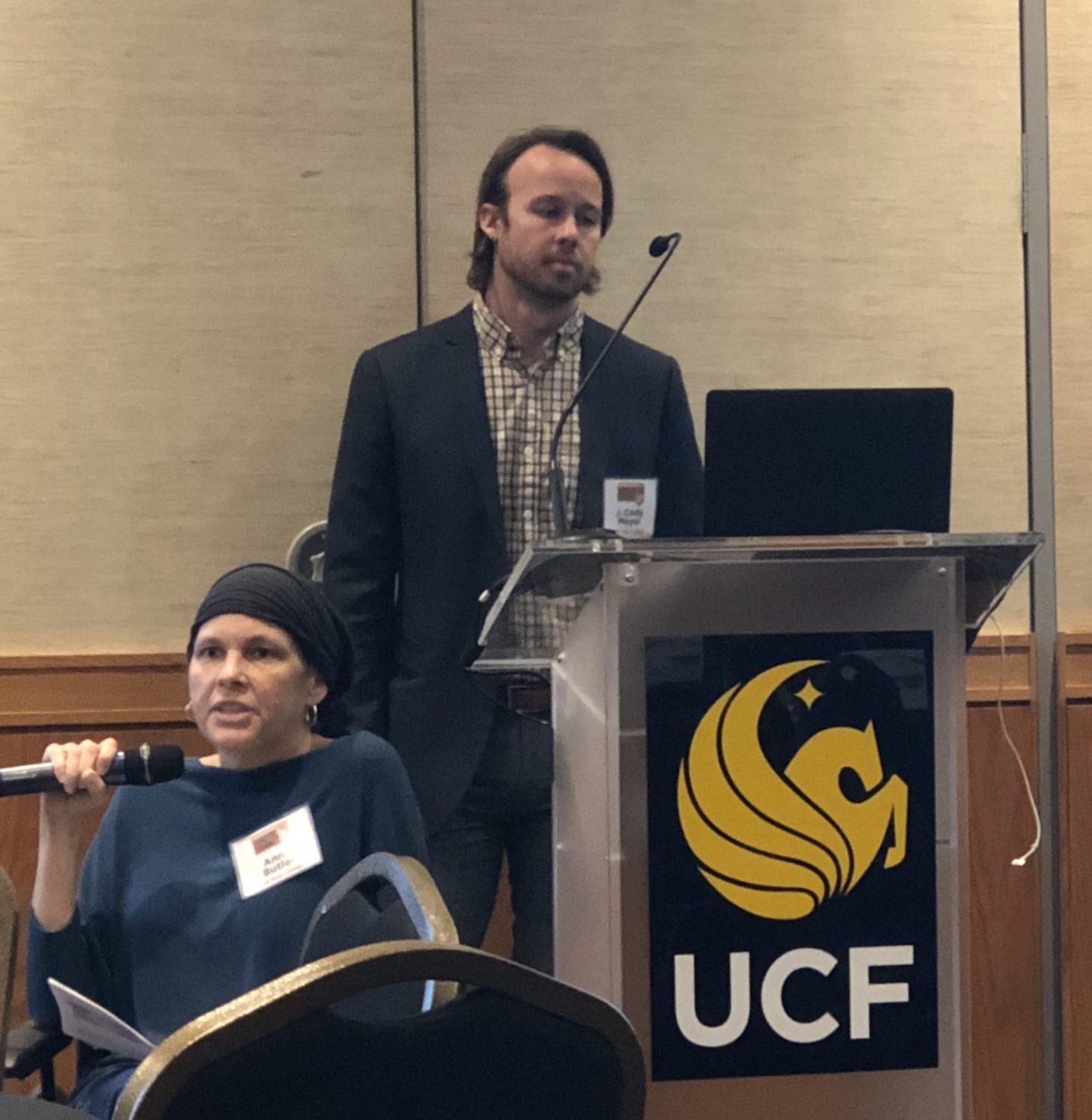 Butler filled the role of peacemaker well–so well, in fact, that she needed to put a "Do Not Disturb" sticky note on her office door from time to time, "because it was difficult to get people out of her office — she was a counselor to so many," Rosa said.
During her many years of service, Butler had a positive impact on all areas of the College. She tutored in the TLCC, participated in community-based learning, chaired numerous screening committees, and co-chaired the Open Educational Resources (OER) initiative alongside Cody Moyer, Director of Learning Technology. They presented their work, which has saved students more than $1 million in textbook costs, during an online learning summit in the spring.
"She cowrote the initiative, and also served on the Distance Learning Committee and Textbook Affordability Committee. She saw these opportunities as benefits to the students," Moyer said. "She always had a genuine heart and wanted to help students."
She wanted to help everyone.
Thomas and Martinson noted a powerful comment from the pastor during Butler's memorial service.
"Anna had said to her church that it was interesting that the church's food pantry to serve the congregation was larger than the food pantry at the church designated to serve those in need," Thomas said.
"Because of Anna, the church enlarged the food pantry to serve up to a hundred people a day," Martinson added.
Thomas reflected on their last visit with Butler in North Carolina. They watched Supreme Court Justice Ruth Bader Ginsberg's funeral.
"It was very interesting because, of course, Anna was a huge fan," she said. "Anna was very socially conscious and was part of so many movements."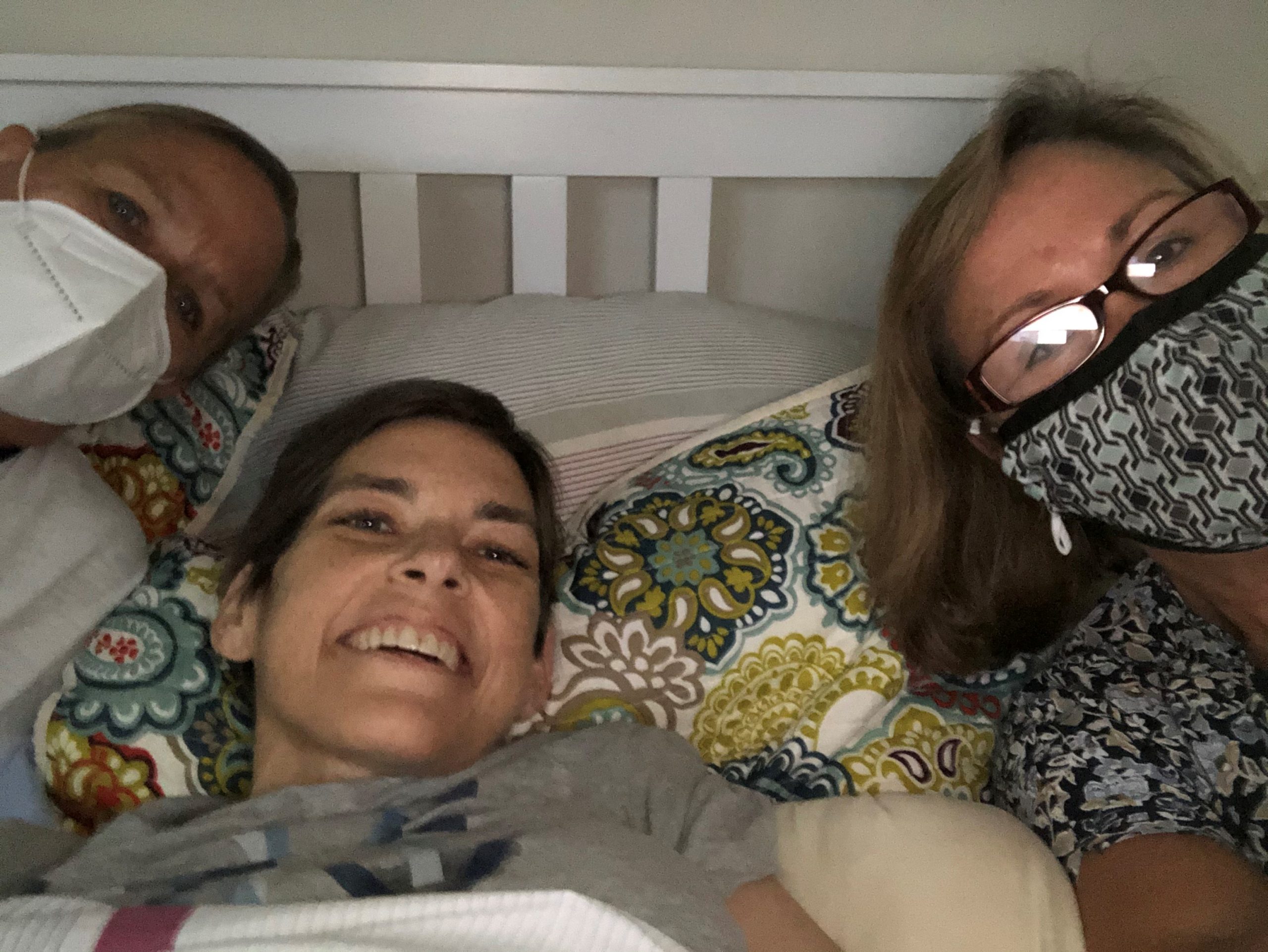 Living for today
Thomas and Butler were longtime friends. Their families vacationed each year to Anna Maria Island and they attended many conferences together with Martinson.
Martinson fondly remembered Butler's willingness to "do all the touristy things" with her when they visited Denver and Los Angeles, and Thomas enjoyed running Disney races with Butler, who ran the Disney Princess 5K as Beauty and the Beast's Belle after finishing chemo with her first bout with cancer.
Butler and her friends also shared children of similar ages. Butler's son Levi recently graduated from the University of Central Florida, and her son Caleb is a May 2020 graduate of Polk State Lakeland Collegiate High School. He simultaneously achieved his Associate in Arts degree and is studying physics at Florida State University.
Polk State President Angela Garcia Falconetti visited Butler and her son, Caleb, at their home for a special diploma presentation when the May 2020 commencement ceremony was postponed due to COVID-19.
"Associate Dean, Professor, and Dr. Butler was a light…, a true professional focused on the success of the College's students," Falconetti said. "Dr. Butler's leadership, strong interpersonal skills, and kindness has positively impacted our lives forever."
Thomas and colleagues echoed similar sentiments.
"She loved her family tremendously, and she was a great mom," Thomas said. "She was a great person."
All of this is evident in Butler's own words:
"I have a great life. I have a great family. I have so much to be happy for. It seems ridiculous to be sad about what is inevitable for all of us," Butler expressed during her interview. "I live for today and today only – making today happy and funny and positive– and making sure the people I love know I love them."
"She is the strongest person I've ever known," Thomas said. "Her passing is a loss to us all."
The Polk State College Foundation has dedicated a scholarship fund in Butler's honor. Donations can be made in her memory online at foundation.polk.edu/butler. 
A memorial service will be held 11 a.m. on Saturday, November 7, at St. Stephen's Episcopal Church, 1820 E. County Road 540A in Lakeland.
The service will take place outside and participants will be required to wear masks and practice social distancing. Individuals who plan to attend in person should RSVP to the following Facebook event page: www.facebook.com/events/279617929871814.
The church will also broadcast the service through Facebook Live. Please visit the following Facebook event link for more information about participating remotely: www.facebook.com/events/628687291149081.