Polk State prepares for hurricane season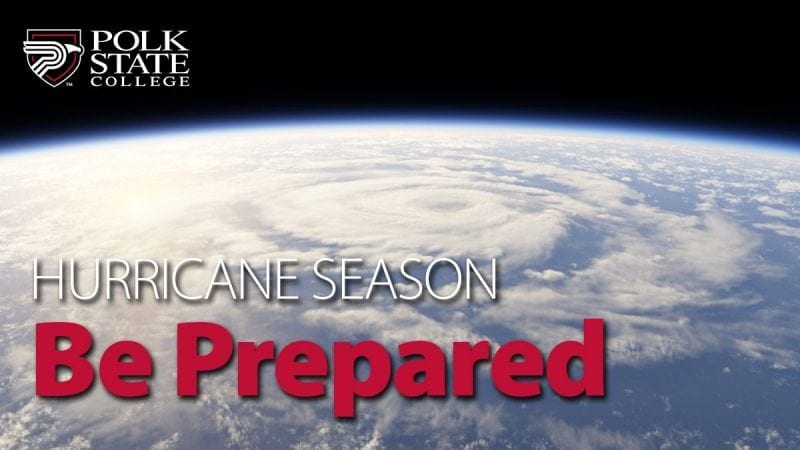 Polk State College officials are urging students and employees to prepare for possible storms with the start of hurricane season.
Polk State advises students and employees to log in to PASSPORT and check under "My Details" or "Change Contact Info" to ensure all contact information is current to receive emergency alerts from the College. Numbers entered in the "Cellular Number" field in the Personal Information section will be used for emergency texts and voice messages.
The College will test the emergency messaging system on Friday, July 19, at 9 a.m.
This hurricane season, which began June 1, is expected to have average activity, with a near-average probability for major hurricanes making landfall along the U.S. coastline, according to the National Oceanic and Atmospheric Administration's Climate Prediction Center.
Experts estimate that this season will have about 14 named storms, six hurricanes, and two major hurricanes. Named storms have winds of 39 mph or greater.
For the east coast, including Florida, there is a 32 percent probability for landfall of at least one major hurricane with winds of 111 mph or greater.
Should any of the predicted storms pose a threat to Polk County or the surrounding area, Polk State officials will assess the forecasts and make decisions about campus closures.
The College will send notifications about campus closures and re-openings via polk.edu, social media, phone, text, and Polk State email, as well as through local media outlets including TV, radio, and newspapers.
Additionally, facilities and security personnel will be vigilant in making sure all buildings are safe and secure before welcoming students and employees back on campus after a storm.
College officials urge students and employees to make sure they are signed up to receive Polk State's emergency notifications. Everyone is also encouraged to make personal preparations, from determining evacuation routes to putting together storm survival kits.
Polk County Emergency Management,  Florida Division of Emergency Management, and the National Hurricane Center offer emergency plans, contacts, evacuation routes, supply-kit checklists, and more to assist with preparations.