Polk State Phi Theta Kappa Xi Pi students launch award-winning COVID-19 resources guide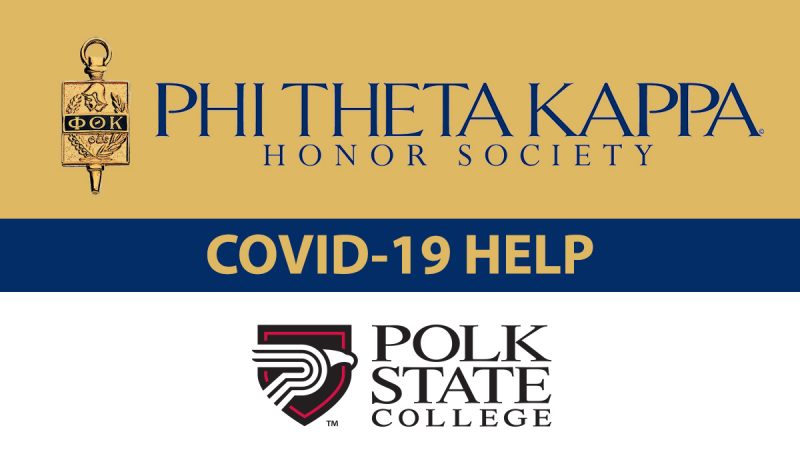 Polk State College is celebrating its Phi Theta Kappa Xi Pi Chapter for winning a slew of regional awards, including the Distinguished College Project Award and Distinguished Honors in Action Award for students' work compiling and disseminating information about COVID-19 resources to both their College peers and Polk County Public Schools.
The Xi Pi Chapter also ranks No. 1 in Florida for the fourth time in five years and received two of three Distinguished Officer awards. Vice President of Leadership Tori Rutherford and Public Relations Officer Lianne Pido Rivera were both recognized for their accomplishments and contributions. This is particularly exciting because awardees typically are not from the same chapter.
"After all the hard work we have put in, it is gratifying that we have been able to help people and win an award for it," Rutherford said.
Each year, Phi Theta Kappa chapters identify and complete a college-wide project to give back to their campuses.
"After all the hard work we have put in, it is gratifying that we have been able to help people and win an award for it."

Tori Rutherford
Vice President of Leadership
Phi Theta Kappa Xi Pi
"We work with the administrators to find a need at the College and fulfill it. We do a lot of hands-on projects, but this year it was difficult because of COVID," Rutherford explained. "We thought, 'how do we impact as many students as possible while giving them something they can access remotely at home?'"
They decided to capitalize on the accessibility of the College's learning management system, Canvas, which houses online classes, academic support services, and the Virtual Student Center.
Xi Pi's leadership team built a Canvas shell titled "COVID-19 Help" that students can enroll in for free and have access to a comprehensive guide of approximately 200 resources, from Polk State support services and financial aid to external organizations that can help individuals with paying their bills; accessing counseling and mental health services; receiving food and clothing; and finding jobs, transportation, and technology.
"It took us an entire semester because we really wanted to get as many organizations, work with as many people, and cover as many areas as possible to fit all the needs of students," Rivera said.
Months of research went into creating the guide, which is also being made available to Polk County Public Schools to benefit students and their families.
In addition to researching the different resources to include, students also evaluated emergency response and natural disaster plans of other organizations, which helped guide them in the development of their project.
"There are resources that everyone may know about, but through our research, we also discovered a lot of resources that we had never heard of," Rutherford said. "Being able to compile all of that information — broken down by categories of need and with the addresses and contact information for each resource — into one place is a great help for students."
They know this firsthand from their experience as students during the COVID-19 public health emergency.
Rutherford is pursuing her Associate in Arts degree on the Health Information Management track as well as her Medical Coding Specialist certification. She plans to transfer to the University of Central Florida. Rivera recently completed her Polk State Associate in Arts degree and is planning to enter the Polk State Nursing Program.
"This is a unique situation that we are all going through," Rivera said. "As someone who struggles with online learning, it has been a little difficult for me, but our professors and the ability to adapt have helped me overcome the hardships."
"We know it's really hard for everyone right now," Rutherford added. "It can be very overwhelming with the amount of information circulating and it can be difficult to access resources because COVID-19 has impacted everybody from all different areas of the world. You hear about these resources but sometimes people don't know what's true, what's not true, and what's still available or what's no longer available."
The Xi Pi leadership team intends to keep the guide up to date as the community continues to navigate and recover from the pandemic.
"I could not be more proud of the hard work, dedicated research, and leadership skills demonstrated by the entire officer team during a very trying year."

Anthony Cornett
Advisor
Phi Theta Kappa Xi Pi
"We want students to know that if they need help, this is somewhere they can go," Rutherford said.
Students can enroll in the Canvas shell titled "COVID-19 Help" for free here: https://canvas.polk.edu/enroll/X3DEJ6. The latest version of the resources guide is also available on the Phi Theta Kappa webpage at https://www.polk.edu/wp-content/uploads/PTK-Flyer-final.pdf.
"I could not be more proud of the hard work, dedicated research, and leadership skills demonstrated by the entire officer team during a very trying year," said Anthony Cornett, Phi Theta Kappa Xi Pi Advisor and Professor of Biology. "They represent the best of Phi Theta Kappa, not just because of the awards they won, but through their actions and care for their fellow students and their families. This is what it means to be a Phi Theta Kappan."