Polk State Partners With Lake Wales Charter Schools to Offer Free Screening of Edu-Documentary, "Most Likely to Succeed"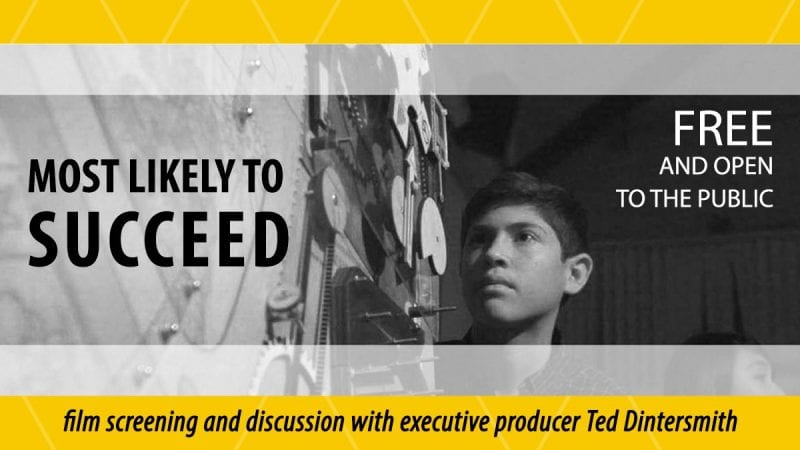 Polk State College is partnering with the Lake Wales Charter Schools system to present a screening of the film "Most Likely to Succeed," which has been described by Education Week as "among the best edu-documentaries ever produced."
Produced by Ted Dintersmith, "Most Likely to Succeed," argues that modern American schooling is outdated, promoting rigid coursework and rote memorization of facts at the sacrifice of creativity and curiosity, according to The Huffington Post. The film debuted at the Sundance Film Festival in January and has since been screened across the country.
Dintersmith is also co-author of a book by the same title.
The screening sponsored in part by Polk State will take place Oct. 17 at 6:30 p.m. at First Baptist Church, 338 E. Central Ave., Lake Wales. A discussion with Dintersmith will follow the film. The event is free and open to the public.
"This is an important film that challenges traditional thinking about education. Our world, our country, our economy have changed — and continue to change — drastically. 'Most Likely to Succeed' argues that our education system must change too. We're pleased to join the Lake Wales Charter School system in bringing this documentary and Mr. Dintersmith to Polk County, and we are hopeful that from this event, new ideas on how to better educate students of all ages will emerge," said Polk State President Eileen Holden.
Lake Wales High School Principal Donna Dunson, an organizer of the event, said the film raises questions that affect all sectors of a community.
"Education is an economic development issue. If we don't have an educated workforce, or a workforce that can logically navigate life at a high level, the community pays a price for that."
Dunson said the event is being made possible because of  Henry McCance, a philanthropist who has supported numerous initiatives at Lake Wales High.
"'Most Likely to Succeed' is an important book and documentary. It is part of a national campaign to empower communities to improve their schools and to make them able to better prepare their students for the 21st century," McCance said.
"The Lake Wales community has already made tremendous improvements in its schools over the last 10 years through the Lake Wales Charter Schools. In recognition of that extraordinary effort and accomplishment, I am honored and excited that my friend, Ted Dintersmith, co-author of the book and producer of the film, is going to visit Lake Wales and personally present his documentary."
To RSVP for the event, visit https://www.eventbrite.com/e/most-likely-to-succeed-screening-tickets-28366812901?aff-es2.