Polk State Nursing's Marianne Thomas remembered for her "nurse's soul"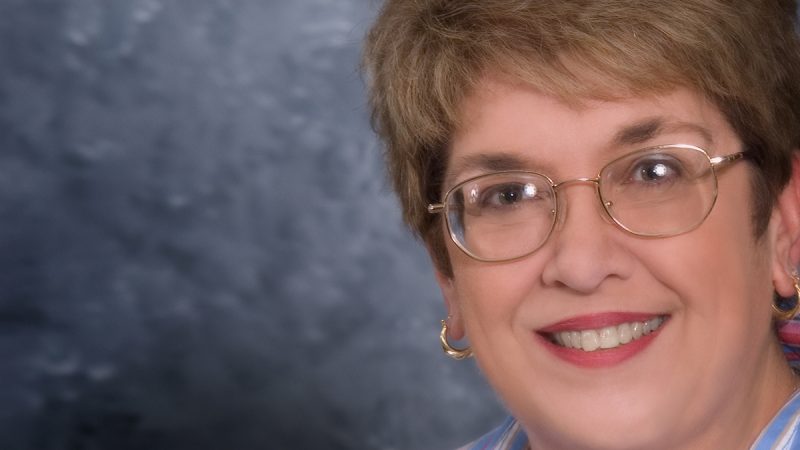 For 22 years, Marianne Thomas served Polk State College's Nursing Department, undoubtedly impacting the lives of many – from her students to practicing nurses, to their patients and families.
Thomas, who retired in August 2019, passed away on March 21, 2020, at the age of 65.
She is remembered for her skillful and rigorous approach to teaching. Paired with her sincere compassion for others, Thomas contributed to the understanding of hundreds of Polk State graduates and practicing nurses in the community that while all patients are different, they all need the same two things – medical treatment and basic human comfort.
"She had a nurse's soul," Professor of Nursing Norma Gaddy said. "She had an impact on countless lives including her colleagues and her students, and the lives they went on to impact including their patients. She will be missed by so many."
Thomas joined the College in 1997 as a part-time clinical instructor in the Nursing Department. She was promoted to full-time faculty in 2007 and served as Coordinator of the Transition Program on the Lakeland Campus.
"I first knew her when she was an extremely respected hospital supervisor for Lakeland Regional Health Medical Center and I was thrilled to convince her to come to Polk State College as a part-time clinical instructor," shared Director of Nursing Annette Hutcherson. "I was especially thrilled when she joined us as a full-time faculty member.  It was evident in what I heard from students how much they appreciated her knowledge, experience, and sincere interest in seeing them succeed.  She was also respected by all the faculty for her contributions to the success of the department in preparing top-notch nurses for our community."
Originally from Plattsburgh, New York, Thomas started her career there in the 1970s as a Licensed Practical Nurse (LPN) in an Intensive Care Unit (ICU).
She achieved her Associate in Science in Nursing from Polk State and her Bachelor of Science in Nursing from Florida Southern College. She also held a master's in Nursing Science from the University of Phoenix.
Gaddy worked with Thomas for 30 years – first at Lakeland Regional Health Medical Center. Thomas started as an LPN and worked her way up to a Registered Nurse, administrative supervisor, and an educator at the hospital.
"She was always mentoring the newbies," Gaddy said. "She was always a resource and was willing to share her knowledge with others."
As an instructor at the College, "she may have been what students call strict," she added. "She had high expectations and a goal for our students to successfully assume the role of nurse – and they did."
Thomas also went the extra mile to ensure students were well-rounded and prepared to serve alongside and in collaboration with other professionals in healthcare.
Tanya Bird, Clinical Education Coordinator for Respiratory Care, knew Thomas for 12 years and said she was always looking for ways for departments to collaborate and share in learning simulations.
"She was adamant about doing things the right way, but she was open-minded about how to make things work," Bird explained. "She provided extra insight for students including how different healthcare roles interrelate in the hospital setting. She wanted the best for students and the best for patients."
She also wanted the best for her colleagues.
Bird shared that Thomas was a great friend, recalling an instance when Thomas helped her while she healed from a surgical procedure.
"Even as a longtime practitioner who is used to the smells, the sights, and the trauma of healthcare, when I had to change the bandages on my own body, it made me squeamish and I confessed that to Marianne," Bird said. "She told me, 'I'll take care of you,' and she was kind enough to change my bandages at work."
"She was so gentle and compassionate," she added. "I didn't even know she had finished taking off and replacing my bandages. She had this ability to keep her patients calm and comfortable."
Several former colleagues and students who took to social media with their memories of Thomas after her passing also highlighted her great contributions, not only to Polk State Nursing but also to the community through the knowledge and compassion she instilled in so many people.
"This lady was an inspiration to many," wrote Wendy Clark. "She gave me confidence as a new nurse and skills to move me forward. She will forever be in my heart and part of the soul of all who knew her."
"She was the best. She made us become the best," wrote Beverly Pat Connell. "Heaven has definitely become a better place."
"She was my clinical instructor over a decade ago and had a significant impact on my confidence as a nursing student," wrote Rex Decker. "She made me feel like I belonged and taught me that I was capable of being more than I thought I was."
"She was nothing short of an amazing nurse. She was tough but she believed that there were no short cuts and she made me the nurse I am today," Niki Ostwalt-Moore wrote. "She made me the leader I am today. I will never forget everything [she] taught me and the love [she] showed me. May [her] legacy live on in all the nurses [she] trained."
Gaddy and Bird added that in addition to Thomas' passion for nursing, she loved her husband, daughter, son, and three grandchildren above all else.
"She was so very proud of them," Gaddy said.
In lieu of flowers, the family has asked those who wish to honor Thomas to consider contributing to the Polk State College Foundation's Emergency Scholarship Fund for Nursing Students. Donations can be made online at www.foundation.polk.edu/thomas.