Polk State Now Offering Free Kayaking to Students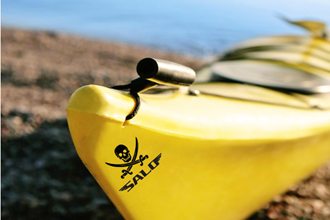 Starting this Saturday, Polk State students can kayak for free on Winter Haven's Lake Elbert.
Organized by Polk State Winter Haven's Student Activities and Leadership Office, Saturday Morning Kayaking begins this Saturday at 8 a.m. on the shores of Lake Elbert, just east of the Polk State Winter Haven campus.
Students will kayak 45 minutes at a time, all under the watch of two lifeguards hired by the College. Students may make a reservation to kayak by calling 863-298-6819, but no reservation is required.
The only requirements to participate are that students are currently enrolled and have a valid Polk State student ID.
Saturday Morning Kayaking will take place every Saturday of the spring semester, except during weeks when the College is closed.
Polk State Winter Haven SALO Director Carlos Parra said that the plan is to begin offering kayaking on additional days — Thursdays and Fridays — over the summer. Future plans also include adding paddle boarding on the lake.
Offering students the opportunity to kayak is part of SALO's goal to offer a wide variety of activities and increase student involvement — on land or on water.
"This is something the College has never had before, and it adds to the overall opportunities to get involved outside of the classroom. You may not like student organizations, you may not like video games, but just maybe, you like kayak — or have always wanted to try it — and now there's something for you," he said.
Polk State SALO has offices in Lakeland and Winter Haven, offering students opportunities to join clubs and organizations, participate in activities and events, engage in community education, play in intramural sports and serve on college-wide committees.