Polk State MLK Speaker and NBA All-Star Otis Birdsong: "There Is Always Hope"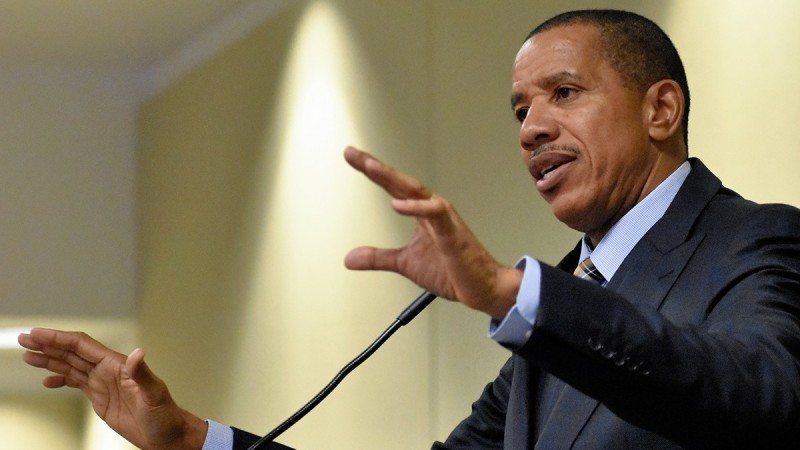 During his keynote address at Polk State's 12th annual celebration of Dr. Martin Luther King Jr. on Wednesday, Winter Haven native and former four-time NBA All-Star Otis Birdsong told his audience that more work needs to be done before King's dream of equality will truly be realized — and that work must begin on the individual level.
"Our biggest enemy is ourselves, not taking responsibility for ourselves," Birdsong said. "If you have an issue, it's you, and that's where you should start, with you."
More than 350 College employees and community members attended the lunchtime event at the Winter Haven campus, making it the largest in Polk State's history.
The draw, for many, no doubt, was the chance to hear from Birdsong, the 10th of 12 children in a family that also includes former Winter Haven Mayor Nat Birdsong.
As Winter Haven was still grappling with the tensions of the Civil Rights movement, Otis Birdsong began his basketball career at the recently desegregated Winter Haven High School. He would go on to lead the Blue Devils to the 1973 state championship and receive All-American honors.
After high school, he continued his education at the University of Houston, where he was ranked fourth in the nation for his 30.3 scoring average and was named the 1977 consensus All-American and Southwest Conference Player of the Year. His free-throw record at Houston still stands.
Birdsong's success at Houston garnered him attention from the NBA. During his 12-season career, he played as a shooting and point guard for the Kansas City Kings, New Jersey Nets and Boston Celtics. At the pro level, he scored more than 12,000 points and averaged 18 points per game.
He has since been inducted into the University of Houston Hall of Honor, the Florida High School Hall of Fame, the Florida Sports Hall of Fame, the Southwest Conference Hall of Fame, and the Polk County Schools Hall of Fame. He currently serves as a national ambassador for GLP & Associates, a financial services company, and is the president and owner of Birdsong Sports, a sports marketing company.
During his half-hour address, Birdsong reiterated that, in his view, if King were still alive today, he would be disappointed by a number of issues, from the recent conflicts between police forces and the black community, to the lack of resources available to many schools that predominately serve African-American populations. Birdsong described the inequities he's noticed while giving free basketball clinics at schools across the country:
"How can you compete when the barbells have rust on them?" Birdsong said. "It's atrocious. So I dare say that Dr. King would be a little disappointed."
While work remains to be done in pursuit of King's dream, Birdsong emphasized that each individual person has the power to make a positive influence, if not on a national level then within one's own family. He referenced his mother, who was widowed in 1963, left to raise her 12 children while making only $40 a week as a maid.
"As I travel around the country, one thing I hear a lot about is single-parent homes, and how the reason our world is the way it is today is that most black kids are from single-parent homes," he said.
"Let me tell you a little bit about single-parent homes. My mother didn't have a formal education. She didn't learn how to read until I was in the ninth grade. She had 12 kids making $40 a week. She had 12 kids and 11 of them went to college."
Not only did Birdsong's mother help her children achieve formal education, she also instilled in them the ability to see people not for their skin color, but for their character. He recalled that, even as racial tensions ran high in Winter Haven, he was building a lifelong friendship with a white teammate.
"I appreciate my mom teaching us not to look at color," he said.
Birdsong added that his family's story is an example of what is possible when people choose to resist anger, frustration and despair, choosing  instead to cling to hope.
"Dr. King always preached a message of hope," he said. "Regardless of the struggle, there is always hope. Regardless of what you're going through, there is always hope."
Birdsong concluded by thanking God for the achievements he and his family have known.
Also during the luncheon on Wednesday, three Polk State students received Dr. Martin Luther King Jr. Scholarships from the Polk State College Foundation. They include Ketsia Mendez, Johnny Shaw and Ca'lin Tarver. The scholarships are worth $500 each. Recipients were selected based on their academic standing, and responses to essay questions.