Polk State MLK scholarship winners inspire with their words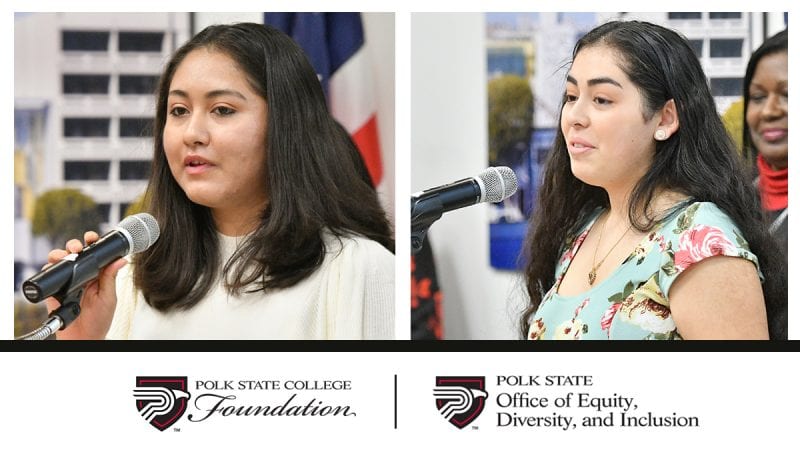 Polk State College students Sylvia Andrade and Fryda Contreras inspired with their words and received Dr. Martin Luther King, Jr. Dream the Dream Scholarship awards for their academic achievements and service to the community.
Both Associate in Arts students were presented with scholarships worth up to $500 each during the College's 16th annual MLK Celebration and thanked the community for supporting not only their dreams but the dreams of all Polk State students.
Dream the Dream Scholarship applicants must have an overall college grade-point average of 3.0 or greater and submit an essay about their academic and career goals, service to the community, and perspective on how the civil rights movement influenced the culture of the United States. Additionally, they must explain what the phrase "dream the dream" means to them.
"I would interpret the words 'dream the dream' as setting a goal I want to turn into reality," Andrade explained in her essay. "When you begin to believe in these dreams that are set by oneself, there is an empowerment in making these dreams become a reality. If you can dream about these goals, you can make those goals possible no matter how small or big they are."
Contreras shared similar aspirations.
"The phrase 'dream the dream' inspires in me an urge to realize and fulfill an unknown purpose in myself; an inner urge to serve humanity," she wrote.
Upon achieving her Polk State Associate in Arts degree, Contreras plans to transfer to the University of Florida to complete a bachelor's in Human Biology and enroll in a premed track before enrolling in medical school to study perinatology. She aspires to specialize in high-risk pregnancies and one day volunteer for Doctors Without Borders or UNICEF to care for expecting mothers and infants in developing countries.
Andrade plans to complete prerequisites that will enable her to transition into a dental hygiene program or a university to study orthodontics and obtain a bachelor's degree.
"As a Hispanic female, [the civil rights] movement has allowed me to further my education and… to become a future orthodontist or dental hygienist without being laughed at or judged," she wrote.
The Dream the Dream Scholarship is made possible by the Polk State College Foundation's generous donors and is awarded annually during Polk State's Office of Equity, Diversity, and Inclusions MLK Celebration, which honors Dr. King's work to empower individuals, strengthen communities, bridge barriers, and create solutions to social problems.
Contreras wrote in conclusion of her winning essay that, "in a time [when] racial prejudices seem to be stirring up, we can hold fast to Dr. King's dream and remain confident in the triumph of good."