Polk State May Graduates Include 26 from Honors Program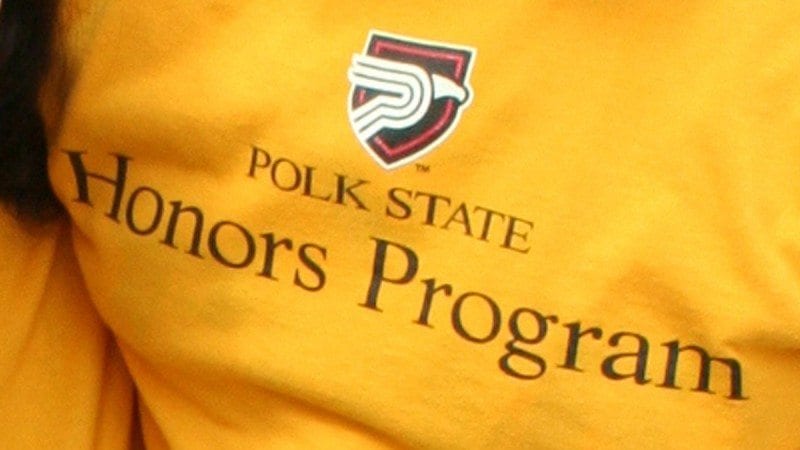 Polk State College's Honors Program continues to grow, with 26 set to graduate from the program during its 106th Commencement.
The Honors Program offers smaller, more rigorous classes, field trips, priority registration and numerous scholarship opportunities.
To qualify for the program, students must meet certain GPA requirements or score highly on tests such as the ACT or SAT. Graduates of the program have completed at least 18 credit hours with the Honors Program designation. Graduates receive the Honors Program designation on their transcripts and diplomas, as well as recognition during commencement.
The Honors Program began in 2005 and has grown ever since. In 2011, the Program graduated a total of 26 students — the same number of graduates for the Spring 2012 semester alone.
"The level of growth is excellent. It shows that the students at the College want the opportunity to take courses in the Honors Program and that we're fulfilling a need," said Professor Brad Massey. Massey and Professor Ana Maria Myers direct the Honors Program.
The following are Honors Program students who will graduate during the College's commencement ceremony at 6:30 p.m., on May 4, at The Lakeland Center:
Victoria Bernhauser, Lakeland
Caleb Blake, Bartow
Joyce Brito, Lakeland
Nicole Carr, Bartow
Jillian Chamberlain, Lakeland
Kaitlyn Collier, Bartow
Travis Douglas, Winter Haven
Amanda Fuillerat, Lakeland
Joseph Germany, Lakeland
Rachel Holley, Winter Haven
Welbie Houghton, Bartow
Jessica Lamb, Lakeland
Naomie LaRoche, Lake Hamilton
Kelsey Lawhorn, Haines City
Megan Lawlor, Lakeland
Grant Marzean, Winter Haven
Juan Mendez, Winter Haven
Olivia Osley, Lakeland
Jeanette Perez, Wahneta
Sarah Purvis, Lakeland
Harold Rentas, Winter Haven
Peggy Robles, Sorento
Andrea Roth, Lakeland
Lindsey Smith, Lakeland
Jason Stout, Lakeland
Joel Whitehead, Lakeland
Lauren Wilbanks, Mulberry
The Honors Program also hosted its second Honors Program Showcase on April 26, where 13 students gave in-depth presentations on a variety of topics.
The Honors Program Showcase is a chance for students to share projects they completed in their Honors classes earlier in the semester.
"The Showcase allows students to learn from each other, and hopefully it contributes to the community of learners we are trying to create in the Honors Program," said District Dean of Academic and Student Services Patricia Jones.
Students presenting in the recent Honors Program Showcase are listed here with their presentation topics and hometowns:
Juan Mendez, Winter Haven, "Soar, Eagleteers," a look at a website he developed for the College's Eagleteers volunteer program
Caroline Sibley, Winter Haven, "Il Valentino: Cesare Borgia as a Myth, a Roman and the Machiavellian"
Daniel Roper, Bartow, "Ralph Ellison's 'Invisible Man: A Struggle to Become Relevant in a Prejudiced Society'"
Liza King, Davenport, "Moving Dirt," a memoir about a spider she finds in her bedroom
Rosemary Reynolds, Winter Haven, "Mountain Lake Memories," a memoir about time spent with her grandparents in Mountain Lake, a community in southeast Polk County
Carter McClendon, Lake Wales, "Thinkers," a look at Voltaire, John Locke, and Thomas Hobbes
Kate Fincher, Winter Haven, "Japanese P.O.W. Camps and the Story of Louis Zamperini"
Joyce Brito, Nicole Carr, and Jordan Gilbert, all of Lakeland, "The Third Wheel," a short play about murder and a wife who wants to watch television
Warner Squire and Jessica Reed, both of Bartow, "What the Radical Left, Left"
Deandra Mahon, Dundee, "Jamaica, Jamaica," a memoir set at her grandmother's home in Jamaica as a storm approaches