Polk State Lake Wales Presents Gallery Exhibit "The Divine Command" Aug. 17- Oct. 31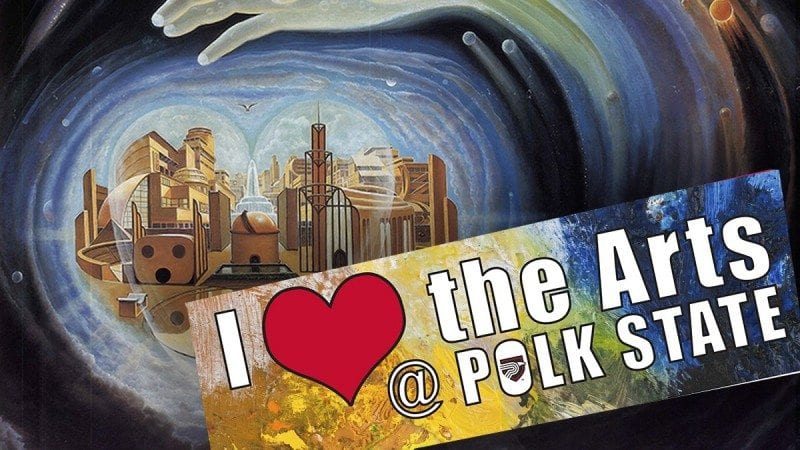 It's hard to say which is more interesting: the backstory or the brushstrokes of "The Divine Command."
No matter, attendees will enjoy both during an upcoming exhibit presented by Polk State Lake Wales and the Lake Wales Historic Society.
"This is really a must-see," said Polk State Lake Wales Arts Center Director Osubi Craig.
"The painting, 'The Divine Command,' is massive, breathtaking and simply indescribable. But the painting becomes all the more fascinating when you learn about its history. Anyone who appreciates art, history, romance, and learning about their community should make plans to come to this exhibit."
Lake Wales artist Clarence J. Tibado painted "The Divine Command" over the course of several years in the 1950s and early 1960s, but the story of the painting begins many years earlier, said his sister, Lorraine Duncan.
Tibado served in the Navy during World War II. It was during his service that he began seeing images of the painting in his mind. Day and night, the painting would come to him. It grew larger, reflecting new details and scenes. Tibado, Duncan said, believed God was telling him what to paint.
In the 1950s, having returned to Lake Wales, Tibado finally began painting the images in his mind, using a 7-foot by 10-foot piece of marine plywood as his canvas.
This is where the story gets even better. Josephine Yarnell, who lived in a well-known Lake Wales-area residence, La Casa de Josefina, was a longtime acquaintance of Tibado's. She offered her three-car garage as his art studio. Tibado set up shop, even installing stadium seating so that members of the public could come and watch him work.
As the painting took shape, so did the relationship between Tibado and Yarnell. Eventually, they were married.
"It's such a beautiful, romantic story," said Mimi Hardman, a local historian.
When it was finished, "The Divine Command" weighed approximately 200 pounds and depicted numerous scenes that, as Craig mentioned earlier, are difficult to put into words. In the bottom right, Jesus hangs on the cross above numerous small churches. A staircase made of books leads the eye upward to Tibado's "perfect city," where humanity would live in peace, Duncan said. At the top of the paining is a hand that represents the Father, Son and Holy Ghost.
Duncan's Winter Haven home is full of her brother's paintings. Every day, visitors to the Smithsonian enjoy pictures he painted during his military service. Meanwhile, "The Divine Command" has spent most of its life in storage.
Duncan is donating the painting to the College, where she hopes it will inspire students and residents alike.
"The Divine Command" will be on display Aug. 17-Oct. 31 at the Polk State Lake Wales Arts Center, 1099 State Road 60 East. The exhibit is free and open to the public Monday-Thursday from 8 a.m. to 6 p.m. and on Friday from 8 a.m. to 5 p.m.
A gallery reception, also free and open to the public, will take place on Sept. 10 from 5 to 7 p.m.
For more information, call 863.298.6883, email LWAC@polk.edu, or visit polk.edu/ArtsCenter.