Polk State invites community to January 11 MLK Celebration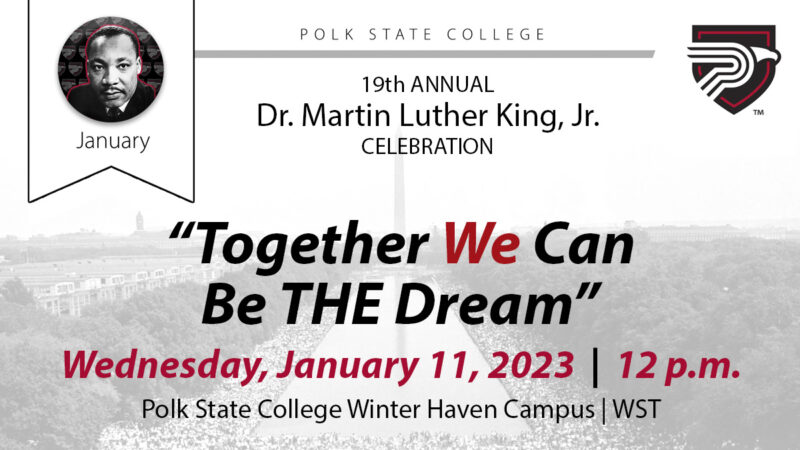 Polk State College will host its 19th annual Dr. Martin Luther King, Jr. Celebration on Wednesday, January 11, 2023, at noon in the Winter Haven Campus Student Center (WST). The event is free and open to the public and will include lunch, entertainment, and a keynote by Dr. Hezedean A. Smith, Chief of Polk County Fire Rescue.
This year the event returns to campus after being held virtually during the COVID-19 public health emergency. This signature event, developed annually by Polk State's Office of Equity, Diversity, and Inclusion in partnership with the Polk State College Foundation, Student Activities & Leadership Office, and Louis Stokes Alliances for Minority Participation (LSAMP), has become a tradition enjoyed not only by the College but also by the greater community.
Chief Smith will inspire with his keynote. Smith began his tenure as Polk County Fire Rescue Chief in November 2022. He brings 34 years of experience in the emergency services profession to the county. He served in the U.S. Air Force as a medical service specialist and worked for the Apopka Fire Department after the military before joining the Orlando Fire Department. He retired from Orlando FD as an assistant fire chief after nearly 25 years of service to the department. He was later appointed as chief of the Charlotteville Fire Department in Virginia in 2020 before assuming his role in Polk County.
An additional highlight of the event will be the presentation of the Dream the Dream scholarship, which is awarded to students with overall college grade-point averages of 3.0 or greater who submit essays about their academic and career goals, as well as their service to the community. This scholarship is made possible by the Polk State Foundation's generous donors and donations to this scholarship can be made online at foundation.polk.edu.