Polk State Hosts Annual Economic Summit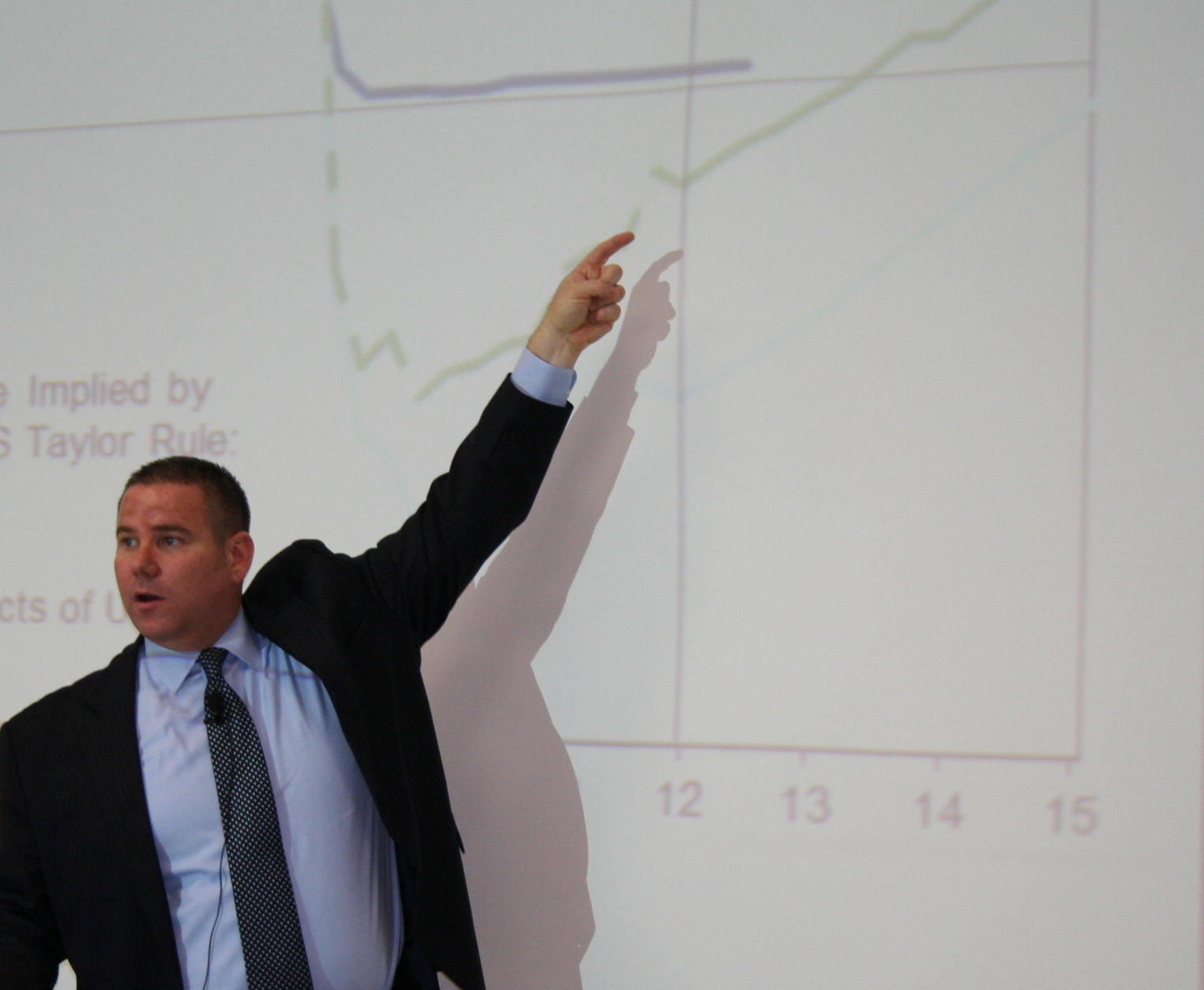 On Wednesday, Polk State hosted the 9th Annual East Polk Economic Summit, an event that featured two economic experts, who shared their analysis of the current state of the economy and their insight into the direction it will take in coming years.
About 200 attendees, including representatives from every sector of Polk County's economy, elected officials, and Polk State College administrators and students, convened for the breakfast event presented by the Greater Winter Haven Chamber of Commerce and co-sponsored by Polk State College and Morgan Stanley Wealth Management.
Speakers included John Tousley, a managing director and senior market and economic strategist for Goldman Sachs, who offered national perspective, and Gary Ralston, managing partner with Coldwell Banker Commercial Saunders Ralston Dantzler Realty, who provided local information.
After welcoming remarks from Suzie Moraco, a Morgan Stanley financial adviser, and Polk State College President Eileen Holden, the speakers took turns at the podium and delved into their analyses, both of which indicated slow but steady recovery.
"The economy is healing, it is getting a little better," Tousley began, though he quickly added that continuing in that direction is dependent on avoiding the so-called "fiscal cliff," which refers to large tax hikes and government spending cuts scheduled to go into effect Jan. 1.
Shifting to the topic of unemployment, Tousley said that recent declines in the jobless rate have come because job-seekers have simply stopped looking for work, opting out of the labor market. As the economy continues to improve, therefore, observers shouldn't be surprised to see the unemployment rate tick back up.
"We should get used to the high 7s and low 8s," he said.
Turning his attention to housing, Tousley said about 30 percent of U.S. households have negative equity, but here in Florida — which is faring better than harder-hit markets such as Nevada — there is a silver lining.
"You've found bottom. There is still plenty of inventory, so don't expect rapid recovery, but housing should no longer be a drag on the economy," he said.
Ralston was equally optimistic on the housing side.
"Home prices have indeed leveled out and we're now getting to a healthier relationship between sales of new homes and inventory," he said.
Ralston also underscored the numerous advantages working in Polk County's favor, including its strategic location in the state and that Winter Haven has almost half the state's population within 100 miles.
"We're in the right place," he said.
Fittingly enough given the location for the event, Ralston also emphasized the importance of Polk County developing a more highly educated workforce.
"Most assuredly there is a meaningful deficiency in education, with people not educated as they should be," Ralston said.
Polk State College is a key player in advancing the area's labor force, he said.
Ralston also pointed to Legoland Florida and Winter Haven's CSX intermodal rail terminal — which has its groundbreaking this week — as huge economic drivers. Also working to the area's advantage is Winter Haven Hospital's world-renowned robotic microsurgery program. (Polk State College in partnership with Winter Haven Hospital earlier this year launched the world's first robotic surgery credentialing program for nurses and surgery technicians.)
As the economy continues to climb out of the recession and its aftermath, Ralston said, growth will fall more than ever to small businesses. To that end, he encouraged the students in the audience to intern, learn from business leaders, and start operations of their own; he named the College's Entrepreneurship Certificate Program as an ideal starting point for aspiring business owners.
"Find ways to interact, seek out business leaders and seek out their guidance. Learn from their wisdom and maybe they will rain a little capital on you," he said. "Start a business and do something that adds value."
Tables purchased for the event also included two seats reserved for Polk State students. Holden thanked businesses for their generosity in making the event accessible to students.
Among the approximately three-dozen Polk State students in attendance was Ryan Darley, who said the event provided him with the kind of down-to-earth understanding of economic issues that is difficult to find elsewhere.
"I had no idea of national economic issues and really didn't understand until this morning, when I had someone explain it all to me. I love having opportunities such as these to learn and have all the numbers explained," he said.
Fellow student Harold James, winner of an iPad given away at the event, said he was particularly inspired by the emphasis on interning and learning from experienced business leaders.
"You have to start at the bottom," he said.
And that sort of work ethic is precisely the prescription the morning's speakers offered.