Polk State Hosts Annual Economic Summit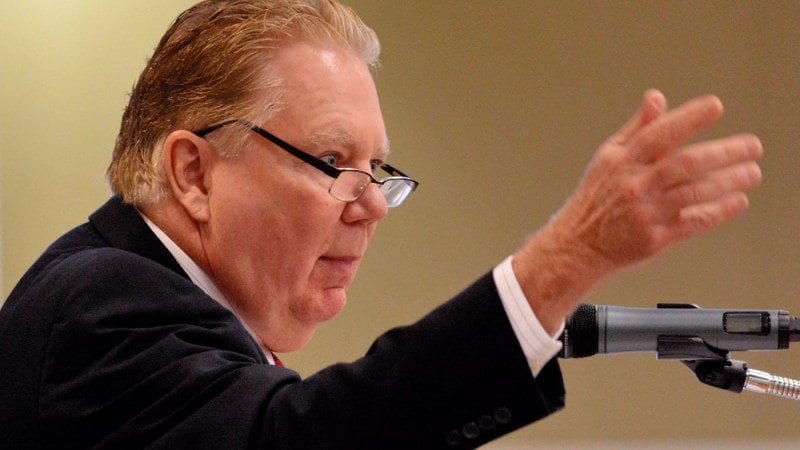 More than 215 business and community leaders attended the 11th annual East Polk Economic Summit today at Polk State Winter Haven. Students, faculty, and staff also took part.
Guest speaker Joseph T. Keating, executive vice president, chief investment officer, and head of wealth management for CenterState Bank, began the morning program with an overview of national economic conditions.
"We have to know where the economy is today in order to understand where we might be going," he told the crowd.
Based on his interpretation of data, he believes that "the economy is growing at 2 percent to 2.5 percent with modest inflation."
According to Keating, new housing construction, the largest sector of our economy, has slowed.  At the peak (2005-08) housing starts were at two million per year.  At the worst point of the recession (2008-11) housing starts fell to 500,000 to 600,000 per year.  In 2014, housing starts will bounce back to 1.5 million per year.
At this point, he noted, we have absorbed surplus housing units that were created during the peak, but we are not producing as many homes because household formation has slowed.
One of the main reasons for that slowdown, Keating said, comes from student loan debt.  Americans had $400 billion in student loan debt in 2004. By 2014 that has swelled to $1.4 trillion.
"Young people can't afford to buy homes," he said. "An estimated 41 million people have student loan debt."
On a more positive note, Keating believes slower global growth neither poses an economic threat nor indicates economic acceleration.
"Instead, we're in for a continuation of this long business expansion."
And he offered more good news. "The drop in energy prices is great! Every one-cent drop in prices equals an estimated $1 billion in new purchasing power for the US economy."
Following Keating's interpretation of the national economy, Bruce Lyon, executive director, Winter Haven Economic Development Council, focused on Polk County.
He identified three trends driving the local economy: healthcare and life services; trade, logistics, and transportation; and financial services.
"We're seeing stronger months and overall stronger years," he said, noting that Polk County has grown 28.9 percent since 2000.
"We have tremendous assets, and we have lots of people who come to visit us."
Beside spending money here, many of those visitors later choose to relocate to Polk.
"We have a great workforce for the businesses that are here," he said. "As more trade and goods flow in and out of Polk County, we'll see more jobs and higher wages. As we add more value, that will create more high-skill jobs."
Lyon noted that local business and community leaders have had talks with representatives from businesses in such countries as China and Morocco.
"Winter Haven can serve the world," he said.
He envisioned a time in the not-too-distant future when Polk State students could complete a three-month internship in China. That experience, he said, would make them more attractive to employers at home or abroad.
In closing he said, "Winter Haven is awesome," noting that the city's downtown will see an estimated $60 million in development in the next two years.