Polk State Hosting Elite Volleyball Camp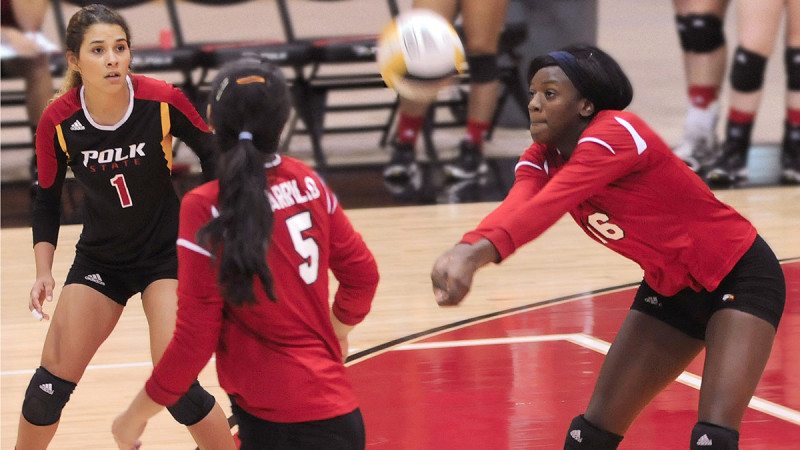 Polk State's title-winning volleyball coaches will share their expertise with players ages 9-18 during the College's 2013 Elite Volleyball Camp this summer.
The camp will emphasize game fundamentals, with drills to build both physical and mental skills.
Participants will receive individualized attention from Polk State volleyball players and coaches.
The Eagles in 2012-13 finished fifth in the state and advanced three players to the NCAA. The prior season, the team won the Suncoast Conference Championship and finished third in the state.
The coaching staff includes Head Coach German Del Valle, now in his second year as head coach. He previously served as an assistant coach in 2011, when the squad reached the state tournament for the first time in its history. He is also director and coach of Orlando's Top Select Volleyball Academy.
Assisting Del Valle are Line Oliveira and Chris Williams.
Oliveira was a member of five Brazilian Volleyball Confederation national championship teams, and also played for Henderson State University (Ark.) and Independent Community College (Kans.). Her coaching experience includes work at Webber International University, Santa Fe Catholic, and Frostproof High School. She is also director of Top Select Volleyball Academy in Winter Haven.
Williams coached under Del Valle at Champions Volleyball Club/Top Select programs in Orlando and for four seasons with the Lakeland Area Volleyball Academy/Southern Select. He was also head coach at Lake Gibson High School for the 2009-10 season.
The camp will take place June 17-19 and July 29-31. During both sessions, camp will take place from 9 a.m. to 1 p.m. for ages 15-18 and 1:30 to 4:30 p.m. for ages 9-14.
The camp will take place in Polk State's Winter Haven Health Center, located on the Winter Haven campus, 999 Ave. H. N.E.
The first day of each session will emphasize passing, serving and ball control. The second day will focus on hitting, defense, ball control, setting and game situations. The final day will be dedicated to blocking, skill review and a tournament.
Participants should wear volleyball attire — clothes, shoes, knee pads. They should also bring water and snacks.
The cost for the camp is $90. Only a limited number of players will be accepted to each section.
For more information, please see the brochure.