Polk State Hosting Critically Acclaimed Red Baraat for Inaugural Arts Day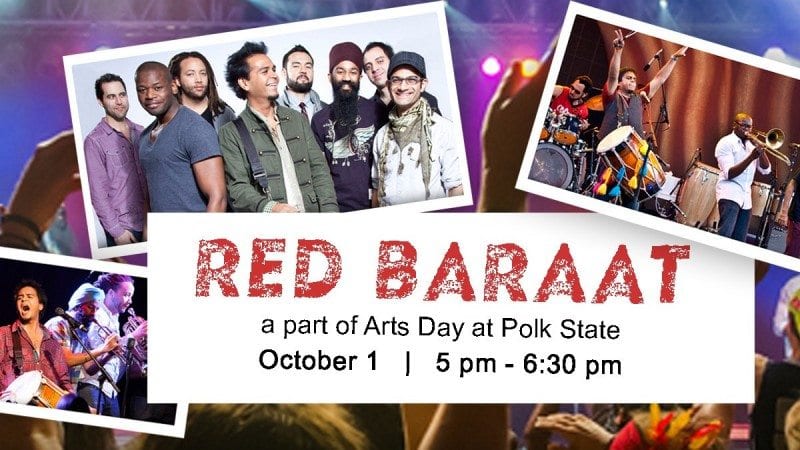 Red Baraat, an eight-piece band that NPR has described as, "the best party in years," will soon bring its world-renowned talents to Polk State College.
"This is the biggest group we've ever had come to Polk State College," said Polk State Lake Wales Arts Center Director Osubi Craig, organizer of the event.
"They are high-energy and exciting. It's the kind of music where you don't sit down and watch, you stand up and dance."
New York-based Red Baraat was formed in 2008, under bandleader Sunny Jain's direction. Jain, a first-generation Indian American, aimed to create a unique sound that would blend the dohl, India's dance drum, with an array of brass instruments. Jain assembled an eclectic group of musicians. The band has since wowed audiences worldwide, and proven incapable of sitting still musically. On the ensemble's third and most recent album, "Gaadi of Truth," Red Baraat experiments with digital effects.
Red Baraat's mashup of Indian music, New Orleans jazz, and everything in between, has garnered global attention. The band has performed at Bonnarroo, Austin City Limits, the Monterey Jazz Festival, and at venues from Luxembourg to New York. They have also performed at the request of the White House, Peter Gabriel, TED, and the Olympic Games.
Along the way, the band has received critical acclaim from The Boston Globe, which wrote, "A new-breed marching-band music that's part Punjabi wedding, part New Orleans second line, and all New York."
The Village Voice added: "Red Baraat have the locomotion of an army … they're nonstop revelry for any light soul who can match their boundless energy."
Craig saw Red Baraat in New York a few years ago, and has wanted to bring them to Polk County ever since.
"That was one of the best nights I've had watching a band," he said. "Individually, they are all fantastic musicians. It's like a ska band meets a world music band. The music is contagious."
Red Baraat will perform at 5 p.m. on Oct. 1 at the Polk State Winter Haven Fine Arts Lawn, 999 Ave. H N.E. The performance is free and open to the public.
Red Baraat will kick off the College's first-ever Arts Day at Polk State. Other Arts Day activities include:
A preview of the fall student art exhibition, Polk State Winter Haven Fine Arts Gallery, 10 a.m. to 2 p.m., and 5-7:30 p.m.
A Polk State Music performance and reception, 6:30-7 p.m., Polk State Winter Haven Fine Arts Gallery
The debut of Polk State Theatre's performance of "A Raisin in the Sun," 7:30 p.m., Polk State Winter Haven Fine Arts Theatre
All Arts Day events are free and open to the public.
For more information, call 863.297.1050 or email LWAC@polk.edu.