Polk State Honors Program Awards Scholarships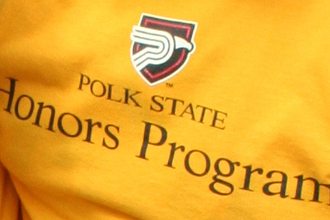 Eighteen Polk State College students have met the rigorous academic requirements to receive Polk State College Honors Program scholarships.
To receive a Polk State Honors Program scholarship, students must be a member of the program, have a minimum 3.5 college GPA or 3.7 high school GPA, and complete an essay.
The scholarships are worth $700 toward tuition and fees.
Students receiving the scholarship include:
Brandon Achan, Kissimmee
Phillip Bielefeld, Haines City
Jessica Brown, Lakeland
Julie Burks, Bartow
Jennifer Diaz, Lakeland
Samantha Dimsdale, Winter Haven
Ladonna Grant, Lakeland
Brandi Hoffman, Lakeland
Chelsea Jimison, Lakeland
Chris Link, Davenport
Pablo Montanez, Lakeland
Rachel Prestage, Polk City
Marimar Rios, Winter Haven
Daniel Roper, Bartow
Carolyn Savage, Auburndale
Cynthia Strickland, Winter Haven
Samona Weller, Lakeland
Jarrett Whitehead, Lakeland
The Polk State Honors Program offers smaller, more rigorous classes, field trips, priority registration, and numerous scholarship opportunities. To qualify for the program, students must meet certain GPA requirements and score highly on tests such as the ACT or SAT.