Polk State honors one of College's earliest supporters, Lemuel Geathers, Sr.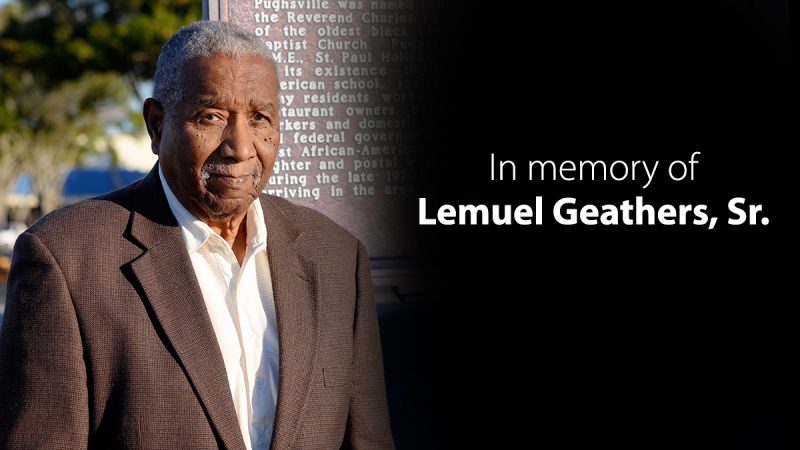 Polk State is mourning the loss of Lemuel Lamar Geathers, Sr., one of the College's earliest supporters who served as a trailblazer for education and equality in Winter Haven and the greater Polk County community.
Geathers passed away on March 2, 2021, at the age of 96.
He was a native of the historic Pughsville neighborhood that was rezoned in the 1960s to support the development of the Polk State Winter Haven Campus.
"He was a strong advocate for the College because he believed in the life-transforming and equalizing power of education," Polk State President Angela Garcia Falconetti said. "His diligent work and steadfast support during Polk State's beginnings and throughout the College's history contributed to our institution's ability to transform the lives of more than 53,000 alumni."
Geathers was a Navy veteran of World War II, an alumnus of Florida A&M University, and the City of Winter Haven's first black commissioner and mayor. He also served on the committee to integrate Polk County Public Schools and played an instrumental role in the rezoning of Pughsville to allow for Polk State's development in Winter Haven.
"The African-American community wanted opportunities just like everyone else. It was a big thing to have a college come to town," Geathers shared during the College's 50th-anniversary celebration in 2014. "Education brings good things to a community. Education brings out the truth. It brings jobs. Because of Polk, I've seen people go to college who probably wouldn't have had any other opportunity."
The importance of education was instilled in Geathers at a young age by his mother, who had a third-grade education but saw her four children graduate with college degrees. Geathers saw his six children do the same.
He enjoyed a successful career in education as well, teaching middle school, high school, and vocational school. He was also an electrician, property manager, citrus grove owner, and a dedicated volunteer in the community.
Among his many well-deserved awards and accolades, Geathers received the Banker's Cup Man of the Year Award in 2013 from the Greater Winter Haven Chamber of Commerce, was named a Polk County Pioneer in 2018 by the Polk County Historical Association, was recognized by U.S. Congressman Darren Soto on the House Floor for Black History Month in 2019, and was sworn in as an Honorary Deputy Sheriff with the Polk County Sheriff's Office in 2020. The Sheriff's Office noted Geathers as a "Winter Haven legend and an American hero."
"Lemuel will be remembered for his dedication to the City of Winter Haven and his family.  This commitment served as a catalyst for progress in our community," City of Winter Haven Mayor Brad Dantzler said. "From helping to ensure that Polk State College had a home in Winter Haven, to working to improve the quality of life for all residents, Lemuel made our community a better place. He was a source of encouragement and positivity for me personally and will be missed."
A graveside service will be held on Saturday, March 13, at 11 a.m. at Lakeside Memorial Park, 2450 US Highway 17 North in Winter Haven.