Polk State honors Dr. Martin Luther King, Jr. with annual event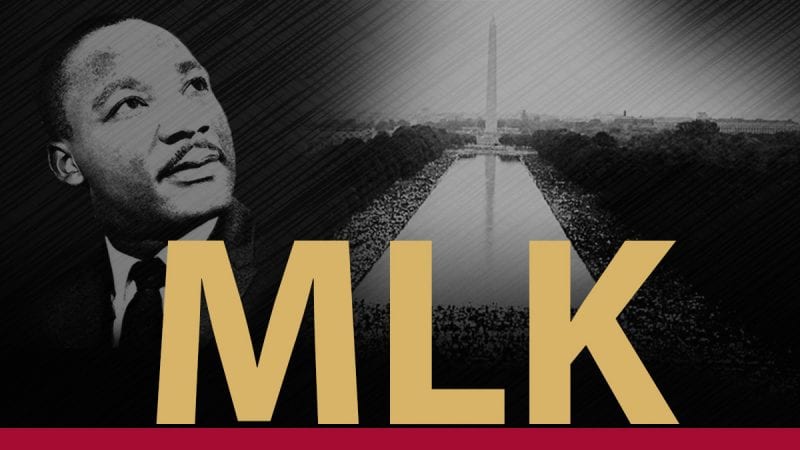 Polk State College will celebrate the life, dream, and legacy of Dr. Martin Luther King, Jr. during its annual MLK Celebration luncheon – a community tradition that is 15 years strong.
The luncheon titled "The Life, The Dream, The Legacy" will take place Wednesday, Jan. 9, in the Winter Haven Campus Student Center, 999 Ave. H N.E. Doors will open at 11:15 a.m. and lunch will be served at 11:30 a.m. The event is free, and RSVPs will be accepted through Thursday, Jan. 3, at www.mlk2019polkstate.eventbrite.com.
"The MLK luncheon is the largest and longest standing event Polk State's Office of Equity, Diversity, and Inclusion holds each year, and the 2019 MLK Luncheon will be the first event our office will hold since the addition of 'inclusion' to our name," said Val Baker, Director of the Office of Equity, Diversity, and Inclusion. "This makes the 15th annual event even more special, as Dr. King believed in and embraced inclusion of all people."
Guests will hear from keynote speaker Keith J. Gibbs, Director of Safety and Security for John Wesley Community Health and a retired veteran of the U.S. Marine Corps. Gibbs holds a master's degree in Administration of Justice and Security and a bachelor's degree in Computer Information Technology.
For most of his career, Gibbs has worked with homeless and at-risk youth populations. John Wesley Community Health works to improve the health status and well-being of under-served segments of the population in Los Angeles. Gibbs is also the founder of SARGES Community Base, Inc. – a nonprofit organization in which he utilizes his background as a Marine Corps drill instructor to work with at-risk youth.
While the event is free to attend, the Polk State College Foundation accepts donations for the Dr. Martin Luther King, Jr. Dream the Dream Scholarship, which provides financial assistance to students who illustrate academic excellence and interest in serving the community. Students will be awarded during the MLK Luncheon for inspiring essays and meeting criteria outlined in the scholarship application.
Donations can be made online at foundation.polk.edu/mlk or at the event. For more information about the MLK Luncheon, please email mlk@polk.edu or call 863.298.6842.