Polk State Graduates Include 18 from Honors Program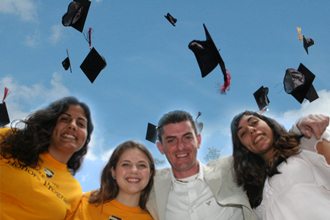 Polk State College will graduate 18 students from its Honors Program at its upcoming commencement ceremony.
The Honors Program offers smaller, more rigorous classes, field trips, priority registration and numerous scholarship opportunities.
To qualify for the program, students must meet certain GPA requirements or score highly on tests such as the ACT or SAT. Graduates of the program have completed at least 18 credit hours with the Honors Program designation. Graduates receive the Honors Program designation on their transcripts and diplomas, as well as recognition during commencement.
The College's 107th Commencement will take place at 4 p.m. on Dec. 13 at the Health Center, on the campus of Polk State Winter Haven, 999 Ave. H N.E.
Graduating Honors Program students, who completed their degrees in either the summer or fall semesters, include:
Jillian Chamberlain, Lakeland
Hannah Estes, Lake Wales
Jordan Gilbert, Lakeland
Naomie Laroche, Lake Hamilton
Megan Lawlor, Lakeland
Sarah Maguire, Lakeland
Erin Martin, Highland City
Candice Morgan, Winter Haven
Sarah Purvis, Lakeland
Chasity Rotton, Waverly
Maria Saucedo, Eagle Lake
Tyler Shoults, Winter Haven
Cindy Sigler, Winter Haven
Warner Squire, Bartow
Kimberly Travi, Auburndale
Jolene Vincent, Lakeland
Luciana White, Lakeland
Krista Workman, Bartow