Polk State Graduate Turns Grief Into a Cause, Starts Nonprofit in Memory of Her Daughter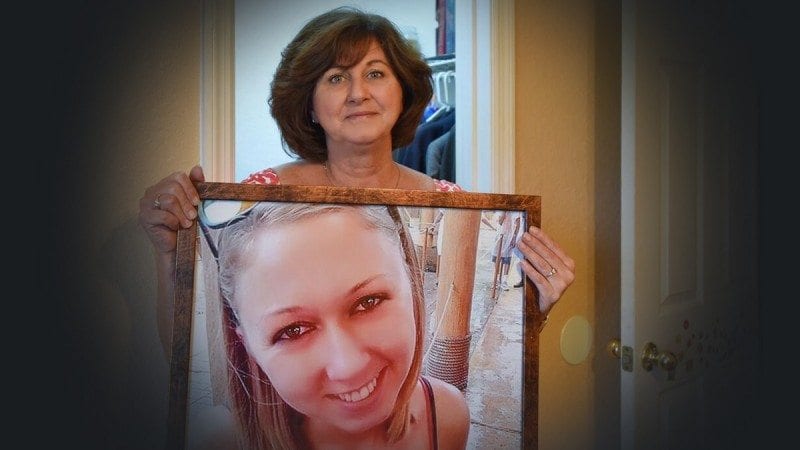 This week, Janice Honiker graduates with a bachelor's degree and a purpose: She will not let her daughter's death be in vain, and she will use her Polk State College education to make sure of it.
"When I lost my child, I lost all hope," said Honiker. "What I'm doing now is giving other parents, whose children are battling drug addiction, one more day of hope. One more day might be all it takes for their children to make it."
Twenty-five years ago, Honiker gave birth to her second child, Michelle. As the years passed, Honiker marveled as her fair-haired, green-eyed baby grew into a young woman who loved art, music and acting in school plays.
"She was outgoing and popular," Honiker said. "You either loved her or you were jealous of her."
As she neared the end of high school, however, Michelle began to change. She fell in with the wrong people, peer pressure mounted, and she began abusing prescription drugs.
What began as adolescent experimentation became a years-long battle for Michelle. At first, she tried getting sober on her own. Weeks and months would pass, Honiker's hope would surge, but inevitably, Michelle returned to her habit.
By the time Michelle was in her early 20s, she had entered a rehabilitation facility. Maybe there she would find the help she needed to get clean once and for all.
At first, it seemed rehab was indeed the answer. Michelle completed her program and stayed sober for a whole year. She started making plans for a career as a dental hygienist. She was caring for her young son. She was building a new life.
Soon, though, the challenges of sobriety and the stresses of trying to start anew proved insurmountable for Michelle.
"She fell back in with the drug," Honiker said. "It was the only thing she knew."
Michelle overdosed on April 25, 2015.
For the first few months, Honiker's grief was overwhelming.
"I could barely get out of bed," Honiker said.
As she would lie there, thinking about Michelle, Honiker would often recall the time her daughter spent in rehab. It was already the lowest point in Michelle's life, but what made it all the worse was the clothing she had to wear. Michelle was tiny — 5 feet, 6 inches tall and just 115 pounds. The clothes at the rehab facility swallowed her small frame and squashed what little self-esteem she had left.
"She had to roll the waistband of the pants to keep them on her," Honiker said. "We laughed about it, but deep down, I could see that she was embarrassed. She didn't feel like she fit in. She felt like the other people were making fun of her."
One day, Honiker had the idea to donate clothes to women in drug rehabilitation.
"I started cleaning out Michelle's closet," Honiker said. "Then I started asking people at random if they had clothes they could donate."
The donations started and haven't stopped, coming in from all over the country. Honiker takes whatever is given and stores it in Michelle's closet in her Babson Park home. Then she sorts the items by size, season and appropriateness for things like court dates and — her favorite — job interviews.
In October, Honiker established a nonprofit organization. She calls it Michelle's Closet.
In starting Michelle's Closet, Honiker relied heavily on what she was learning as a student in Polk State's Bachelor of Applied Science in Supervision and Management degree program. She graduates with the degree on Dec. 17.
"My original plan when I started this degree was to go into teaching, but now I feel like it was almost meant to be that I would start this organization," Honiker said. "We would learn about things in class that the very next week I would use for Michelle's Closet, like marketing and all the rules and stipulations involved in starting a 501(c)(3) organization."
Honiker is hoping to recruit teenagers to volunteer for Michelle's Closet. She's going to need the help because she's planning workshops to educate the public on drug addiction, raising funds to start a scholarship, and preparing for a Day of Remembrance event on Michelle's birthday, April 13.
For all the money and clothing she hopes to collect one day, Honiker said what matters most is knowing that she's had a positive impact on young women fighting the battle that Michelle lost. A visitor to the organization's Facebook page, facebook.com/MichellesCloset, recently posted: "I just want to thank you, Janice Honiker, for being you, and for being so nice and getting me these gifts to celebrate my recovery and help me with the things I needed. Today I am on day 78!"
"I think of this as me being able to be a mother to other women, at least in a small way," Honiker said. "My daughter didn't make it, but maybe I can make things just a little easier for someone else going through recovery."
Two years ago, Michelle and Honiker made a deal. If Michelle got sober and went back to school, Honiker would enroll at Polk State, earn her bachelor's degree and graduate with honors. When Michelle died, Honiker felt like giving up. What pulled her through was the sense that if she just kept working, something good would come of her loss. That and the feeling that, even if she won't be at graduation in person, Michelle will be watching in spirit — and she'll be proud.
"She's going to be right there with me," Honiker said. "Everything I'm doing is for her."
To learn more about Michelle's Closet, visit it on Facebook, or at gofundme.com/MichellesCloset, or email MichellesCloset413@yahoo.com.