Polk State graduate finishes what she started 40 years later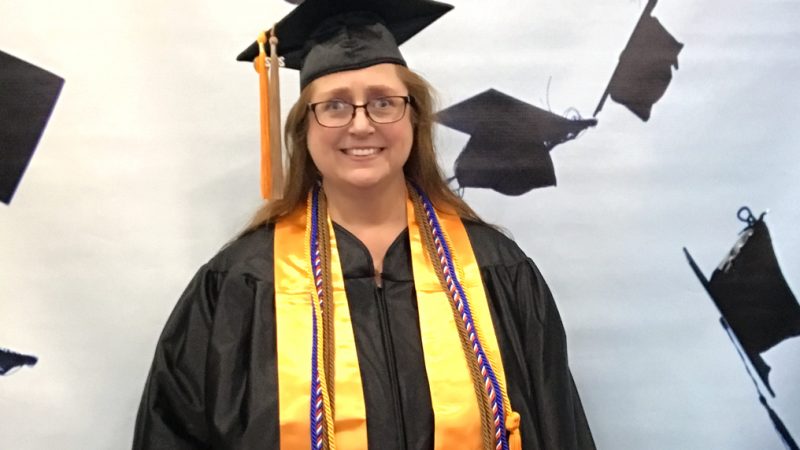 After five tries and four decades, Helen Hill graduated from Polk State College with a four-year degree.
A 1982 graduate of Lake Wales High School, Hill, 58, of Babson Park, first attended Polk State in the fall of that year. Forty years later, she leaves campus once and for all with a Bachelor of Science in Business Administration.
In 1983, Hill got married and moved to North Carolina, forcing her to quit school the first time. She returned to Polk State in 1985 but left for the U.S. Air Force in 1986 after earning enough credit hours to qualify as an Airman First Class.
Later divorced, Hill spent more than three years in the U.S. Air Force and did an extended tour in Germany. After returning home, she reenrolled at Polk State in 1991. She remarried and left College.
Since then, her husband, Dave Hill, has been her biggest supporter. The couple have two children together, a daughter named A.J., and a son named Gregory, and two grandchildren.
"He is the best person in my life," Hill said about her husband of 29 years. "He just supports me in every way. He keeps everything together and keeps things going while I focus on college. He's my Mr. Wonderful."
Hill lived in Miami from 1995 to 2000 before again returning home. After that, she had one other short stint at Polk State College before returning in 2016. She was only a handful of courses away from earning her Associate in Arts.
Since then, she has been enrolled continuously and has studied at her own pace – one class at a time. Hill took just one class per semester or two eight-week classes per semester for upper-level curriculum to ensure that she could not only pass her courses but do so with high marks.
She currently holds a 3.6 grade-point average and is a member of Phi Theta Kappa. If her first four stints were excluded, her GPA would be above 3.8.
Hill felt a newfound confidence to succeed in 2012. After 10 years battling an illness and suffering from severe fatigue, Hill found a new doctor who prescribed a new medication. Finally prescribed the correct medication, she lost 125 pounds between 2012 and 2013.
"That made me feel like I could do anything," she said. "That was a great feat. I just wanted to do something with my life."
Hill earned her Associate in Arts in May 2018. She was happy that her mother, Jean Scott, was there to see her graduate.
"My mom was very proud of me before she died," Hill said. "I wish my mom could be here to see me get my bachelor's."
Despite excelling academically, Hill said she learned that she could do even better when she took a class taught by Dr. Herbert Nold. Hill was passing with high marks, but soon learned from her professor that there was room to improve as a writer.
"I was making 100s on all my papers, but I found out I wasn't writing how I should," she said. "I got to Dr. Nold's class, and he actually taught me how to write academically. I'm very proud of my improvement."
For a total of 32 years, Hill has been employed by the Florida Department of Corrections and is using its tuition reimbursement program to pay for classes. She's currently a Probation and Parole Specialist but has reached the highest position she can attain at the agency without a bachelor's degree. Now graduated, Hill hopes to get promoted, but noted that having a degree will provide numerous opportunities.
"We'll have to wait and see," she said. "I don't know where the lord wants me to be."
During her time with the Florida Department of Corrections, Hill said she's tried to give encouraging words to those on probation, particularly those battling addiction. She also volunteers with the local chapter of Ryan's Case for Smiles – a sewing group that makes pillowcases for hospitalized children.
She hopes her story of perseverance can be inspirational for others who consider going back to college.
"If you have to, just take one course at a time," Hill advised. "It's still progress."
Hill's 40-year journey to a bachelor's degree has been a long one. When it comes to education however, she may not be finished.
"My husband says my hobby right now is studying," she said. "Getting a master's degree is not out of my mind. If everything goes right, I think it's what I want to do."