Polk State Grad Goes from Ph.D. to Judge's Chambers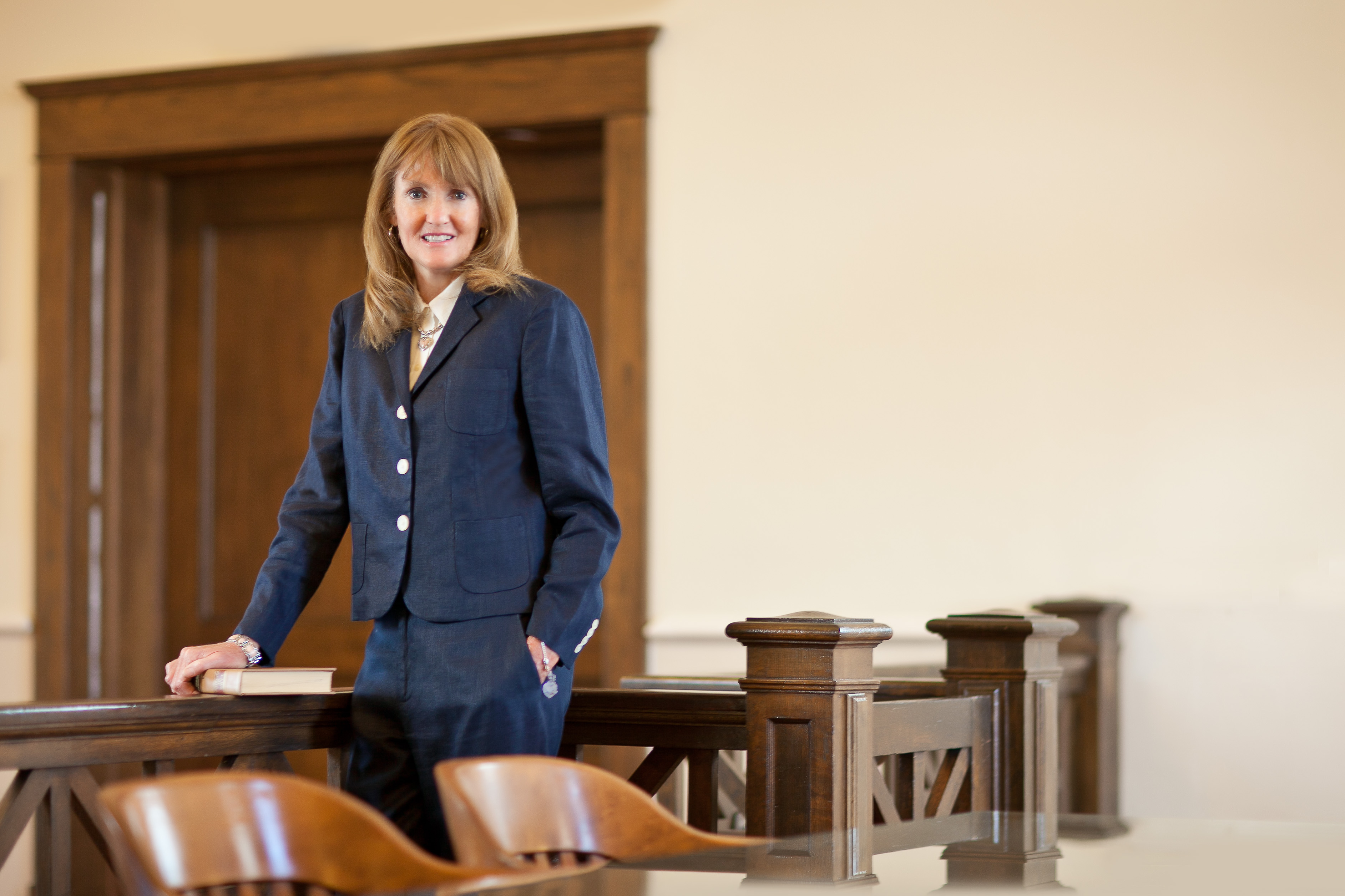 It's a steamy September afternoon, rain dotting the downtown Bartow pavement, when a visitor pulls open the door of Combee Law Firm, expecting the leather-bound, receptionist-guarded austerity so typical of law offices.
Instead, the door swings open to newly elected Circuit Court Judge Catherine Combee holding tight to the collar of her 2-year-old Weimaraner, her long hair swinging as the dog excitedly lurches against her grasp.
"He'll jump up," she kindly warns, and that Stewart does, sniffing and eagerly receiving a scratch behind the ears.
With Stewart satisfied, Combee takes a seat at a no-frills tile table — there's not an overstuffed couch or obligatory scales of justice in sight — and recounts the path that led her to higher degrees and recent election.
It's a story she tells for this installment of Pride of Polk with such ease and approachability that her status and accomplishments fade a bit, and it's easy to imagine her at the start of her incredible journey. As a Polk County girl sitting in a Polk State College classroom.
Combee, a Polk County native, graduated from Winter Haven High School and headed straight to the College. In fact, Combee's first year of attendance — 1971 — proved to be a significant one in the history of the College, marking its change from Polk Junior College to Polk Community College.
It was always a given that she would begin at Polk, said Combee, whose mother worked as an abstracter for a title company and whose father owned and operated Combee Airboats, a sales and repair company.
"It was inexpensive and a good place to transition," said Combee. "I could stay with my family, stay with what I knew, and get a college degree. I matured while I was there and it made me a more accountable student."
While at Polk, Combee worked in the bookstore, and even got her first taste of judgeship through a student court system in which students judged their peers in non-academic violations.
After Polk, Combee made her way to the University of South Florida, where she earned a bachelor's in Medical Technology, master's in Microbiology, and doctorate in Medical Sciences, degrees that served as the basis for a career dramatically different than the one she leads today.
Combee entered the healthcare field, working her way up through the corporate offices of Laboratory Corporation of America, overseeing quality assurance and scientific affairs, eventually becoming an associate vice president of the S&P 500 company. She ended her career in the healthcare field as chief operating officer of Columbia Central Florida Laboratory Services in 1997.
It was through those career experiences that Combee's interest in law emerged.
"We dealt with rules and regulations all the time — especially figuring out ways around those rules and regulations," she quipped.
At 45, after having also earned a Master of Business Administration from USF, Combee enrolled at Stetson University College of Law, beginning her transformation from executive to litigator.
"It was so different than all my other schooling. In science, either you have a tumor or you don't, but there are so many grey areas in the law," she said.
Those "grey areas" challenged and excited her, as did the possibilities of working with those who most needed her help, specifically children. Though she'd originally planned to specialize in patent law, she changed course yet again, choosing to practice as a trial attorney in appellate, criminal, family, dependency and juvenile cases.
She established Combee Law Firm in 2003. Since then she has worked to help parents regain custody of their children after long legal battles, helped the victims of child abuse be adopted into loving families, and helped reunite children placed in residential facilities with family members. She's also served as a volunteer hearing officer in dangerous dog cases for the Polk County Board of County Commissioners and a volunteer member of the Lake Region Law Academy Advisory Committee.
"I've been able to help kids who a lot of time have no one else to help them. It's been very rewarding," she said.
Rewarding especially because her law career has been about helping people right here in Polk County — where her family lineage traces back numerous generations — during some of the most troubling times of their lives. It was out of a desire to serve the people of Polk County on an even broader level, as well as Hardee and Highlands counties, that she chose to run for circuit court judge.
She won election in August over fellow lawyer Mark Kaylor, an accomplishment she credits to her faith — she belongs to Victory Church in Lakeland — and the hard work of those who volunteered for her campaign.
In her new job she aspires to create a courtroom of respect — for victims, witnesses, plaintiffs and defendants alike.
"You won't be referred to by your first name, you will be asked if you understand things, and you will have things pointed out to you that you should understand," she said.
With that, she leads her visitor to the door, where Stewart is curled, his eyes heavy on the verge of his afternoon nap.
It's a sight that begs one more question: Will Stewart be a regular in her chambers?
"I don't think that's allowed," she chuckles, bending to give her loyal pet a pat.