Polk State Foundation's Wine for Wisdom holds milestone event, supporting students for 10 years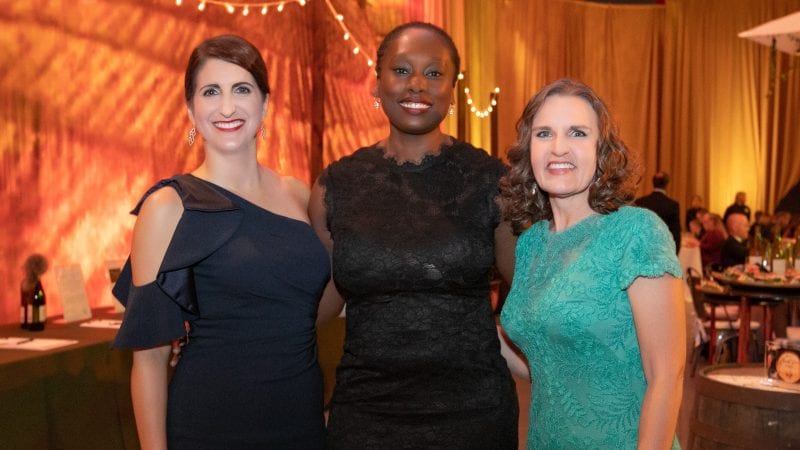 The Polk State College Foundation's premier fundraiser, Wine for Wisdom, reached a milestone Thursday night with its 10th annual event in support of Polk State's students.
The sold-out event presented by Citizens Bank & Trust took more than 400 generous donors and members of the community on a journey to a destination known for its internationally recognized wineries and five-star culinary fare. The Winter Haven Campus Health Center was transformed into Wine Country, immersing guests in the vineyards of California.
Guests enjoyed musical performances by student musicians, a five-course meal and complementary wine pairings by Disney Catered Events, and inspiring words from student Tori King, who is working on a Polk State Associate in Science in Nursing degree.
"Receiving a scholarship from the Polk State College Foundation has been such a blessing, as it has afforded me the opportunity to focus on my coursework without the stress of a tuition bill hanging over my head," said King, who had a successful career in Human Resources but found a calling to go into nursing while serving as a consultant for a local hospital.
She struggled to balance a full-time job with the demands of Polk State Nursing's rigorous program.
"I honestly do not think that I would have returned for a second semester without the financial support I have received from the Foundation, and for that I am eternally grateful," she said.
King plans to complete her AS in Nursing and continue her education to obtain a Master of Science in Nursing while serving as a progressive care unit or infection control nurse.
"On behalf of myself and the more than 1,800 students like me who are helped by the Polk State Foundation each year, thank you," she said. "Your generosity allows us to focus on paths of study that we hope will positively contribute to the Polk County community and our chosen areas of occupation."
In 2018, the Foundation awarded $1.6 million in scholarships to Polk State students. Wine for Wisdom has raised more than $500,000 for student scholarships since its inception in 2010.
"This support is life-transforming for our students," Polk State President Angela Garcia Falconetti said. "When they become successful nurses, educators, business professionals, and community leaders, they will remember the generosity of those who gave them the resources they needed to achieve their dreams with the understanding of the importance of giving back to their community."
Tracy Porter, Executive Director of the Foundation and Vice President of Institutional Effectiveness, echoed a similar sentiment.
"We are incredibly grateful to every donor who believes in the power of a Polk State education to transform lives," she said. "The investments contributors make in our students profoundly affects their lives and our entire community."