Polk State Foundation scholarship recipient overcomes obstacles with community support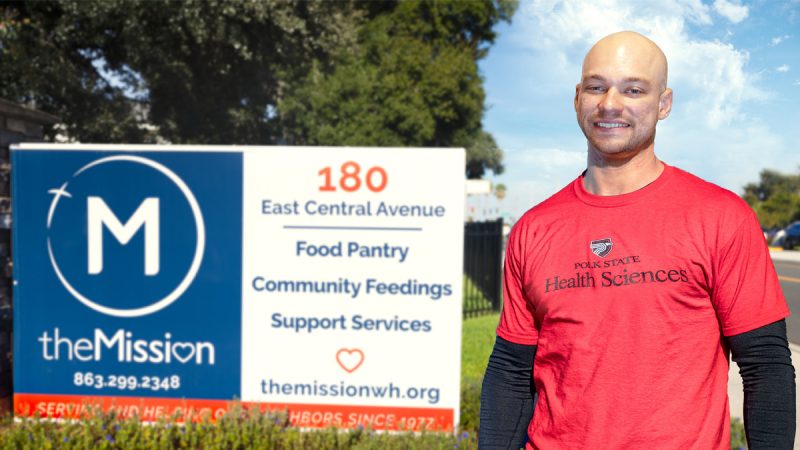 A Polk State College Nursing student and recent scholarship recipient is thankful for a community that has picked him up while he was down.
Sean Taber, 28, has persevered through homelessness and other struggles to earn an Associate in Arts degree from Polk State. Now a student in the Nursing Program, Taber was recently awarded the Ray and Anna Martin Scholarship through the Polk State College Foundation.
"It means so much the way this community has lifted me up and helped me to see my potential," Taber said. "Since I came to Winter Haven, it's been blessing after blessing. It's amazing the way people have come together. They cared for me when I was unable to care for myself."
Joan Connors, with Polk State Nursing, is happy to have Taber in her program.
"Sean is a shining example of excellence in the classroom and clinical setting," she said. "He applies himself and listens to others. He displays a true caring spirit of nursing."
The $2,000 scholarship can be used for tuition and books. The Polk State College Foundation awards approximately $1 million in scholarships to Polk State students annually. Students can visit polk.academicworks.com for more information and to complete the scholarship application process.
"The Foundation was established, and exists to this day, with the purpose to support as many students as possible in their educational endeavors," said Jeff Baldwin, Vice President for Resource Development and Executive Director of the Polk State College Foundation. "Sean is a perfect example of what our Foundation strives to support. Our donors and board have a passion to provide as many scholarships as possible for our students, fostering a lasting impact on the student, our college, and the community."
A native of Indiana, Taber moved to Florida when he was 11 years old. In 2015, he moved from Sebring to Winter Haven where his life started to change for the better. One of his biggest pillars of support has been The Mission, a faith-based nonprofit that provides services for those in need.
"The Mission in Winter Haven provided me with a lot of support," Taber said. "They saw that I was really trying and since then, they've become my family."
Taber first started showing up at The Mission for meals, but the impact went far beyond. Taber recalls being drawn by a sermon from Justin Scoggins, Director of Operations at The Mission, in January 2020. Crediting Scoggins and David Berry, the executive director at The Mission, Taber now volunteers his time with the nonprofit and lives there while he finishes the Nursing Program.
"Sean has become a part of our family," Berry said. "We've been with him every step of the way and saw him through those hard times. The odds were stacked against him and it's unbelievable to see where he is now. We love him; we're so proud of him and he has a very bright future."
After battling homelessness, mental health disorders, and addiction, Taber decided to make change. He learned about New Beginnings High School in Winter Haven, which provided meals and transportation. At the age of 23 in 2017, Taber earned his high school diploma.
"I was sick and tired of being sick and tired," Taber recalled. "I found New Beginnings High School; they took a chance on me, and it all worked out."
Taber earned his Associate in Arts degree from Polk State in 2020. He spent a semester away at New College of Florida in Sarasota, studying chemistry, but elected to return to Winter Haven.
"It was at the height (of the COVID-19 pandemic), and I was lonely in my dorm by myself all the time," he said. "I really missed my Mission family and wanted to come home."
With his return home, Taber decided to go take a new career path. Taber's mother was a nurse for 30 years. He recently finished his first semester in Polk State's Nursing Program.
"Caring for the sick is a spiritual experience," Taber added. "After being at The Mission, I realized that helping people is what I am meant to do."
With the help of diet and exercise, Taber is now completely off anxiety medication. A Phi Theta Kappa member, Taber has held a 4.0 grade-point average for the duration of his collegiate career. He's on pace to graduate from the Nursing Program in December 2023.
"Sean has shown true dedication to the profession of nursing and demonstrates constant hard work. He seeks out opportunities to make the most out of every clinical day," Professor of Nursing Cheryl Conley said. "He also has a willingness to serve, whether it's on a committee for the College, volunteer work at The Mission or being available for anything his classmates may need. Sean is an ideal student and a pleasure to have in class and clinical."
To support students like Taber, visit foundation.polk.edu to donate to the Polk State Foundation.