Polk State extends hours for responding to student inquiries by phone, email & webchat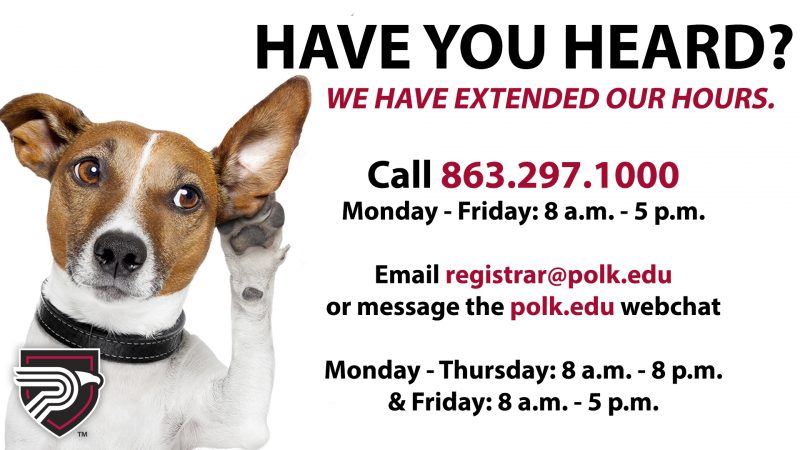 To enhance its services to students and prospective students while operations remain remote due to the COVID-19 public health emergency, Polk State College has increased the number of hours that staff is actively responding to phone calls, emails, and messages through the webchat feature on www.polk.edu.
For assistance with applying to the College, receiving advising, and registering for classes, students may call 863.297.1000, email registrar@polk.edu, or send a message in the webchat feature located in the bottom right corner of the College's website, www.polk.edu.
Staff will be responding to calls Monday through Friday from 8 a.m. to 5 p.m. and to emails and messages to the webchat from Monday through Thursday from 8 a.m. to 8 p.m. as well as on Friday from 8 a.m. to 5 p.m. Callers may leave voicemails outside of these hours to also receive assistance. Please allow 48 business hours for a response to voicemails and emails.
For assistance with financial aid, students may call 863.297.1004, email financialaid@polk.edu, or visit www.polk.edu/admission-aid/financial-aid.
Students with technological needs may call the College's Academic Support Line at 863.669.2833, which operates Monday through Friday from 8 a.m. to 5 p.m.
Throughout the application, registration, and financial aid processes, students should monitor their Polk State emails and accounts for important information. Students should also visit www.polk.edu and the College's social media for the latest news and additional resources as they become available.