Polk State, ExpressJet Celebrate New Partnership That Will Provide Mentorship, Employment Opportunities to Students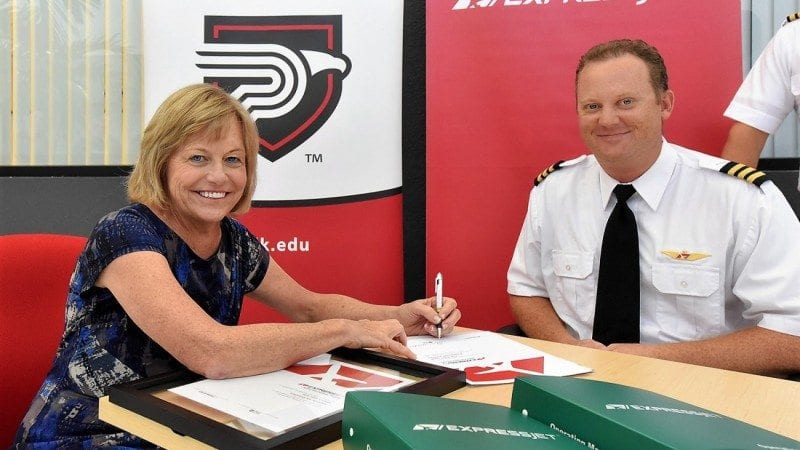 Polk State College and ExpressJet, one of the world's largest regional airlines, celebrated their newly formed partnership during a ceremony Tuesday at the Polk State Airside Center in South Lakeland.
Among those attending the event were Polk State President Eileen Holden, Trustee Ricardo Garcia, Polk State Aerospace Program Director Eric Crump, representatives from ExpressJet, as well as those who will reap the benefits of the new agreement — Polk State Aerospace students.
"With this agreement, we have a clearly defined pathway to becoming an airline pilot," said Polk State Aerospace student Nathan Calhoun, a Lake Wales resident studying toward his Associate in Science degree in Professional Pilot Science.
Tuesday's ceremony was held in honor of a memorandum of understanding the College and ExpressJet recently signed marking the official start of their partnership. Under that agreement, Polk State becomes one of approximately 50 colleges and universities in the nation participating in ExpressJet's Airline Pilot Pathway Program, or AP3 for short.
Through AP3, ExpressJet pilots will mentor Polk State Aerospace students. Additionally, Polk State Aerospace students will enjoy preferential hiring benefits with the airline. ExpressJet representatives will also have a place on the College's Aerospace advisory board; advisory board members help guide program curricula, ensuring that students are receiving the training employers need.
Atlanta-based ExpressJet is one of the world's largest regional airlines, with 8,500 aviation professionals, an average of 1,600 daily flights, and an all-jet fleet of 320 aircraft. ExpressJet operates as American Eagle, Delta Connection and United Express to serve more than 170 airports in the U.S., Bahamas, Canada, Cayman Islands, Mexico, and Turks and Caicos Islands.
At the event, Holden said the agreement with ExpressJet is "a perfect example" of the College's founding mission to serve its business and industry partners.
"This partnership is about us filling employment gaps in the aviation industry. You have our commitment to excellence," Holden said to the ExpressJet representatives.
Jared Allison, a first officer and pilot recruiter with ExpressJet, who visited Polk State Aerospace earlier this year and was so impressed with its quality that he recommended it join the AP3 program, directed his comments to the assembled students:
"When you sign up for this program, ExpressJet pilots mentor you to help you get the position you want to be in. You make contacts that you can use for mentorship and resources. Ultimately, what can come out of it is a job with ExpressJet," he said. "This is the light at the end of the tunnel."
Matt West, a chief pilot with the airline, encouraged the students to take advantage of the AP3 program.
"Not only is ExpressJet an excellent stepping stone to meet your goals, it's also a great place to call home," he said.
Peter Ryan, a first officer and pilot recruiter, added:
"Information really is key. Through this program, we hook you up with an ExpressJet pilot who has gone through the training and has the job," he said. "At its core, AP3 is a mentoring program. Take advantage of it. The people you meet can help you make the right decisions in your own career."
Among those who plan to sign up for the program is Trae Lefan, an Auburndale resident who will graduate next year with his Bachelor of Science in Aerospace Sciences.
"This program will give me a mentor. It will connect me with someone who can tell me what I need to do to be prepared for this industry," he said.
Garcia, who owns and operates Gulf Coast Avionics Corp. of Lakeland, Pacific Coast Avionics of Portland, Ore., and Central Florida Avionics & Instruments of Leesburg, put the partnership into perspective:
"This is major," he said. "The professionalism and curriculum of Polk State's Aerospace Program speak for themselves. ExpressJet has recognized what we're doing here."
Polk State Aerospace offers the Associate of Science in Professional Pilot Science, the Associate of Science in Aerospace Administration, and the Bachelor of Science in Aerospace Sciences, which has concentrations in both Pilot Science and Administration.