Polk State encourages storm preparedness in advance of the 2021 hurricane season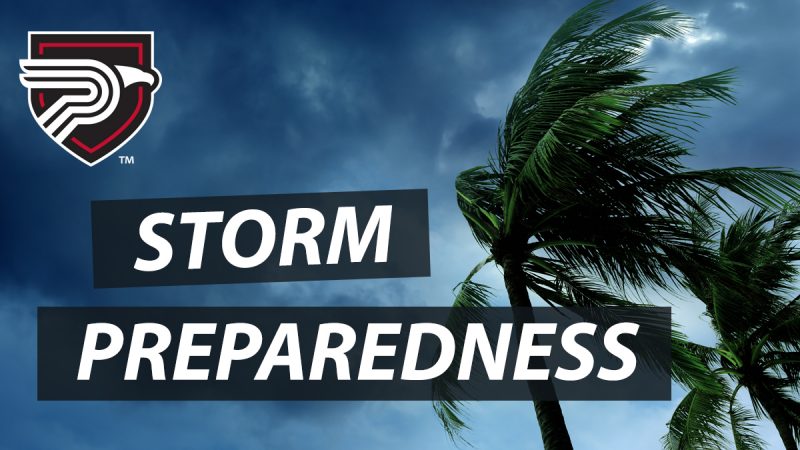 The 2021 hurricane season begins June 1, and Polk State College officials encourage students, faculty, and staff to be prepared.
The National Oceanographic and Atmospheric Administration's (NOAA) Climate Prediction Center is forecasting a higher-than-average storm season, with a likely range of 13 to 20 named storms, of which six to 10 could become hurricanes with winds of 74 mph or greater, including three to five major hurricanes that are deemed Category 3 or greater. An average storm season generates seven hurricanes and 14 named storms.
Should any predicted storm pose a threat to Polk County or the surrounding area, Polk State officials will communicate regularly to assess forecasts and determine whether changes to College operations will be needed to ensure safety and security.
Polk State announces information related to changes in College operations via www.polk.edu, Polk State's social media accounts, phone messages, text messages to students and employees, and messages to Polk State email accounts, as well as through local TV, radio, and newspaper outlets.
In advance of this hurricane season, Polk State encourages each student and employee to log in to Passport and check that all contact information is current under the "My Details" or "Change Contact Info" link. This will ensure the individual can receive emergency alerts from the College. Numbers entered in the "Cellular Number" field in the "Personal Information" section are used for emergency texts and phone messages.
In the event of a storm, facilities and security personnel remain vigilant and ensure that all buildings are safe and secure before welcoming students and employees back on campus.
The most important thing that a Polk State student or employee can do at the start of hurricane season is to think about personal preparations, such as obtaining critical resources, maintaining a list of contacts, determining evacuation routes, and building survival kits.
Some suggested resources for preparedness include: