Polk State EMS Students Act Fast to Revive Patient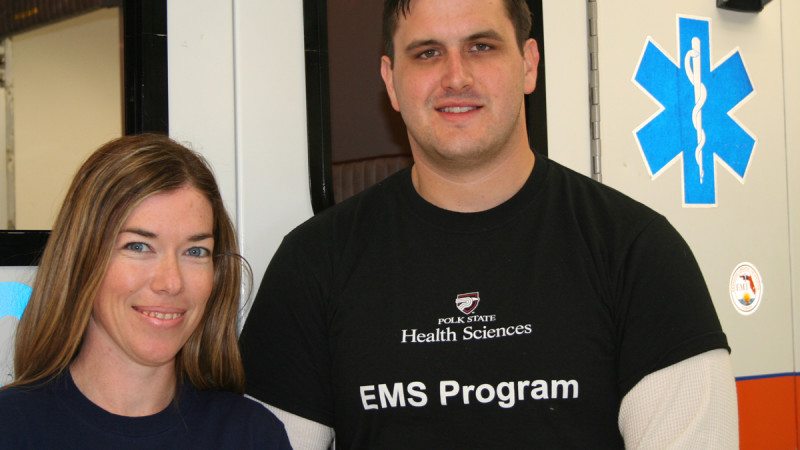 Two Polk State Emergency Medical Services (EMS) students have received praise for acting quickly to revive an unconscious patient at Lakeland Regional Medical Center.
Students Lisa Barnes and Derek McBrayer are currently completing paramedic clinical training at the hospital.
One evening in late February, the two were on a break from their shift, when a car pulled up outside the emergency department, its horn blaring. A few seconds later, the driver jumped out of the car, yelling for help.
The two students quickly made their way to the car, where they found an unconscious man in the passenger seat.
McBrayer, currently a firefighter and emergency medical technician (EMT) for the City of Auburndale, called for a stretcher and a ventilation bag. Then he and a police officer pulled the man out of the car onto the stretcher.
Barnes felt for a pulse and, finding none, quickly began CPR. She and McBrayer — along with two other Polk State students, Monica Layne and Allison Skinner — gave the man CPR for 37 minutes, when he regained a pulse and began breathing on his own.
The quick thinking and actions Barnes and McBrayer demonstrated caught the eye of hospital employees.
"The staff acknowledged the rapid and appropriate actions of the Polk State College paramedic students and felt that this could be what led to the resuscitation of the patient. I feel that this exemplifies the quality education that the students of the Polk State College EMS Program receive," wrote Brian Petterson, a nurse at the hospital, in an email to Don Guillette, Polk State EMS director.
The patient had suffered a massive heart attack, Barnes and McBrayer said, and passed away a few hours later.
Regardless, Guillette said, his students did exactly what they've been trained to do — and he couldn't be more proud.
"Their quick actions gave him the opportunity to have his life saved. As a paramedic, you have no control over what happens later on in the hospital, but they acted quickly to give the doctors and nurses the chance to do everything they could," he said.
Both Barnes and McBrayer credit their Polk State training with their ability to quickly respond to the situation.
"This program teaches you to think on your feet, make a decision and be confident in the decision you make," said Barnes, a resident of Sebring.
She pointed to the program's constant scenario-based questioning as excellent preparation; in scenario-based questions, students are given a hypothetical situation, full of a variety of factors, and have to decide how to treat the patient.
"They make sure you're dotting the I's and crossing the T's," she said.
EMS has three tiers, beginning with Emergency Medical Responders. EMRs provide initial, hands-on emergency care, carrying out jobs such as checking vital signs, starting a patient on oxygen, and bandaging. At the second tier are EMTs, who provide basic life support, such as CPR, splinting and spinal immobilization. At the top tier are paramedics, who provide advanced life support, such as intravenous therapy, intubation, medication administration and defibrillation. Polk State EMS offers training options for those seeking to work at any level of the EMS ladder, and an associate degree in EMS for paramedics interested in career advancement. The program also provides Pediatric Advanced Life Support and Advanced Cardiac Life support training for Polk County Fire Rescue.
Polk State students regularly outperform students from other programs across the state on certification exams.
In addition to EMS, Polk State Public Safety offers associate's and bachelor's degrees in Criminal Justice, and an associate's degree in Fire Science. In addition to EMS, Polk State Health Sciences programs include Cardiovascular Technology, Diagnostic Medical Sonography, Nursing, Occupational Therapy Assistant, Physical Therapist Assistant, Radiography and Respiratory Care.